February 14, 2012 -
Dion Caputi
Manning to Houston? Forget about it
There has been a whirlwind of speculation as to where Indianapolis Colts quarterback Peyton Manning will play football next season or--depending on who you talk to--whether or not he will play at all.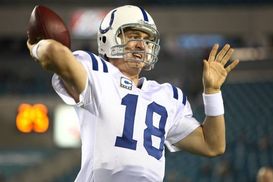 ICONYou can forget about those Peyton Manning to Houston rumors.
After a report by Bob Allen of KTRK-TV in Houston surfaced on Monday saying Manning is "definitely" interested in playing for the Texans and that he knows this "for a fact," rumors ensued. However, John McClain of the Houston Chronicle quickly dispelled the rumor, insisting people forget about anything involving the older Manning coming to Houston.
While Texans quarterback Matt Schaub is entering the final year of his contract and coming off a season that ended with a Lisfranc foot fracture, the chances of Peyton Manning quarterbacking the AFC South champions are slim to none. Schaub said in mid-January that there is "no question" he will be ready in time for OTAs.
Still, Bob Allen's report adds the Texans to a long list of teams who've been connected with Manning at some point or another, including the Washington Redskins, Miami Dolphins, Arizona Cardinals and Tennessee Titans, among others.
Follow me on Twitter: @NFLDraftUpdate