February 02, 2012 -
Joel Corry
Mega-deal for Megatron?
The Detroit Lions have serious salary cap problems heading into the 2012 season.
The team is already using $122,760,121 of their 2012 cap space and there isn't expected to be much growth when it comes to the cap (the cap is currently $120.375 million). Unless the Lions are able to get some players to re-structure their 2012 contracts, signing new additions in free agency will be difficult without releasing individuals currently on the roster.
The most obvious candidate for the Lions to approach in regards to reworking their contract is wide receiver Calvin Johnson. Thanks to hitting most of the escalators in his current deal, Johnson has the largest 2012 cap number in the NFL at $21,081,946. Cap situation aside, trying to extend Johnson's contract was probably an off-season priority already since he's entering the final year of his rookie deal and is arguably the NFL's best wide receiver.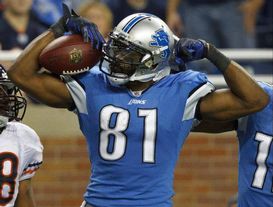 Calvin Johnson's monster 2011 season has set him up beautifully for a big-time payday.
Johnson will have a tremendous amount of leverage in negotiations with the Lions. The 26-year-old can afford to be patient because he's scheduled to make $18.5 million next season ($14 million base salary and $4.5 million roster bonus) and has earned over $40 million during his five NFL campaigns.
Because of his huge cap number, Johnson is one of the few players who would welcome the franchise tag if he plays out his contract. The Pro Bowl wideout's franchise number in 2013 would be $25,298,335, which is 120% of his 2012 cap number. Franchise numbers are based off the salaries of the five highest paid players at a position or from 120% of the prior year's salary of the player (usually his cap number), whichever is greater. Megatron's franchise number is so astronomical that the Lions might be forced to let him become an unrestricted free agent after next season if they can't agree on a new deal.
Johnson's situation is reminiscent of the predicament the Arizona Cardinals faced with Pro Bowler Larry Fitzgerald's rookie contract. Fitzgerald hitting his escalators had increased his 2008 and 2009 cap numbers to $16,485,834 and $19,248,334, respectively. The Cardinals had less than $500,000 worth of room under the cap when they re-negotiated his contract.
When the dust settled, Fitzgerald got a four-year, $40 million deal—with $30 million guaranteed and a franchise/transition tag prohibition—that put him at the top of the wide receiver market. His contract gave the Cardinals $9,489,020 of immediate cap relief and saved $8,500,712 on their 2009 cap.
The Lions will probably have to make Johnson the highest paid non-quarterback in NFL history for him to have incentive to give them significant cap relief, perhaps similar to what the Cardinals got from Fitzgerald. Fitz's seven-year contract extension averaging $16.14 million per year ($45 million in guaranteed money) signed last August is the standard for such players. He gets $51.5 million during the first three new years of the deal.
Johnson—who will be 27 early next season—must decide whether he wants to follow the same approach Fitzgerald took with his first veteran contract by signing a short deal (three or four year extension) so he can have the opportunity to sign another lucrative contract after the NFL's new television deals start in 2014, or take a longer deal that could be the last big contract of his career.
What's even more appealing is that the wide receiver could be able to obtain the best of both worlds with the longer deal by borrowing a concept from Steven Jackson's 2008 six-year contract with the St. Louis Rams. Jackson's deal contains escalators for 2012 and 2013—the final two years of the contract—which raise his salary by $3 million per season with 4,800 rushing yards and 1,200 receiving yards during the first four years of the deal.
That trigger also gives both sides the option to void the final two years in lieu of the escalator. Johnson's leverage should allow him to eliminate the team's ability to void if he wants this type of structure.
Unless Johnson is willing to give the Lions some sort of home team discount, his new contract should have the highest average salary in the NFL outside of the blockbuster deal Drew Brees will likely sign with the Saints before next season. His contract will also have future ramifications for the Lions.
Tom Condon—Matthew Stafford's agent—will insist that Johnson's deal is Stafford's floor when the time comes to start negotiating the quarterback's next contract.
Joel Corry is a former sports agent who helped found Premier Sports & Entertainment, a sports management firm that represents professional athletes and coaches. Prior to his tenure at Premier, Joel worked for Management Plus Enterprises, which represented Shaquille O'Neal, Hakeem Olajuwon and Ronnie Lott.