November 07, 2011 -
Barry Dorey
Miles Austin out 2-4 weeks
Four weeks after he missed two games due to a left-hamstring injury, Cowboys wide receiver Miles Austin is out again--this time with a right-hamstring pull. The injury was sustained in Sunday's 23-13 win over the Seahawks.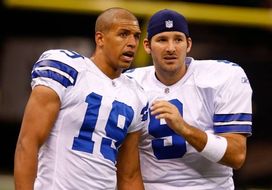 Miles Austin (left) is headed back to the shelf.
The sixth-year man out of Monmouth is expected to miss 2-4 weeks due to the grade 2 hamstring pull, according to Calvin Watkins of ESPN Dallas.
"It just hurts," said Austin. "It's my hamstring, and it's pretty painful."
Once again, Dallas will call on Dez Bryant and company to help fill the void in the passing game for what could be a couple of weeks. Laurent Robinson is expected to start in Austin's place.
In six games this season, Austin has managed 28 receptions for 403 yards and four touchdowns.
Follow me on Twitter: @NFLDraftUpdate