April 19, 2012 -
Joel Corry
MJD wants a new deal? Good luck
Maurice Jones-Drew is skipping the Jacksonville Jaguars' voluntary mini-camp because he's reportedly unhappy with his contract. Unfortunately for the Pro Bowl running back, his efforts to get a new deal are likely to fail.
Jones-Drew received a four-year contract extension averaging $7,641,250 per year (with $17.5 million guaranteed) in 2009 when he was entering the final year of his four-year rookie contract. He is focusing on the $9.5 million he's making in the remaining two seasons of his extension while conveniently forgetting that the Jaguars overpaid him when he signed.
At that time, the Jaguars made Jones-Drew the NFL's second highest paid veteran running back (by average yearly salary) even though he hadn't had a 1,000-yard rushing season, hadn't finished in the top ten in yards from scrimmage in a season or established himself as an every down running back. By contrast, Brandon Jacobs signed a four-year deal with the New York Giants averaging $6.25 million per year (with $13 million guaranteed) as their franchise player during that same offseason after posting consecutive 1,000-yard rushing seasons.
Jones-Drew, like a lot of NFL players, can make a case that's he has outperformed his contract. He has established himself as a premier running back since signing his extension. He ranks second in rushing yards (4,321), third in yards from scrimmage (5,386 yards) and second in touchdowns (34) over the last three seasons. MJD is also coming off of a career year where he led the NFL with 1,606 rushing yards and was named first team All-Pro.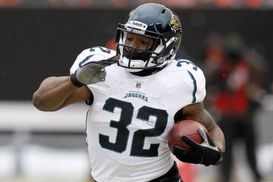 ICONMJD may come up short in his bid for a new contract.
Even though Adrian Peterson ($14,213,333 million per year, six-year extension, $36 million guaranteed) and Chris Johnson's ($13,493,750 million per year, 4-year extension, $30 million in guarantees) deals raised the bar for running back salaries, Jones-Drew is still the NFL's sixth highest paid running back (by average yearly salary). He's never going to be considered as one of the NFL's biggest bargains under his current deal.
His discontent would be more understandable if he had a contract similar to Michael Turner's. Turner signed a six-year deal with the Atlanta Falcons in 2008 averaging $5.75 million per year (with $15 million guaranteed). He has gained over 1,300 rushing yards in three of his four seasons with the Falcons, but hasn't publicly expressed displeasure with his contract.
Jones-Drew wants the Jaguars to do something unprecedented by signing him to a pricey third contract when there are plenty of cautionary tales of running backs with lucrative second contracts. Shaun Alexander, Edgerrin James and Larry Johnson immediately come to mind. Given how well Jones-Drew has performed, he and his agent, Adisa Bakari, (who also represents Matt Forte) are probably looking for Adrian Peterson/Chris Johnson money.
It would be a bad business decision for the Jaguars to do something substantial with Jones-Drew's contract especially if new head coach Mike Mularkey's usage of Turner when he was the Falcons' offensive coordinator is any indication of how he will utilize Jones-Drew. During Mularkey's four years with the Falcons, Turner led the NFL in rushing attempts twice (2008 and 2010) and was second in 2011. Turner's 1,189 carries are the most in the NFL during this span.
Compounding matters is the fact that Jones-Drew has been a workhorse running back since signing his new deal. MJD led the NFL with 343 rushing attempts last year and nobody has carried the ball more than him over the last three seasons (954 carries).
With the workload Jones-Drew is expected to receive during the next two seasons as a 27 and 28- year-old, it is in the Jaguars' best interest to let him play out the final two years of his contract and use their franchise tag on him in 2014 if he's still performing at a high level. At a minimum, they would have to pay Jones-Drew $8.16 million, which is 120% of his 2013 cap number. It's just a matter of time before his production starts to significantly decline unless he's the rare running back who can defy the odds by sustaining his level of productivity into his early thirties, like Curtis Martin and Tiki Barber.
The extent of Jones-Drew's unhappiness with his contract will become apparent on June 12th when the Jaguars have their mandatory veteran mini-camp. If Jones-Drew skips this camp, he will subject himself to a $10,500 fine for the first day he misses, a $21,000 fine for a second missed day and $31,500 if he misses a third day ($63,000 total for missing minicamp). The Jaguars could fine him $30,000 for each day he missed and they would have the right to recapture a portion of his $9 million signing bonus if he continued his holdout into training camp.
Jones-Drew's lack of leverage and the relatively short timeframe running backs perform at an elite level should doom his quest for a new contract. He might able to get a modest increase in his salary if Shahid Khan, the new Jaguars owner, wants to gain some goodwill from NFL players by demonstrating that he's running a player friendly organization through rewarding his best player financially. The Jaguars' salary cap situation won't prevent them from doing so because they have over $19 million of cap room.
Follow me on Twitter: @corryjoel
Joel Corry is a former sports agent who helped found Premier Sports & Entertainment, a sports management firm that represents professional athletes and coaches. Prior to his tenure at Premier, Joel worked for Management Plus Enterprises, which represented Shaquille O'Neal, Hakeem Olajuwon and Ronnie Lott. You can email Joel at jccorry@gmail.com