January 03, 2012 -
Dion Caputi
New contract coming for Alex Smith?
A year ago, the 49ers were without any real sense of guidance and had very little to be positive about regrading the state of the team's quarterback position. After hiring former Stanford coach Jim Harbaugh to be the team's new voice and leader, the mood has greatly changed and the quarterback position has now seemingly been stabilized.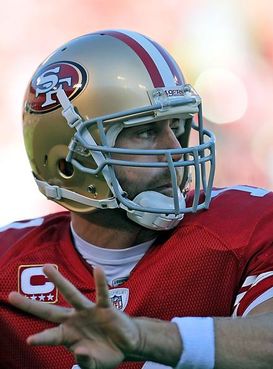 Alex Smith could be headed for a nice payday after a career season.
Perceived by many to be a bust after being the first player selected in the 2005 NFL Draft, quarterback Alex Smith has been a steadying presence for the San Francisco offense since signing a one year "prove it" deal prior to the season. Now, the impending free agent appears close to an extension with the team.
League sources have informed Matt Maiocco of CSN Bay Area that Smith is expected to eventually sign a two or three year extension, paying him roughly $8 million-to-$11 million per season.
Smith, under the guidance of Harbaugh, put together his best season as a pro with 3,150 passing yards and a completion percentage of 61.4 -- both career highs -- in addition to passing for 17 touchdowns on a career-low five interceptions.
The belief is that, regardless of whether or not offensive coordinator Greg Roman -- a finalist for the Penn State head coaching vacancy -- returns to San Francisco, the 27-year-old Smith should continue to improve in the same offense.
Harbaugh reaffirmed Monday that he wants Smith back next year.
Although Smith won't be mistaken for Joe Montana, his improvement this season was significant and many within the organization believe it warrants a new contract.
Follow me on Twitter: @NFLDraftUpdate