February 25, 2014 -
Jerry Angelo
NFL Draft 101
The draft has taken on a life of it own with the fans and media. Its popularity has risen so much that the networks are now dedicating three days of coverage to the annual selection show.
The National Football League has done a great job of marketing the draft and the media does an equally great job of educating fans on the college prospects. Give credit to Joel Buchsbaum and Mel Kiper, the two people who were most instrumental in the original schooling and enlightening of fans from the media side. They were pioneers who passionately believed in what they did (and, in Kiper's case, still do) and educated their audiences with behind the scenes insight that draftniks fed on.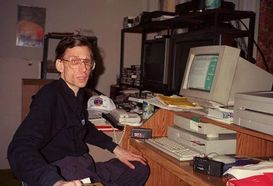 Joel Buchsbaum was the original draftnik.
If the truth were known, Buchsbaum and Kiper probably opened the NFL's eyes on just how marketable the draft could be.
Looking now and seeing what the event it has turned into, I credit much of the success for its popularity to Joel and Mel. Joel passed away and he is sorely missed. I don't know a guy in football who didn't have great respect for the work he did. He was a true icon, not only as a sports writer, but also as a fan. His heart bled the NFL and nobody knew it better.
Why has today's draft become even more important to teams?
All organizations want to build through the draft. You are getting young, fast, talented, healthy players, entering into the prime of their careers, and you're getting them cheaper than ever under the new Collective Bargaining Agreement.
What are the consequences of drafting poorly?
Teams have to go into the veteran free agent market and pay handsomely for older players to fill the voids they failed to address with younger players during the draft. Their payroll skyrockets with no real assurance of winning.
There is nothing wrong with signing veteran players in free agency. We had very good success with the veteran players we signed in Chicago and Tampa, particularly on the offensive line, where we had some injuries and younger players who failed to meet expectations. The key here, however, is to not enter the marketplace as a hostage to a number of positions that require upgrades.
My goal for each draft was to find at least four players we could win with. Between seven draft picks and a dozen or so college free agents acquired after the draft, that's a bigger challenge than you may think. Why? Because while drafting talent is easy, drafting a talented player with solid character and a good medical is a difficult task. The fact that approximately 70 percent of players drafted in any given offseason will be out of the league in three to four years tells you how difficult it is to identify great players.
<p>
How do we grade players?
I'll give you an example of how the grading system for some teams generally looks. This is an abbreviated scale, but this will give you a good idea of the criteria that distinguishes between elite and lesser talent.
A typical grade on a player would have a two-digit number. That number reflects how the team projects the prospect will play when he gets into the league.
8.0 grade: Special player, will impact a game and dominate at his position
7.0 grade: A potential pro bowler, a player you win because of
6.5 grade: A solid rank and file starter you could win with
6.0 grade: A solid backup who could start, but limited
5.5 grade: A role player but not a starter. A specialist
5.0 grade: A talented player, but not draftable. Developmental
You would also see a + or - next to the number grade indicating whether or not the player fits the scheme. In addition, there are letter grades that would indicate a player's character, his intelligence and his medical status. These are subjective grades based on the team's research and evaluations. These grades would vary from team to team.
The letter system would be a simple A, B, C, D, F.
CHARACTER
A: No concerns, an exemplary person, top intangibles, a leader
B: Good person, not great, but a guy you want on your team, dependable
C: Some issues, need to work with him, can't trust 100 percent, but can live with him
D: Some character flaws, can't trust him, really don't want him, but would consider late
F: Character reject, don't want him under any circumstances
MEDICAL
A: Clean, no major surgeries, no missing of practices or games
B: Overall good, missed some practice time and games with small injuries
C: Had major surgery but came back from it, no real missed time
D: Multiple surgeries, missed practice time and games throughout career, risk
F: Too many medical issues and concerns, won't hold up and hasn't in college
MENTAL
A: Very bright, picks it up quickly, can coach other players, no mental errors
B: Smart, no mental errors, can make game day adjustments with, can trust
C: Needs reps but will get it, listens well, must stay on him to make sure he has it
D: Poor retention, drifts, will have it down by game day, but must rep him every day
F: Can't trust to get it, has too many mental errors, limited in what you can ask of him
The mental grade is based on what the prospect will be asked to do given his position. Obviously, a quarterback or offensive lineman has more tasks to perform mentally on game day than most of the other positions. So you want brighter players at those spots.
A typical grade would look like this: 7.0+ B, C, and C
Breakdown: 7.0+ (talent level and scheme fit) B (character) C (intelligence) C (durability)
So without watching or knowing the player and just by looking at the grade, you would say that this is a very talented prospect who fits the scheme, possesses very good character, will need some repetition learning, had surgery, but came back and played and should be fine.
If there were another player who was rated a 7.0+ with A, B, B grades, you would rank him ahead of the first player.
You can see how players get juggled around on a draft board when you take into account all the circumstances that teams must consider. A player could have an F medical grade, yet a team may still draft him. Some teams would never draft an F medical. Some teams are less concerned about a player's character or mental makeup than others.
There is a significant gray area from team to team and organizations have to make their own decisions and stick with them. It's a risk/reward business and it's up to each team to determine their own risk tolerances.
Breaking down the rounds
In most drafts, after the first two rounds, the highly talented players with production and good play history are gone. The third round still provides a solid opportunity to get a quality starter, but there is a big drop-off once you get near the middle of the round.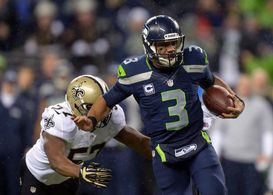 Striking gold: Seattle found a Super Bowl-winning signal-caller during the third round.
In the fourth round you will witness teams assuming more risk, perhaps with a player who possesses top talent and good production, but has questionable character or a poor medical grade. Other teams will just take the best football player they saw on tape, regardless if he had an average workout.
The fifth and sixth rounds are when you'll see teams all over the board. These are the rounds where teams really need to focus on strong traits. These are the 'sleeper' picks where general managers and scouts can make a name for themselves. There are good players in these rounds, but they truly are diamonds in the rough.
To me, the seventh round was the start of college free agency. There are still some good players in this round, but you'll need some luck finding them.
Every team thinks and selects a little differently, which is what makes the draft exciting and fun to follow. Again, the goal is to come out with at least four good players you can win with. When you do the math and multiply those four players over four years, you have 16 players still on their rookie contracts who are potentially in the starting lineup. That's pretty strong from a contribution and cost value position.</p>
You figure the other players will be a combination of guys drafted five or six years ago but had their contracts extended, as well as veteran players acquired during the offseason and free agency.
It's the NFL draft that provides the best opportunity to build a talented and winning team.
Jerry Angelo was the General Manager of the Chicago Bears from 2001 to 2012. Prior to joining the Bears, Angelo spent 14 years overseeing the Tampa Bay Buccaneers' scouting department as their Director of Player Personnel. Angelo graduated from Miami University in 1971.