February 08, 2011 -
National Football Post
No rest for the NFL
Something funny happen Sunday night — and no, I'm not talking about this ad for the 2012 Volkswagen Passat. The Super Bowl had ended, the Packers had won, and Aaron Rodgers had done his whole "I'm going to Disney World" thing.
And after all the hubbub died down, Major League Baseball and the National Basketball Association — or at least the persons representing their respective Twitter accounts — decided to determine which sport would take over the spotlight now that professional football has ended.
Of course, the only reason this is comical is because neither baseball nor the NBA will truly ever be able to capture America's attention this spring. The reasons for this are aplenty, but the NFL is at the forefront.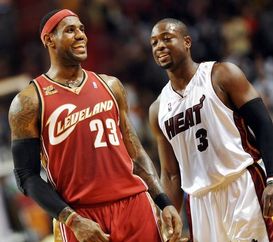 ICONLeBron James and Dwyane Wade are among a crop of young NBA superstars. Can they compete with the NFL on the airwaves while football is in its offseason?
Basketball is approaching its All-Star Weekend, during a season in which it has seen record-breaking ratings. Blake Griffin is reinventing what we thought was possible, and the Eastern Conference is proving to be as loaded as advertised. There has perhaps never been a better young crop of talent for the league to market — Kevin Durant, Derrick Rose, Rajon Rondo, Kevin Love, Chris Paul, Dwyane Wade, LeBron James, and Griffin to name a few.
Meanwhile, baseball's eight-month extravaganza begins in a week when most pitchers and catchers report to spring training. I'm sure a plethora of storylines engulf that sport, too, but I couldn't tell you what they are. Baseball has been dead to me for awhile. Growing up in Kansas City will do that to you.
But make no mistake, football talk will rule the airwaves in the NFL's "offseason" — perhaps now more than ever. We have the impending and oft-discussed labor dispute between the NFLPA and the owners to thank for that. March 3 is when the current collective bargaining agreement hits the fan, and the owners will likely lockout the players if a new deal is not reached.
Then again, you already knew this — and if you didn't, you'll soon have all the dates and key figures memorized. Because this story isn't going anywhere.
Plus, as always, the NFL Draft will only continue to grow in popularity. (If you haven't checked out Wes Bunting's vat of information on the NFP's draft page, you're doing yourself a huge disservice.) Last year, after moving the draft to primetime, the league posted a 30 percent ratings boost from 2009. One should expect a similar increase this year.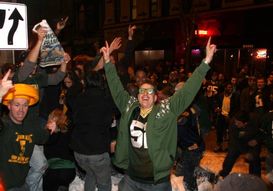 ICONThese Packers fans were among the 162.9 million people that watched the Super Bowl
On Monday afternoon, the league released that, in all, 162.9 million people — over half of all Americans — watched Super Bowl XLV. The broadcast's 111-million person average was the most for any television program in U.S. history. This comes after nearly 55 million people watched both games on Conference Championship Sunday two weeks prior.
It would be na