March 25, 2013 -
Jeff Fedotin
Now it's on you, Jay
After an injury-depleted Bears team lost five of their last six games to miss the 2011 playoffs, new general manager Phil Emery recognized his franchise quarterback needed more help.
The Bears had good special teams, a versatile running back and a strong defense but had offensive issues.
The solution: During the 2012 offseason, they shored up the wide receiver position, trading for Brandon Marshall, Jay Cutler's former Broncos teammate, and drafting Alshon Jeffery.
But in 2012 Chicago allowed Cutler to be sacked 38 times, the offense performed inconsistently and the Bears missed the playoffs for the second consecutive season.
The solution: During the 2013 offseason, the Bears hired a new offensive-minded coach in Marc Trestman and added a blind-side protector in Jermon Bushrod.
Chicago signed tight end Martellus Bennett, who is athletic enough that he played two seasons of college basketball for Texas A&M and big enough at 6-6, 270 pounds to block pass rushers.
Chicago likely made wise choices, adding these offensive pieces while sacrificing the face of the franchise, an aging Brian Urlacher.
And now that the Bears surrounded Cutler with the talent to excel, he has no more excuses.
During this — his contract year — Cutler, the new face of the franchise, must elevate his performance and become the Bears' star.
Cutler's skills and struggles
Having reached the prime of his career, the 29-year-old Cutler has the gifts to become one of the NFL's best players.
Mike Shanahan hand-picked Cutler, trading up to draft him for Denver. Nicknamed the "mastermind," Shanahan served as the offensive coordinator for Broncos quarterback John Elway and 49ers signal-caller Steve Young. The former Broncos coach said Cutler has a stronger arm than Elway, who had one of the most powerful arms in NFL history.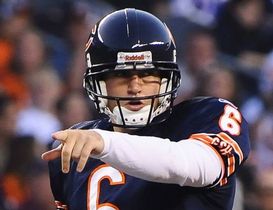 Cutler has gone 34-22 since joining the Bears in 2009.
Cutler's arm is not only strong but also remarkably accurate. He demonstrated that precision when he diced up the Cowboys secondary last year on Monday Night Football to the tune of 18-of-24 for 275 yards and two touchdowns, including 11-of-12 for 219 yards after halftime.
Cutler is also tough.
Regardless of the bizarreness enveloping his response to a knee injury during the 2011 NFC Championship Game, Cutler has taken as much of a pounding from defenders as any quarterback of late. He also completed 63.6 percent of his passes for 3,497 yards, 20 touchdowns and 14 interceptions despite losing 33 pounds during the course of the 2007 season while suffering from undiagnosed diabetes.
Given his abilities, Cutler has not improved sufficiently during his four years with the Bears. His completion percentage has remained consistently within the 58 to 60.5 range, and his QB rating has yet to reach the 90s.
2009: 60.5 completion percentage/ 3,666 yards/ 27 TDs/ 26 INTs/ 76.8 QB rating
2010: 60.4 completion percentage/ 3,274 yards/ 23 TDs/ 16 INTs/ 86.3 QB rating
2011: 58 completion percentage/ 2,319 yards/ 13 TDs/ 7 INTs / 85.7 QB rating
2012: 58.8 completion percentage/ 3,033 yards/ 19 TDs/ 14 INTs/ 81.3 QB rating
You can blame some of the lack of improvement on his poor offensive line, but Packers quarterback Aaron Rodgers and Steelers quarterback Ben Roethlisberger have thrived despite playing behind bad offensive line units and with worse running games.
In the face of pressure, Cutler often holds on to the ball too long or desperately forces a throw when the best read would be throwing it away and living for another down.
Cutler needs to spend his offseason focusing on his mechanics — particularly his footwork, an essential part of Trestman's West Coast Offense. He must do a better job setting his feet and avoiding throwing off his back foot, which can cause errant passes.
From defense to offense
Despite the success of the more-than-90-year-old franchise, the defense-centric Bears have been quarterback starved. Cutler is on a short list of top-notch quarterbacks, which includes just Sid Luckman, kicker George Blanda and an injury-plagued Jim McMahon.
Whether it's the 46 defense or the Tampa 2, the Monsters of the Midway of the modern era have relied on their defense.
But the hallmark of the Bears — that defense — has aged and is bound to slip.
By the end of the 2013 regular season, defensive stars, Lance Briggs and Julius Peppers, will both be 33-years-old. Charles Tillman is 32, and the longtime leader, Urlacher, is no longer on the team.
The Bears knew this was coming. The recent company line has been that they were transitioning from a defensive focus to an offensive one.
The centerpiece would be Cutler, who the Bears signed to a five-year, $29.3 million contract. He will earn almost $10 million this year in the last year of that deal he signed in 2009.
When the Bears acquired their first franchise quarterback in decades, Cutler came to the team amid great expectations.
The time to deliver is now.
Follow Jeff Fedotin on Twitter: @JFedotin
Jeff Fedotin has written for Packers.com, Pro Football Weekly, ESPN The Magazine, the Lawrence (Kan.) Journal-World and Rivals.com. After graduating from Northwestern University, he interned for the Buffalo Bills. During his football playing days at Pembroke Hill (Mo.) School, Fedotin was known for his bad knees and even worse blocking.