April 15, 2013 -
Joel Corry
Participation is optional
Voluntary offseason workout programs for teams that did not hire a new head coach can begin on the third Monday in April, which is April 15 this year. Players who received a tender but haven't signed an NFL contract and unrestricted free agents whose contracts expired can participate in offseason workouts and minicamps with their previous team while retaining the free agency rights they have.
In order to participate, these players must sign an agreement that contains the standard language the NFL and NFLPA came up with last year. It has been incorporated into the 2011 collective bargaining agreement as Appendix Q.
Appendix Q protects players in case they are injured while participating in team activities during the offseason. In the case of an injury, a player will receive as a one year salary the greater of his required tender, his applicable minimum salary or the amount negotiated by the player and the team. Participation by a player is voluntarily under this provision so he can withdraw at any time with impunity.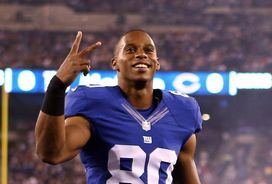 Giants wide receiver Victor Cruz is still in search of a new long term contract.
Practically speaking, players who are franchised, such as Jairus Byrd and Ryan Clady, and restricted free agents, like Victor Cruz, can choose to participate in team activities without signing an NFL player contract. In Cruz's case, his 2013 salary would be $2.879 million with an injury, his restricted free agent tender, since it's unlikely that the New York Giants would agree to a greater amount in order to get him to participate.
A main benefit to signing a participation agreement instead of an NFL contract is that a player will preserve his option of holding out without subjecting himself to penalties. For example, if Cruz boycotted a mandatory three-day minicamp because of a lack of progress on a long term deal after signing his restricted free agent tender, the Giants would have the right to fine him $11,025 for the first day he missed minicamp, $22,050 for a second missed day and $33,075 if he missed a third day ($66,150 total for missing minicamp). If Cruz continued his boycott into training camp, the Giants could fine him $30,000 for each day he missed. These fines can't occur when players are operating under participation agreements and they can only partake in training camp if they have signed an NFL contract.
Participation agreements were rarely utilized last year by players receiving a franchise tender. Tennessee Titans safety Michael Griffin was the only franchise player to sign one. The Titans rewarded his approach by giving him a five-year, $35 million contract (with $15 million in guarantees). Wes Welker was a prime candidate for a participation agreement, but chose to sign his $9.515 million franchise tender as a gesture of good faith instead so he could attend the New England Patriots' mandatory minicamp. Welker's approach didn't result in a long term deal with the Patriots.
It won't be a surprise if Cruz participates in workouts or minicamp with the Giants on such an agreement considering that he reportedly is focused on remaining with the team. Since Cruz's stance may have already undercut his negotiating position, it's probably in his best interest financially to miss the Giants' offseason activities until he signs a long term deal or at a minimum, has significant movement in his contract negotiations. It might also start sending a signal to the Giants that he may be willing to hold out, which is something his agent can't credibly threaten as a negotiation tactic right now, and help keep the Giants from playing hardball by exploiting his desire to stay in New York.
Follow me on Twitter: @corryjoel
Joel Corry is a former sports agent who helped found Premier Sports & Entertainment, a sports management firm that represents professional athletes and coaches. Prior to his tenure at Premier, Joel worked for Management Plus Enterprises, which represented Shaquille O'Neal, Hakeem Olajuwon and Ronnie Lott. You can email Joel at jccorry@gmail.com