January 11, 2013 -
Joel Corry
Patriot games
The 2012 NFL playoffs are probably Wes Welker's last chance to win a Super Bowl ring with the New England Patriots. The handwriting has been on the wall ever since the Patriots extended Rob Gronkowski and Aaron Hernandez's rookie contracts with two years remaining instead of signing Welker to a long-term deal. Gronkowski became the NFL's highest paid tight end (by average yearly salary) with the six-year, $54 million contract extension ($18.17 million in guarantees) he received in June. Hernandez signed a five-year $37.5 million contract extension ($16 million in guarantees) towards the end of the preseason.
New England's pro-active approach with Gronkowski and Hernandez is in stark contrast to their handling of Welker's situation. The Patriots' best offer to Welker, $16 million over two years, reportedly came during the 2011 season while he was having a career year. Welker had a league leading 122 receptions, 1,569 receiving yards and nine touchdown catches. Even though Welker publicly expressed some frustration at New England slightly reducing their previous offer, Welker signed his $9.515 million franchise tender in May as a good faith gesture. The two sides were reportedly $6 million apart on guaranteed money and weren't any closer on other aspects of the contract at the July 16th deadline for franchise players signing long-term contracts.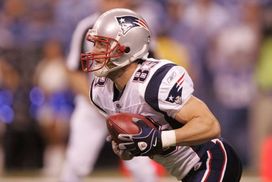 ICONOnly Calvin Johnson (122 receptions) caught more passes than Wes Welker (118) in 2012.
New England's treatment of Welker isn't surprising because the Patriots aren't strangers to acrimonious contract negotiations. In 2010, restricted free agent Logan Mankins demanded a trade after calling owner Robert Kraft a liar for reneging on a promise about a new contract. Because Mankins hadn't signed his $3.268 million restricted free agent tender by June 15th, the Patriots reduced it to $1.54 million, 110% of his 2009 salary. Mankins sat out the first seven games of the regular season before signing his tender. The Patriots placed their franchise tag on him after the season but made him the NFL's highest paid offensive guard with a six-year, $51 million contract ($30 million in guarantees) once the lockout ended.
Vince Wilfork skipped voluntary organized team activities during his contract year in 2009 to protest the lack of progress on a new deal. He also called the franchise tag "a slap in the face" and described the prospect of playing for the Tampa Bay Buccaneers or the Miami Dolphins as a "dream come true" before signing a five-year, $40 million contract ($24 million in guarantees) in 2010. Asante Samuel missed the entire 2007 preseason before signing his franchise tender with a clause prohibiting the Patriots from using their franchise tag on him again in 2008 if he had at least 60% playtime on defense or New England won at least 12 games.
Under Bill Belichick, the Patriots haven't regarded particular wide receivers as indispensable to their success and rarely has their compensation matched their productivity. Early in his regime, the Patriots suspended Terry Glenn for the entire 2001 season when he didn't return to training camp in a timely fashion after he walked out in a dispute over the payment of his signing bonus. Although an arbitrator overturned Glenn's suspension, he only played four games because of injuries and other team discipline. He was suspended for the playoffs when the Patriots won their first Super Bowl. During Glenn's troubles, Troy Brown filled the void by setting a club record with 101 receptions and was named to the only Pro Bowl of his career. Glenn was traded to the Green Bay Packers after the season for 2002 and 2003 fourth-round picks.
David Patten left in 2005 as an unrestricted free agent by signing a contract with the Washington Redskins that paid him more than New England's highest paid wide receiver. David Givens followed suit the next year in free agency when the Tennessee Titans compensated him like a primary receiving target. Also in 2006, the Patriots traded Deion Branch to the Seattle Seahawks for their 2007 first-round pick rather than give into his demand for a contract similar to Reggie Wayne's six-year, $39 million deal with the Indianapolis Colts during his 45-day holdout. The Seahawks gave him such a contract with the trade.
When Randy Moss was acquired from the Oakland Raiders in 2007 during the NFL draft for a fourth-round pick, he took a $6.75 million pay cut by reducing his 2007 salary to $3 million (with an additional $2 million in incentives for receptions) and deleting his 2008 contract year worth $11.25 million. The Patriots gave him a three-year, $27 million contract ($15 million guaranteed) in 2008 after a 2007 season in which he set the NFL record with 23 touchdown receptions. Moss was dealt to the Minnesota Vikings two seasons later with a 2012 seventh-round pick in exchange for their 2011 third-round pick because he was vocal inside and outside the locker room with his displeasure over becoming more of a decoy than a focal point of the offense and his belief that he didn't fit into New England's plans once his contract expired after the season.
The Patriots re-acquired Deion Branch from Seattle several days later for a 2011 fourth-round pick to help compensate for losing Moss. Branch also took a paycut with his trade. He reduced his 2011 salary from $5.95 million to $2.3 million (with an additional $1.7 million in incentives primarily based on receptions). New England's offense was expected to struggle without Moss' presence as a deep threat, but it reinvented itself and finished eighth in total offense while leading the NFL in scoring during the 2010 season.
Welker should be able to identify with Moss' feelings of being marginalized. The Patriots attempted to phase Welker out at the beginning of this season by reducing his playing time for Julian Edelman and using more multiple tight end sets with Hernandez playing in the slot. Welker's playing time returned to its previous levels with Edelman, Hernandez and Gronkowski missing significant time with injuries. He responded by becoming the first NFL player to ever have five 100-catch seasons, earned his fifth straight Pro Bowl berth and led NFL wide receivers in yards after catch for the fifth time during his New England tenure. His 118 catches were also tied for second in the NFL. Since joining the Patriots six seasons ago, Welker has averaged 112 catches and 1,243 receiving yards per year.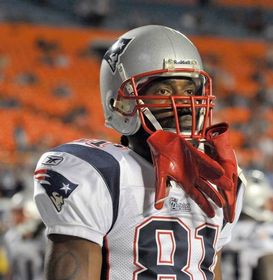 ICONRandy Moss was sent packing during his fourth season with the Patriots.
The Patriots have also operated as if it is better to get rid of a player a year too early rather than a year too late. In an extremely unpopular move inside the locker room, Lawyer Milloy was released five days before the start of the 2003 season when he refused to take a paycut. Milloy had been named to four of the last five Pro Bowls at the time of his departure. The Patriots released Willie McGinest, who was 34-years-old at the time, in 2006 two months after he set the single game playoff sack record with 4.5 sacks against the Jacksonville Jaguars. In 2009, Mike Vrabel was traded to the Kansas City Chiefs with franchise player Matt Cassel for their 2009 second-round pick. The Belichick favorite had been a starter at outside linebacker for the previous five seasons prior to the trade. Later in that same year, Richard Seymour, who was in the final year of his contract, was traded to the Oakland Raiders for their 2011 first-round pick a week before New England's season open er. Seymour has been named to two Pro Bowls since the trade.
It is conceivable that New England could use a second franchise tag on Welker at $11.418 million but it would require the Patriots to reassess his value to them. In hindsight, it was financially short-sighted to have him play under the franchise tag. Instead of potentially paying Welker $20.933 million on two franchise tenders, New England could have made a longer commitment to him with more affordable 2012 and 2103 salary cap numbers where the guarantees were closer to the $20 million he was seeking. The deal could have had lower base salaries in the latter years with the opportunity for Welker to increase his compensation through escalators and incentives if he continued to perform at a high level.
Assuming Welker hits the open market, Dwayne Bowe, Greg Jennings and Mike Wallace should attract more attention in free agency provided that they aren't franchised. Even though Welker is much more accomplished, those players are more likely to receive a deal similar to Vincent Jackson's five-year, $55,555,555 contract ($26 million guaranteed) from Tampa Bay because they are younger, have better size and possess more speed to stretch defenses.
It would be consistent with New England's wide receiver philosophy to re-sign Edelman, who may not attract much interest in free agency, to a team-friendly deal as an insurance policy against the 31-year-old Welker leaving. The Patriots pursuing Danny Amendola would not be a surprise either. He could be a younger and cheaper alternative to Welker because he has missed 20 games over the last two seasons with assorted injuries. Welker's best chance of remaining with the Patriots may be if the free agency market doesn't develop as he expects and is willing to return at New England's price tag.
Follow me on Twitter:
@
corryjoel
Joel Corry is a former sports agent who helped found Premier Sports & Entertainment, a sports management firm that represents professional athletes and coaches. Prior to his tenure at Premier, Joel worked for Management Plus Enterprises, which represented Shaquille O'Neal, Hakeem Olajuwon and Ronnie Lott. You can email Joel at jccorry@gmail.com