February 28, 2012 -
Dion Caputi
Plaxico still wants to be an Eagle
Appearing on the Philadelphia radio station 97.5 The Fanatic, New York Jets free agent wide receiver Plaxico Burress let it be known what team he is most interested in playing for next season.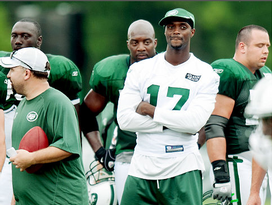 Could Burress end up wearing a different shade of green next season?
The ten-year veteran--who is not expected back in New York--said, "Nothing would make me happier," speaking to the possibility of being an Eagle in 2012, while noting that the team expressed interest in him last offseason.
While there's no telling just how interested the Eagles are -- or were -- in Burress, they remain a team believed by some to be seeking help at the receiver position. Burress is unlikely to receive equal payment to the one-year agreement he reached with the Jets last season which was worth roughly $3 million.
The former first-round draft choice of the Pittsburgh Steelers battled injuries this past season, but still managed 45 receptions for 612 yards and eight touchdowns.
Yet another side-plot to keep an eye on with the March 13th free agency period quickly approaching.
Follow me on Twitter: @NFLDraftUpdate