February 19, 2011 -
National Football Post
Politics taking over football
For nearly 40 years, the Iowa caucuses have been an American institution, the breeding ground for the next president of the United States. It's where Barack Obama started his momentum in 2008, and ended up in the Oval Office. Besides Iowa football, nothing gets Iowans more excited than when caucus season rolls around.
So why did I, living near the center of it all in 2008, avoid the crowds and chants, the speeches and spectators? And why won't you find me there in 2012? Politicians — and the two-faced, I'll-say-anything-to-get-elected mentality that almost all of them employ — drive me up a wall. Politicians are performers, no different than Tina Fey or Steve Carell — except they're far less entertaining.
It's all an act, a ploy to get elected.
In sports, no such process exists. Games are played on fields and courts, and when a winner is crowned, that's that. There's no grey area, no room for interpretation. On the whole, sports contrast the political landscape and give us a much needed safe-haven from the Washington Way.
Well, at least they're supposed to.
NFL commissioner Roger Goodell is the son of a U.S. Senator, and in the last month, it has been made clear that his political mind is just as sharp as his football acumen. The NFL's collective bargaining agreement is set to expire March 3, and Goodell's legacy as commissioner could be defined by the nature of this deal — when it happens, how it happens, and its terms.
So how is Goodell approaching negotiations toward a new CBA? Like any good politician would — posturing, media manipulating, and delaying. In his annual State of the League address on Feb. 4, Goodell was asked a legitimate question by wide receiver Chad Ochocinco: When can the players expect a new deal to be reached?
Goodell, of course, didn't directly answer the question. Good politicians rarely do. But what he said is important: "The commitment on behalf of the ownership is to get an agreement. And we will get an agreement. And I think that's only going to happen when there [are] intensive negotiations between your union and the owners. And that has to take place now. This is the window of opportunity to get this done right."
This was a great answer, a reassuring answer. But everyone had to wonder whether it was actually true. Surely, the union and the owners would negotiate, but the range of items up for bargaining — a rookie-wage scale, an 18-game regular season, increased health benefits to retired players — created a sense that 30 days just isn't enough time to get this deal done.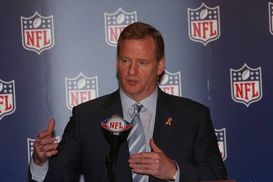 ICONRoger Goodell is handling the pending expiration of the CBA like any good politician would.
Since that press conference, the NFLPA and the owners held a negotiating session on Feb. 5 and another one on Feb. 9. A Feb. 10 meeting was cancelled for reasons that are unknown. And now, a mediator is getting involved and both sides are vowing to negotiate for seven consecutive days.
Yes, we're a long way from the football field now. Men dressed in suits with backgrounds in politics — NFLPA executive director DeMaurice Smith has ties to President Obama and worked under Attorney General Eric Holder — are trying to piece together an agreement that will define the NFL for years to come.
Indeed, Washington rules are in effect.
Goodell is right about something: A deal will get done. There's too much money and too many livelihoods on the line for it not to. And that's the day we are all waiting for — not just because it will be the start of a new era of football, but also because it will signal the end of politics invading our game.
Scott Miller is a senior at The University of Iowa and a contributor to the National Football Post. Follow him on Twitter: @stmillr.
Want to work in the NFL? Click here to sign up for the NFP's Chalk Talk session at the Combine in Indianapolis on February 25th.