January 30, 2015 -
Joel Corry
Predicting the 2015 Hall of Fame class
The 46-member Pro Football Hall of Fame Selection Committee will decide the fate of the 15 modern era finalists, two Contributor candidates and one Seniors' Committee nominee in Phoenix, Arizona on January 31. The election process begins with a discussion on each of the 18 candidates before a vote is taken on the Seniors nominee and the Contributor candidates. Next, the 15 modern era finalist are reduced to 10. Another cut is made to the final five candidates. Each of the final five are voted on individually.
A minimum of 80% of the vote is required in order to be enshrined. A Hall of Fame class must consist of at least four members with a maximum of eight inductees. The 2015 class will be announced later that evening during the NFL Honors show.
Five modern era candidates will likely be a part of this year's class. 2007 was the last time one of the final five (Paul Tagliabue) was not elected. Here's my prediction of the 2015 Hall of Fame class.
First Year Eligible Candidates
Orlando Pace (OT)-Chicago Bears/St. Louis Rams
Pace was named first team All-NFL five times and a seven-time Pro Bowler in 13 NFL seasons. Pace compares favorably to Jonathan Ogden and Walter Jones, who were selected to the Hall of Fame in 2013 and 2014 respectively during their first year of eligibility. He is a second team tackle behind them on the All-Decade team for the 2000s. Recent selection trends favor offensive lineman. An offensive lineman has been elected to the Hall of Fame in eight of the last nine years. Pace's stiffest offensive line competition comes from three-time finalist Will Shields.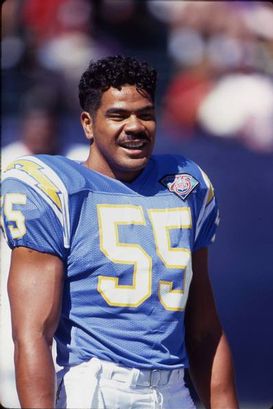 iconSeau was a 12-time Pro Bowl selection
Junior Seau (LB)-Miami Dolphins/New England Patriots/San Diego Chargers
Seau received All-NFL honors ten times and was a 12-time Pro Bowl selection (all consecutively) in 20 NFL seasons. His 268 games played are second in NFL history among linebackers. Seau doesn't have eye-popping raw numbers with 56.5 sacks and 18 interceptions but was the pre-eminent sideline-to-sideline linebacker of his generation. The 1990s All-Decade selection was the driving force behind the San Diego Chargers' Super Bowl XXIX appearance, the only one in franchise history.
Kurt Warner (QB)-Arizona Cardinals/New York Giants/St. Louis Rams
Warner wouldn't get my vote this year if I were on the selection committee. It would probably go twelve-time Pro Bowl offensive guard Will Shields instead. There hasn't been a quarterback enshrined since 2006 when Troy Aikman and Warren Moon were inducted. Warner was a two-time first team All-Pro and a four-time Pro Bowler in 12 NFL seasons. He came out obscurity in 1999 after Trent Green tore his ACL in the pre-season to guide the St. Louis Rams to a Super Bowl XXXIV victory and earn Super Bowl MVP honors with a record 414 passing yards to cap off his MVP season. Warner was also regular season MVP in 2001. As the leader of the Greatest Show on Turf, the Rams topped the 500 point mark in three straight seasons (1999 through 2001), which is the only time the feat has been accomplished by a franchise in the NFL, and set a record for total offense with 7,075 yards in 2000. Warner doesn't have the sustained excellence of other Hall of Fame quarterbacks because of a mid-career slump from 2002 to 2006 where he threw more interceptions (30) than touchdowns passes (27) and had an 8-22 record as a starter. He rebounded by leading the Arizona Cardinals to the franchise's only Super Bowl appearance in Super Bowl XLIII during the latter stages of his career. History is on Warner's side because every multiple MVP winner has been a first ballot Hall of Famer. If Warner doesn't make it on the first try, he may have to wait until 2017 at the earliest because Brett Favre is eligible for induction in 2016.
Returning Finalists
Marvin Harrison (WR)-Indianapolis Colts
It was surprising Harrison wasn't the sixth wide receiver to become a first ballot Hall of Famer. The selection committee isn't supposed to consider off the field issues, which may have been a factor in Harrison's candidacy stalling after the reduction to 10. He was a person of interest in a 2008 Philadelphia shooting involving a gun owned by him. Harrison was named first team All-NFL six times and elected to eight Pro Bowls during his 13 year NFL career. He was a first team wide receiver with Randy Moss on the 2000s All-Decade team. Harrison ranks third in NFL history with 1,102 receptions, seventh with 14,580 receiving yards and fifth with 128 receiving touchdowns. He set the NFL single season record for receptions in 2002 with 143. The next closest single season total is Antonio Brown's 129 receptions in 2014. Harrison was the first NFL player to have three consecutive 1,500 receiving yard seasons. Although there isn't a limit each year on the number of inductees at a position, Harrison faces competition from Tim Brown, a five-time finalist. Unlike Harrison, Brown wasn't named first team All-Decade. If Brown gets the nod instead of him, it could be a case of the committee deciding it is Brown's time considering he wasn't among the final 10 last year like Harrison was.
Charles Haley (DE/LB)-Dallas Cowboys/San Francisco 49ers
Haley is a finalist for the sixth straight year. He made the first cut of finalists in each of the last three years (2012-2014) without advancing to the final five. Haley was named All-Pro twice and to five Pro Bowls in his 13 year NFL career. He was the NFC's Defensive Player of the Year in 1990 and 1994. Haley has 100.5 total sacks, with a season best 16 in 1990. His trade to the Dallas Cowboys in 1992 swung the balance of power in the NFL. He added three Super Bowl rings after the trade to go along with the two rings he had already earned with the San Francisco 49ers. Haley is the only player in NFL history to win five Super Bowls. His 4.5 sacks in Super Bowls are the most of any player. Haley was a difficult teammate and antagonized the media, which could be factors with the selection committee.
Seniors Committee Nominee/Contributor Candidates
Bill Polian (GM)-Buffalo Bills/Carolina Panthers/Indianapolis Colts
Polian was the architect of three successful franchises during his 32 year NFL career. He was named NFL Executive of the Year five times by the Pro Football Writers of America. Polian built the Buffalo Bills into a four-time Super Bowl participant (XXV-XXVIII). The expansion Carolina Panthers quickly found success by going to the NFC Championship in the 1996 season during the franchise's second year of existence with him at the helm. He turned the Indianapolis Colts into the winningest team of the 2000s decade with a 115-45 regular season record. The Colts appeared in two Super Bowls under his direction. The Super Bowl XLI victory is the franchise's only NFL championship since the 1970 season. Polian's best personnel decision was taking Peyton Manning over Ryan Leaf with the first overall pick of the 1998 NFL Draft. It's hard to be now but there was a debate at the time over which player was the better NFL prospect. Polian's recent flirtation with a return to the Bills as team president may jeopardize his Hall of Fame bid because of the perception that he may not be permanently retired.
Ron Wolf (Executive)-Green Bay Packers/Los Angeles & Oakland Raiders/Tampa Bay Buccaneers
Wolf spent 41 years in the NFL. Most notably, Wolf revived the Green Bay Packers. The franchise went to two Super Bowls, winning Super Bowl XXXI, during his tenure as general ma nager. He found his franchise quarterback by giving the Atlanta Falcons a 1992 first round pick for Brett Favre after his less than impressive rookie campaign as a seldom used backup. He proved the skeptics wrong by demonstrating that the small market Packers could be a viable destination for free agents when he landed Reggie White in 1993. Under Wolf's guidance, the Packers had a 92-52 record in his nine seasons (1992-2000) with the club. Prior to his success in Green Bay, Wolf was a personnel executive with the Los Angeles/Oakland Raiders for 25 seasons in three separate tenures. While Wolf was owner Al Davis' right hand man, the Raiders won two Super Bowls (XV and XVIII). The only blip on Wolf's radar screen was his three-year stint as general manager of the expansion Tampa Bay Buccaneers. The franchise had an inauspicious start with 26 straight losses. However, 16 starters on Tampa Bay's 1979 team that advanced to NFC Championship game after Wolf left were drafted by him. Wolf still has influence on the fates of NFL franchises. Five current general managers (John Dorsey-Kansas City Chiefs, Scot McCloughan-Washington Redskins, Reggie McKenzie-Raiders, John Schneider-Seattle Seahawks and Ted Thompson-Packers) are former Wolf employees.
Follow me on twitter: @corryjoel