May 19, 2012 -
Dion Caputi
Pryor: 'I'm not planning to be a backup"
There have been mixed reviews on quarterback Terrelle Pryor that date back to his high school days. Naturally, after electing to play college football at Ohio State, opinions -- both good and bad -- continued to form around the 6'5" 233-pound passer. Following a controversy, a resignation from the university, and a call from the Oakland Raiders during the third round of the 2011 Supplemental Draft, Pryor began his pro career -- and, unfortunately for him, with an NFL-mandated five-game suspension.
After having missed so much time and coaching due to both the suspension and lockout, in addition to not having the aid of a true quarterbacks coach, the unconventional beginning to Pryor's career forged on, and the unpolished, but talented, former Buckeye has evidently not lost the urge to work hard despite some early adversity and the discouragement of going from big man on campus to seldom-used third-stringer.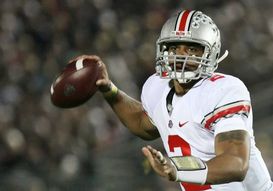 ICONTerrelle Pryor is working hard, but will he ever have an opportunity to start in the NFL?
Pryor sat down with Steve Corkran of the Contra Costa Times and discussed a multitude of topics relating to his personal development, the frustrations of being a backup, the late-owner who picked him, and more.
When asked about the difficulty of last year, the former top high school recruit noted it was a tough transition from being a starter who is relied on heavily, to becoming a player unlikely to get an opportunity.
"It was just hard not playing," said Pryor. "It'd be like you not being able to report or do something that you love. You maybe love to golf and you can't, you have a sore arm or whatever or your back and you can't golf anymore. It just gets frustrating."
Regarding development, Pryor continued to make note of his improved footwork.
"Big, big, huge improvement," he said. "I spent a lot of time with (quarterbacks) coach (John) DiFilipio and I cleaned up the footwork, taking my feet in my progression and nothing but good results."
Also, Pryor made no qualms about his intentions to get on the field and start for the silver and black, noting he is not content with being a backup.
"I don't put myself as I'm going to be backup," said the quarterback. "I mean, I don't sit around saying, 'I want to be a backup, that's what I want to be.' That's not how I operate. That's not how I want to be. I'm going to work to play...I'm not planning to be a backup. Get that correct."
The 2010 Rose Bowl MVP had high praise for the veteran starter primarily responsible for preventing him from playing: Carson Palmer.
"He's great. A lot of the stuff I know right now I've learned from Carson. It's just great to have him here."
Finally, the sophomore signal caller also received the opportunity to touch on former Oakland Raiders owner Al Davis, who's final pick will forever be known as Terrelle Pryor -- whom he hand chose personally.
"I talked to him a couple times a week before he passed. He would give me a call. Just a couple times a week he would just tell me he believed in me and stuff like that."
For the most part, it appears Pryor has a good group of individuals in the organization's new regime who believe in him as well. Belief, patience, and hard-work on the part of the coaching staff is imperative for this experiment work, and Pryor himself will have to adopt the very same mindset.
Follow me on Twitter: @NFLDraftUpdate