September 16, 2014 -
Joel Corry
Quantifying Robert Quinn's new deal
The St. Louis Rams signed pass rusher Robert Quinn, who was under contract through the 2015 season, to a four-year contract extension averaging $14,253,724 per year before Week 2's contest against the Tampa Bay Buccaneers. The 2011 14th overall pick was scheduled to make $1,661,734 and $6.969 million this year and next year, respectively, prior to signing his palindrome-filled deal.
The $57,014,895 extension contains $41,171,774 in guarantees. $15,618,583 is practically fully guaranteed at signing, which consists of a $4,776,774 signing bonus, $608,608 2014 base salary and $10,233,201 third day of the 2015 league year roster bonus. The roster bonus is guaranteed for skill and injury initially and becomes fully guaranteed on September 24. There's an eleven-day lag time with the roster bonus guarantee because it would have been treated as a signing bonus under the salary cap and prorated over five years if fully guaranteed at signing.
Quinn's $5,555,555, $7,777,777 and $6,161,616 base salaries in 2015, 2016 and 2017 are guaranteed for injury at signing. Each base salary is fully guaranteed if the All-Pro defensive end is on the roster on the fifth day of the league year (mid-March) in each specific contract years (i.e.; 2015 base salary becomes guaranteed on fifth day of the 2015 league year.). Quinn's $2,424,242 and $3,633,363 third day of the 2016 and 2017 roster bonuses are also initially guaranteed for injury, but fully vest a year before they are payable. The 2016 roster bonus is fully guaranteed on the fifth day of the 2015 league year. The 2017 roster bonus becomes fully guaranteed on the fifth day of the 2016 league year. The 2014 and 2015 guarantees don't contain offsets.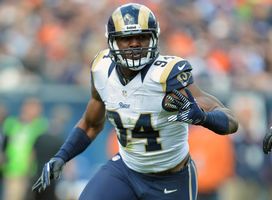 Quinn ranked second in the NFL in sacks last season with 19.0.
Technically, Quinn's 2014 base salary in the new contract is $646,646. Since Quinn played one week of the regular season under his original $1,661,734 base salary, he is getting 16/17th of base salary at the new $646,646 rate ($608,608). He is receiving $706,357 of total base salary in 2014 ($97,749 for one week and $608,608 for 16 weeks). The $97,749 isn't included as a part of Quinn's guarantees because it was previously earned before the new deal took effect.
Quinn has unguaranteed $10,333,301 and $11,811,121 base salaries in his 2018 and 2019 contract years. There are also unguaranteed $1,111,111 and $1,121,211 third day of the league year roster bonuses in 2018 and 2019.
The deal makes Quinn the NFL's third-highest paid defensive player (using average yearly salary) behind only J.J. Watt ($16,666,667 per year) and Mario Williams ($16 million per year). Quinn's three-year cash flow of $31,473,906 is less than Patrick Peterson ($14.05 million per year) and Richard Sherman's ($14 million per year), the NFL's fourth and fifth-highest paid defensive players. Peterson, who also had two years remaining on his rookie contract, and Sherman are at $37,969,111 and $35 million over three years, respectively. The discrepancy with Peterson, the fifth overall pick in 2011, is partially because of his option salary being this year's cornerback transition tag ($10.081 million), while Quinn's was the average of the third through twenty-fifth highest salaries at defensive end ($6.969 million) since he was selected outside of the top ten.
Quinn's 2014 cap number practically remains the same under the new deal. It's $3,007,958 instead of $3,007,981 (both figures include $5,600 off-season workout per diem earned). Quinn's 2015, 2016, 2017, 2018 and 2019 cap numbers are $16,744,111, $11,157,374, $10,750,334, $12,399,767 and $12,932,332. $9,775,111 is added to the Rams' 2015 cap commitments to put them at slightly under $131.5 million (44 players under contract). Whether the Rams will be able to carry Quinn's team-high 2015 cap number without restructuring his contract could hinge on oft-injured quarterback Sam Bradford ($16.58 million 2015 cap number) getting released or taking a pay cut.
It's conceivable that Quinn could be in line for another big payday as a 29-year-old when his new contract expires after the 2019 season. Eight-time Pro Bowl defensive end Julius Peppers was 30-years-old when he became the NFL's highest-paid defensive player with the six-year, $84 million contract (worth a maximum of $91.5 million through incentives) he signed in 2010 to join the Chicago Bears.
Follow me on Twitter: @corryjoel
Joel Corry is a former sports agent who helped found Premier Sports & Entertainment, a sports management firm that represents professional athletes and coaches. Prior to his tenure at Premier, Joel worked for Management Plus Enterprises, which represented Shaquille O'Neal, Hakeem Olajuwon and Ronnie Lott. You can email Joel at jccorry@gmail.com.