March 13, 2014 -
Joel Corry
Raising the bar
Jairus Byrd's six-year, $54 million contract with the New Orleans Saints raises the salary bar for safeties. It's the richest deal in NFL history at the position. The previous benchmark was the six-year rookie contract Eric Berry signed in 2010 (base value of $50 million) with the Kansas City Chiefs as the fifth overall pick in the NFL draft. Berry's deal has an additional $10 million in nearly impossible to earn salary escalators.
The Saints were an unexpected bidder for Byrd's services. When the free agent signing period opened on Tuesday afternoon, New Orleans had slightly less than $2.5 million of salary cap space.
Byrd's contract contains $26.3 million in guarantees, which is a record for a veteran safety deal. It eclipses the $22 million guaranteed in the five-year, $41.25 million contract Dashon Goldson signed with the Tampa Bay Buccaneers last year. Berry's $34 million guaranteed is the most ever in a safety deal.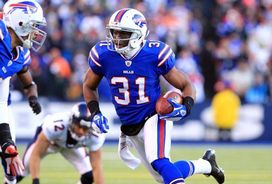 Byrd notched 22 interceptions in 73 career games with the Buffalo Bills.
$12.3 million of Byrd's deal is fully guaranteed at signing, which consists of an $11 million signing bonus and $1.3 million 2014 base salary. Byrd's $6 million third day of the 2015 league year roster bonus is guaranteed for skill and injury. His $2 million 2015 base salary is guaranteed for injury and $6 million of his $7.4 million 2016 base salary is also guaranteed for injury. The roster bonus becomes fully guaranteed on the tenth day of the 2014 league year (March 20). Byrd's 2015 base salary becomes fully guaranteed on the third day of the 2015 league year. The $6 million in 2016 becomes fully guaranteed if Byrd is on New Orleans' roster come the third day of the 2016 league year.
Byrd has unguaranteed $7.9 million, $8.4 million and $8.6 million base salaries in 2017, 2018 and 2019. These base salaries can each de-escalate by a maximum of $500,000 depending on Byrd's Pro Bowl and All-NFL nominations from 2014 to 2016. $100,000 offseason workout bonuses are in Byrd's 2015 through 2019 contract years. There are also per game active roster bonuses totaling $300,000 ($18,750 per game) in the last three years of the deal (2017-2019).
The per game roster bonuses aren't the norm with Saints contracts. Nobody else on the team besides cornerback Keenan Lewis has them. Lewis' per game roster bonuses also occur during the last three years of his deal, but at $250,000 ($15,625 per game).
Byrd has a $3.5 million 2014 salary cap number. His cap number increases to $10.3 million in 2015. It is the NFL's highest 2015 safety cap number. Byrd's cap number drops to $9.7 million in 2016. He has $10.5 million, $11 million and $9 million cap numbers in 2017, 2018 and 2019.
Byrd gets $27.9 million in the first three years of his deal. Goldson, who has the second richest veteran safety deal, is at $26 million after three years.
Earl Thomas, who is entering the final year of his five year rookie contract, should be the primary beneficiary of Byrd's new deal. Extending his contract is reportedly an offseason priority for the Seattle Seahawks. Thomas could become the NFL's first $10 million per year safety. Byrd's average per year and guarantees are 9.1 percent and 18.18 percent more than Goldson's. With a similar percentage increase over Byrd's deal, Thomas will fall just short of the $10 million per year mark on a deal averaging a little more than $9.8 million per year with slightly over $30.725 million in guarantees.
Follow me on Twitter: @corryjoel
Joel Corry is a former sports agent who helped found Premier Sports & Entertainment, a sports management firm that represents professional athletes and coaches. Prior to his tenure at Premier, Joel worked for Management Plus Enterprises, which represented Shaquille O'Neal, Hakeem Olajuwon and Ronnie Lott. You can email Joel at jccorry@gmail.com.