March 13, 2012 -
Joel Corry
Ready to cash in
Christmas Day is on December 25, but for the representatives of the NFL's top free agents, Christmas comes early in the form of the first day of the new league year. That's when the free agent signing period begins. Typically, the players who sign during the early stages of the first wave of free agency get the most lucrative contracts. Here are a few key players set to break the bank:
Peyton Manning (QB): Manning is the biggest name in free agency since Reggie White left Philadelphia in 1993. With plenty of suitors (Broncos, Dolphins, Cardinals, Titans, etc.), some team might sign Manning without gauging his arm strength in a workout. Manning's new contract should surpass the $63.6 million that was in the remaining four years of the contract he signed with the Indianapolis Colts last July. It wouldn't be a surprise if Manning's deal hit the $20 million per year mark and became a focal point in the Drew Brees negotiations.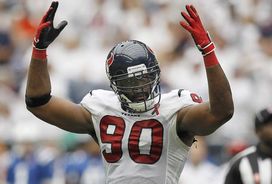 In need of a quality 4-3 defensive end? Mario Williams can be yours...for a steep price.
Mario Williams (DE/OLB): Pass rushers are at a premium, especially ones that can excel in both a 4-3 defense and a 3-4 scheme. Julius Peppers set the standard for defensive unrestricted free agents in 2010 when he signed a six-year, $84 million deal ($42 million in guarantees, $40.5 million in the first three years) with the Chicago Bears. Williams should easily eclipse this mark unless he decides familiarity is more important than money and stays with the Houston Texans.
Carl Nicks (OG): Jahri Evans' seven-year, $56.1 million deal ($19 million guaranteed, $25.6 million over the first three years) with the Saints ensures that Nicks' days in New Orleans are over. As arguably the NFL's best offensive guard, Nicks shouldn't have any problem reaching his goal of supplanting Logan Mankins as the NFL's highest paid player at the position ($8.5 million per year, $30 million in guarantees, $30.5 million over the first three years). It's conceivable that his deal will approach great offensive tackle money ($9.5-$10 million per year, $25-$30 million in guarantees).
Vincent Jackson (WR): Big (6-5, 230 lbs), fast wide receivers that can consistently stretch opposing defenses (career 17.5 yards per catch) as primary receiving targets are rare commodities. Some teams might be scared off by Jackson's age, but more so by his baggage. Jackson served a three-game suspension in 2010 for violating the NFL's personal conduct policy with two DUI convictions. Another misstep will bring upon more severe punishment from Roger Goodell. Other teams (Bears, Buccaneers, Jaguars, Redskins) will ignore the warning signs and be willing to reward him with one of the NFL's most lucrative wide receiver contracts. Given that the receiver market has gone up since Jackson wanted the San Diego Chargers to give him a five-year, $50 million deal in 2010 as a restricted free agent, his deal could average more per year than the $11.424 million franchise tender he played under last season.
Brandon Carr (CB): In the pass-happy NFL, teams can never have too many good cornerbacks. Carr has good size (6-0, 207 lbs) and is just entering his prime at 25-years-old. When the Kansas City Chiefs gave Brandon Flowers a five-year extension averaging $9.75 million per year, Carr's days with the Chiefs were numbered. They hedged their bets by signing Stanford Routt ($18 million for three years, $5 million guaranteed) when the Oakland Raiders released him. Carr should attract plenty of attention in free agency, possibly from the Tampa Bay Buccaneers, Dallas Cowboys and Minnesota Vikings. A Flowers type deal could be his benchmark.
Matt Flynn (QB): With the Redskins winning the Robert Griffin III sweepstakes and ruling out Manning, the Browns quarterback options are limited. The Browns could face competition for Flynn from the Dolphins if their pursuit of Manning fails. Flynn's inexperience won't stop someone from overpaying him, especially if they get in a bidding war or feel desperate to upgrade at quarterback.
Joel Corry is a former sports agent who helped found Premier Sports & Entertainment, a sports management firm that represents professional athletes and coaches. Prior to his tenure at Premier, Joel worked for Management Plus Enterprises, which represented Shaquille O'Neal, Hakeem Olajuwon and Ronnie Lott. You can email Joel at jccorry@gmail.com