March 11, 2014 -
Joel Corry
Ready to spend
The unanticipated increase in the salary cap from $123 million in 2013 to $133 million this year should produce a more active free agent market. With the cap expected to continue having growth similar to this year's 8.13 percent increase over the next couple of years, along with the league requirement for each team to spend a minimum of 89 percent of the cap in cash over a four-year period from 2013 to 2016, the NFL salary landscape could start undergoing dramatic changes.
Below is a look at the teams with the most cap room as the 2014 league year gets underway. This article has been limited to teams with at least $30 million in cap space.
Salary cap accounting is different now than it is during the regular season. Only the top 51 cap numbers count on the cap. The top 51 includes any franchise/transition, restricted free agent and exclusive rights tenders for unsigned players.
Oakland Raiders ($59.3 Million-Estimated Salary Cap Room)
The Oakland Raiders have the most cap room in the NFL because general manager Reggie McKenzie, who was formerly director of football operations for the Green Bay Packers, has completed his two-year process of cleaning up the cap. McKenzie's Green Bay background suggests that he would like to be judicious in free agency. This may not be possible because he and head coach Dennis Allen could be on the hot seat after consecutive 4-12 seasons, along with the fact that owner Mark Davis believes there aren't anymore built-in excuses for losing.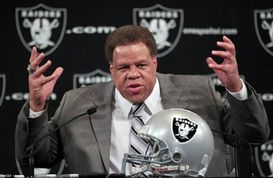 McKenzie and the Raiders appear prepared to let both Valdheer and Houston walk.
McKenzie made a curious move by letting defensive end Lamarr Houston and offensive tackle Jared Veldheer become free agents instead of using a franchise or transition tag on one or both of them. According to NFL Media's Ian Rapoport, the Chicago Bears have made signing Houston a priority, while Veldheer is reportedly drawing serious interest from the Arizona Cardinals. Rodger Saffold is rumored to be an option at left tackle for Oakland if Veldheer doesn't return.
The defense should have a different look next year because seven starters are unrestricted free agents. Finding a player that can consistently generate a pass rush should be at the top of McKenzie's list.
Oakland's quarterback situation is unsettled with Terrelle Pryor and 2013 undrafted free agent Matt McGloin. Signing a veteran like Michael Vick could make sense. Vick made $7.5 million (worth a maximum of $10 million through playtime incentives) in 2013 with the Philadelphia Eagles after taking a pay cut and deleting the final two years of his contract to avoid being released last offseason. His 2013 salary should be reasonable to the Raiders considering Matt Flynn had $11.5 million in the remaining two years of his deal (with an additional $3.75 million in escalators and incentives) when he was acquired in a trade with the Seattle Seahawks.
The Raiders could also use an upgrade at wide receiver with Rod Streater and Denarius Moore as starters. Running back Darren McFadden's six-year tenure with the Raiders is expected to end after a disappointing and injury-plagued contract year.
Jacksonville Jaguars ($52.9 Million-Estimated Salary Cap Room)
The Jaguars weren't active in free agency last year despite having over $33 million in cap room when the 2013 league year began last March, as new general manager David Caldwell embarked on a rebuilding project. His preference is building the team through the draft.
Jacksonville re-signed starting quarterback Chad Henne to a two-year, $8 million deal (worth a maximum of $15 million through salary escalators and incentives). But retaining Henne doesn't preclude the Jaguars from selecting a quarterback early in the 2014 NFL draft. Jacksonville has the third overall pick.
Improving the pass rush should be a priority for the Jaguars. Jacksonville's 31 sacks were tied for last in the NFL during the 2013 season. Wide receiver could be addressed during the offseason because of 2012 first round pick Justin Blackmon's substance abuse problems. The Jaguars are open to keeping running back Maurice Jones-Drew at the right price. He averaged a career low 3.4 yards per carry in 2013. Reggie Bush and Steven Jackson set the free agent running back market last year with deals averaging $4 million per year.
The Jaguars quickly landed defensive end Red Bryant after the Seahawks released him. It wouldn't be a surprise if cornerbacks Walter Thurmond or Brandon Browner also reunite with head coach Gus Bradley, their former defensive coordinator in Seattle.
Cleveland Browns ($49.1 Million-Estimated Salary Cap Room)
Organizational stability is the first order of business in Cleveland. Ray Farmer was promoted to general manager after CEO Joe Banner and general manager Mike Lombardi were fired one year into their tenure. Mike Pettine is Cleveland's third head coach in three years.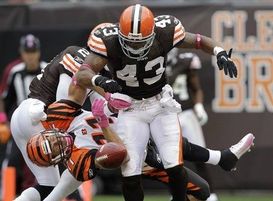 Will the Browns be able to re-sign safety T.J. Ward?
The Browns placed a transition tag on center Alex Mack for $10.039 million. Mack is looking to join Ryan Kalil and Nick Mangold at the top of the center market. They are the only centers with contracts averaging over $7.5 million per year. Marvin Demoff, Mack's agent, believes he can construct an offer sheet that the Browns would not want to match. He could have a tall order given Cleveland's cap space and the 2011 collective bargaining agreement's prohibition on poison pills in offer sheets.
The Browns would also like to retain safety T.J. Ward. He is reportedly drawing interest from multiple teams. The four-year contract extension Kam Chancellor signed with the Seahawks last April averaging $7 million per year (with $17 million in guarantees) is the most recent strong safety benchmark. The Browns have expressed interest in Jairus Byrd, who earned All-NFL honors in 2013 with Pettine as his defensive coordinator as a member of the Buffalo Bills, and Donte Whitner. Byrd wants to be paid in line with the top of the safety market. Dashon Goldson signed a five-year, $41.25 million contract (includes $22 million guarantees) with the Tampa Bay Buccaneers in free agency last year.
The quarterback position will have a different look in 2014. According to CBS Sports' Jason La Canfora, Matt Schaub will be on Cleveland's radar screen if he is released by the Texans. He would be competition for Brian Hoyer, who was a 2013 surprise before tearing an ACL in Week 5. Jason Campbell is expected to be released before his $250,000 roster bonus becomes payable on the fifth day of the 2014 league year (March 15). Expect the Browns to try to trade quarterback Brandon Weeden, who wants a fresh start elsewhere. He has fully guaranteed base salaries of almost $1.125 million and $1.5 million in 2014 and 2015, the last two years of his four-year rookie contract. The Browns could cut their losses with the 22nd overall pick in the 2012 NFL draft if there aren't any takers. Cleveland's 2014 cap charge for Weeden would increase from approximately $2.2 million to slightly more than $4.775 million primarily because a guaranteed base salary accelerates into the current year's salary cap when a player gets released. A quarterback could also be taken early in the draft. The Browns have the fourth and 26th overall picks.
Karlos Dansby could be an option to help fill the void at inside linebacker created by the release of D'Qwell Jackson. The 32-year-old had a career year in 2013. Dansby finished tied for third in the NFL in solo tackles with 114 and tied for sixth with 19 passes defensed. He led NFL inside linebackers with 6.5 sacks and tied for first at the position with four interceptions, with two returned for touchdowns. Running back is also an area of need after the early 2013 season trade of Trent Richardson to the Indianapolis Colts for a 2014 first round pick.
New York Jets ($40.2 Million-Estimated Salary Cap Room)
New York's 8-8 record in 2013 was surprising considering the lack of playmakers in the passing game. Wide receiver Golden Tate may be high on general manager John Idzik's list. Idzik should have a comfort level with Tate since he was a front office executive with Seattle before joining the Jets. It might require paying Tate in the Robert Meachem neighborhood ($6.375 million average per year/$14 million guaranteed), since Jeremy Maclin got $5.5 million on a one-year deal (with another $500,000 incentives) from the Eagles. James Jones and Emmanuel Sanders could be cheaper alternatives. A wide receiver could also be taken by the Jets with the 18th overall pick in the 2014 draft since multiple playmakers are needed.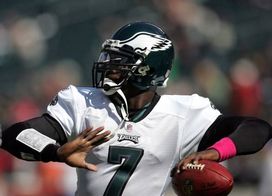 ICONVick could be a potential target for the Jets.
The jury is still out on whether Geno Smith is the answer at quarterback. A veteran quarterback will likely be brought in to push Smith for the starting job in training camp. Vick is a logical candidate because Marty Mornhinweg was Vick's offensive coordinator in Philadelphia for four years. Josh McCown could also be an option. He was outstanding with the Chicago Bears while filling in for an injured Jay Cutler last season. McCown completed 66.5 percent of his passes, had a 109 passer rating and a 13 to 1 touchdown to interception ratio. The Jets will gain an additional $8.3 million of cap room by releasing quarterback Mark Sanchez before his $2 million 15th day of the league year (March 25) roster bonus is payable.
Cornerback became more of a weakness by parting ways with Antonio Cromartie. The Jets are reportedly interested in free agents Vontae Davis and Alterraun Verner. Signing either one could cost the Jets upwards to $10 million per year with over $20 million in guarantees. LaMarr Woodley could be an intriguing possibility at outside linebacker to improve the pass rush once he's released by the Pittsburgh Steelers. Re-signing 33-year-old outside linebacker Calvin Pace to a modest short-term deal is likely after he posted a career high 10 sacks in 2013.
The Jets have been trying to re-sign Austin Howard but aren't comfortable with his contract demands of upper echelon right tackle money. As a reference point, Phil Loadholt signed a four-year, $25 million deal to remain with the Minnesota Vikings last year. Jon Asamoah is a rumored target to replace Willie Colon at right guard. Re-signing Jeff Cumberland to a three-year, $3.7 million deal won't take the Jets out of the tight end market. Brandon Pettigrew is probably the best player available at the position.
Miami Dolphins ($36.1 Million-Estimated Salary Cap Room)
Miami is poised to be aggressive in free agency for a second year in a row. Upgrading the offensive line is the top priority. The Dolphins are reportedly going to land left tackle Branden Albert, who was the subject of trade discussions with the Kansas City Chiefs prior to the 2013 draft. It is expected that Albert's deal will average close to $10 million per year. Zane Beadles is one of the top free agent offensive guards available. Zach Strief or Austin Howard could be possibilities at right tackle.
Cornerback Brent Grimes has returned to the fold with a four-year, $32 million (with $16 million guaranteed) contract. Signing safety Louis Delmas to a one-year "prove it" deal reportedly worth a maximum of $3.5 million signals the end of Chris Clemons' days in Miami.
The Dolphins could try to get younger at defensive tackle instead of re-signing Randy Starks and Paul Soliai, who are both 30-years-old. Linval Joseph, Earl Mitchell and Henry Melton, who is recovering from a torn ACL, are younger alternatives.
Running back should be an area of concern. Miami ranked 26th in rushing last season with 90 yards per game. Ben Tate should sign the biggest free agent running back deal. Darren McFadden might be receptive to a one-year "prove it" deal since he has made slightly over $42 million on his rookie contract as the fourth overall pick in the 2008 NFL draft. Rashard Mendenhall got a fully guaranteed one year deal worth $2.5 million (with an additional $1 million in incentives) from the Arizona Cardinals last year.
Indianapolis Colts ($34.7 Million-Estimated Salary Cap Room)
Free agency takes on added significance with the lack of a 2014 first round pick due to the Trent Richardson trade. The Colts have already taken care of inside linebacker issues by signing Browns castoff D'Qwell Jackson to a four-year, $22 million deal.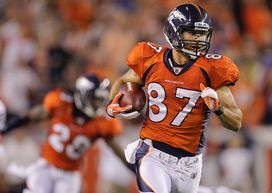 Are the Broncos ready to open up the checkbook for Eric Decker?
The Colts reportedly have some interest in Eric Decker. After being one of the NFL's most productive wide receivers over the last two seasons with 172 receptions (11th in the NFL), 2,352 receiving yards (ninth in the NFL) and 24 touchdowns (tied for third in the NFL), Decker is seeking number one wide receiver money (minimum of $8.5 million per year with $20 million guaranteed). 35-year-old Reggie Wayne, who tore an ACL in Week 7's win over the Denver Broncos, is entering the final year of his contract in 2014.
The offensive line is still a weakness despite making free agent Gosder Cherilus the NFL's highest paid right tackle with a five-year, $35 million contract (includes $16.5 million guaranteed) last offseason. There will be a new starting center in 2014 with the release of Samson Satele. Defensive end Arthur Jones, who had head coach Chuck Pagano as defensive coordinator in 2011 with the Baltimore Ravens, is also on the radar screen.
Several key contributors could be lost to free agency. Efforts to re-sign cornerback Vontae Davis are being made, but he has plenty of suitors. According to Tim McManus of 97.5 The Fanatic and Birds 24/7, safety Antoine Bethea is drawing interest from the Eagles. It may require paying Bethea more than the four-year, $24 million deal (with $14 million guaranteed) the team gave LaRon Landry in free agency last year. Returning to the Colts may not be running back Donald Brown's first option because Vick Ballard is expected back from an early 2013 season ACL tear and Richardson will have a full offseason to become better acclimated to the offense.
Follow me on Twitter: @corryjoel
Joel Corr y is a former sports agent who helped found Premier Sports & Entertainment, a sports management firm that represents professional athletes and coaches. Prior to his tenure at Premier, Joel worked for Management Plus Enterprises, which represented Shaquille O'Neal, Hakeem Olajuwon and Ronnie Lott. You can email Joel at jccorry@gmail.com.