July 01, 2013 -
Jeff Fedotin
Reports of the Ravens' demise have been greatly exaggerated
Before the Baltimore Ravens lost eight starters from last year's Super Bowl XLVII squad, no defending NFL champion ever had lost more than five.
As a result some prognosticators have predicted this as the year the perennial contenders finally recede from the playoff picture.
But such year-to-year overhaul has become par for the course in the Charm City. Heading into last season, the Ravens lost four regular starters (G Ben Grubbs, DL Cory Redding, LB Jarret Johnson and K Billy Cundiff); two contributors who started several games (WR Lee Evans and S Tom Zbikowski) and the team's defensive coordinator (Chuck Pagano). By Week 7 the Ravens also had lost three of their best players (LB/DE Terrell Suggs, LB Ray Lewis and CB Lardarius Webb) to potential season-ending injuries.
What was the result? A Super Bowl championship.
Don't listen to the naysayers. An examination of Baltimore's comings and goings reveals that its 2013 roster remains one of the AFC's best.
Linebackers
At the LB position Baltimore lost Lewis (to retirement), Dannell Ellerbe (signed by the Dolphins) and Paul Kruger (signed by the Browns).
Lewis, the future first-ballot Hall of Famer, had a strong playoff run, but he looked a step slow during a regular season in which the Ravens only had him for six games anyway. Ellerbe and Kruger are good players, but Baltimore replaced them with productive ones.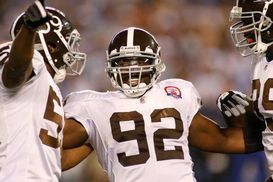 ICONThe addition of Dumervil helps to bolster the Baltimore front seven.
The Ravens signed Elvis Dumervil, who could be poised for a big year as he returns primarily to his more comfortable 3-4 OLB position instead of the 4-3 defensive end he played of late. Moreover, he is reunited with coach Don "Wink" Martindale, Dumervil's LB coach in Denver who guided him to an NFL-best 17 sacks in 2009.
With the 24th pick of the second round, the Ravens added one of my favorite players from the 2013 draft, LB Arthur Brown. The instinctive Kansas State star played inside and outside linebacker and recorded 100 total tackles, seven tackles for loss and one sack in 2012. The one knock against the 241-pounder is his 6'0" height.
Perhaps the greatest advantage over last year, though, is Suggs, who played in just eight regular-season games and was never completely healthy. He raced back from a torn Achilles tendon, which typically ends a player's season. More than a year removed from that injury, he likely will more closely resemble the player who recorded 14 sacks in 2011 while earning Defensive Player of the Year honors.
Baltimore also expects LB Courtney Upshaw to make a major impact in his second season.
Secondary
The Ravens suffered losses to their defensive backfield as well, including both starting safeties. One of the greats to play the position, Ed Reed, will turn 35 in September, and the Texans are gambling that he remains a productive player. The Titans signed S Bernard Pollard, whose hard hits particularly during the AFC Championship Game, helped fuel the Ravens' Super Bowl run.
Baltimore, though, restocked at safety, signing Michael Huff. He started at both cornerback and safety for the Raiders in 2012, making him a valuable piece in today's game in which nickel and dime alignments are often the primary formations.
The Ravens spent their first-round pick on Matt Elam, perhaps the best safety in the 2013 draft. Like Reed he can play the run or the pass. In the loaded SEC, the 5-10, 208-pounder often covered the opposing team's best receiver. But Elam also was known for laying the wood as he recorded 76 total tackles, 11 tackles for loss, two sacks, one forced fumble and four interceptions during his 2012 season at Florida.
At cornerback the Eagles signed Cary Williams. A two-year Ravens starter, Williams had four interceptions during the 2012 regular season and two during the playoffs, including one with 66 seconds remaining to seal the AFC Championship victory for the Ravens. He, however, also allowed six touchdowns during the 2012 season.
Perhaps more significant than the Williams departure, Baltimore will have Webb, its best cover corner who missed all but six games in 2012 with a torn ACL, back. Provided that Webb returns to form following his second knee reconstruction, he will join Corey Graham and Jimmy Smith to round out a solid CB rotation.
The Ravens also signed two versatile defensive linemen, NFC East veterans Chris Canty and Marcus Spears, who can play as 3-4 defensive ends or 4-3 defensive tackles. They will complement DL Haloti Ngata, who along with Suggs gives Baltimore two of the best in the NFL at their defensive positions.
Offensive question marks
The Ravens have not re-signed FB Vonta Leach, one of the game's best blockers, or G Bobbie Williams. I, however, did not include either in my statistic of eight starters lost because the Ravens often aligned with one back in the backfield, and the O-line performed better late in the season when Williams was removed from the starting lineup.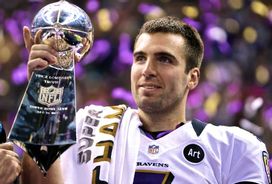 Despite the notable losses, the Ravens are set at the NFL's most integral position.
Williams may not leave a major void, but playing without C Matt Birk could. Birk, who will turn 37 this month, started all 16 games during each of his four seasons with the Ravens before retiring after the Super Bowl. Former Colts center A.Q. Shipley will compete with second-year player Gino Gradkowski, the younger brother of QB Bruce Gradkowski, to replace Birk.
Although Baltimore traded for Shipley, it traded away WR Anquan Boldin to the 49ers. Boldin had 22 catches for 380 yards during last year's playoffs and he could represent a significant loss. Torrey Smith may have the chops to become a No. 1 receiver, but the players behind Smith and Jacoby Jones remain untested.
Fortunately, the one throwing passes to them has proven himself. The Ravens re-signed their most important free agent, QB Joe Flacco, the Super Bowl MVP who passed for 11 touchdowns and zero interceptions during his sensational 2012 playoff campaign.
Look for him to lead the Ravens back to the playoffs once again.
Follow Jeff on Twitter: @JFedotin
Jeff Fedotin has written for Packers.com, Pro Football Weekly, ESPN The Magazine, the Lawrence (Kan.) Journal-World and Rivals.com. After graduating from Northwestern University, he interned for the Buffalo Bills. During his football playing days at Pembroke Hill (Mo.) School, Fedotin was known for his bad knees and even worse blocking.