October 04, 2012 -
Joel Corry
Revis injury complicates contract situation
Signing Darrelle Revis to a contract extension was going to be a top offseason priority for the New York Jets before the Pro Bowl cornerback tore the anterior crucriate ligament in his left knee against the Miami Dolphins. At the very least, his injury has pushed back the timetable on negotiations for his new contract, if not jeopardized his big payday entirely.
Revis will become an unrestricted free agent after the 2013 season because his contract contains a clause that prohibits the Jets from using their franchise tag on him. With another healthy Pro Bowl season, the Jets' inability to franchise Revis would have given him a tremendous amount of leverage in the negotiations. Revis' leverage may have forced the Jets to make him the highest paid defensive player in NFL history in order to prevent him from becoming a free agent in 2014. Mario Williams currently holds that distinction with the six-year, $96 million contract ($50 million in guarantees, $53 million in the first three years and $4 million in not likely to be earned incentives) he signed with the Buffalo Bills in March.
Revis contemplated holding out of training camp for a new contract. Another Revis holdout wouldn't have been a surprise considering his history with the Jets. Revis was engaged in a contract dispute with New York in 2007 where he was the next to last 2007 NFL draft pick to sign with his club. Three years later, Revis held out for 36 days before signing a seven-year contract extension which voids to four years. His renegotiated contract is generally referred to as a four-year, $46 million deal since the last three years (2014-2016) void if Revis is on the Jets' roster one day after the 2013 season's Super Bowl, provided that he hasn't withheld his services during those first four contract years. His deal is also front loaded with the cornerback receiving $32.5 million in first two years.
If Revis had held out again, it may have been his most acrimonious contract dispute with the Jets. With Revis having more incentive for a favorable outcome due to the holdout clause giving him three additional contract years at salaries well below his market value ($3 million in each year), there's a good chance that the Jets would have eventually given into his contract demands, possibly after the regular season started.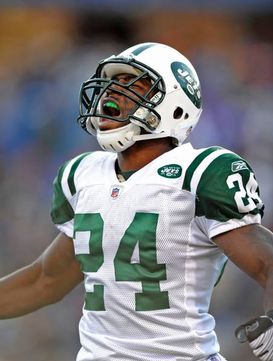 ICONWill Revis be able to bounce back the same way Vikings running back Adrian Peterson has?
Ironically, Revis would have also been positioned for his big payday at the end of the 2011 season if he had exercised more patience with his rookie contract. It is unusual for a first-round pick to receive a contract extension prior to the beginning of his fourth NFL season, like Revis did. Less than five percent of the players taken in the first round between 2005 and 2009 got such extensions.
His six-year rookie contract contained two voidable years that the Jets could buy back with escalated salaries. Revis' $15 million 2012 salary would have put him in a similar situation as Calvin Johnson and Chris Long, whose 2012 salary cap numbers were so high that it would have been extremely difficult for the Detroit Lions and St. Louis Rams, respectively, to place a franchise tag on them next year. Both players signed lucrative multi-year contract extensions in the offseason, with Johnson becoming the NFL's highest paid non-quarterback on his seven-year extension averaging $16,207,143 per year ($53.25 million fully guaranteed at its signing).
In Revis' case, his 2013 franchise number would have been $18 million. However, Revis has made $26.85 million more over the last two seasons than if he had played under the fourth and fifth years of his rookie contract.
Fortunately for Revis, reconstructive knee surgery isn't an athletic death sentence anymore. Barring a setback or complication, he should be able to participate in next year's training camp. Revis' teammate, Antonio Cromartie, hasn't shown any ill effects from tearing his ACL in 2005 prior to his junior year at Florida State. He was still selected in the first round of the 2006 NFL draft by the San Diego Chargers despite the injury and became a 2007 Pro Bowl cornerback.
Two other Pro Bowl cornerbacks, both of whom were older than the 27-year-old Revis at the time of their injuries, were able to play at a Pro Bowl caliber level after recovering from ACL reconstruction. Hall of Famer Rod Woodson tore his ACL in the Pittsburgh Steelers' 1995 season opener. He was named to the Pro Bowl at 31 years of age after a 1996 season where he intercepted six passes.
Eric Allen was making a strong case for his seventh Pro Bowl selection when he tore his ACL during an interception return in the tenth game of the 1998 season. It took Allen a little longer to return to form than Woodson. As a 35-year-old in 2000, he intercepted six passes and returned three of them for touchdowns. Allen was voted by his teammates as the Oakland Raiders' most valuable defensive player even though Charles Woodson, the team's other starting cornerback, was named to the Pro Bowl.
Revis' injury shifts the negotiating leverage in favor of the Jets, but creates a different set of negotiating challenges. Although the Jets have indicated that they would like for Revis to retire with the club, they will be hesitant about making a significant financial commitment to him while he's rehabbing from a serious knee injury. Such an injury might cause some players to temper their salary demands. Revis' representatives have taken a hardline approach with the Jets in nearly every instance, so it remains to be seen whether they will soften their stance because of his injury.
Ideally, the Jets would prefer to wait until Revis demonstrates in several regular season games that he's still a shutdown cornerback before opening negotiations. However, they may not have that luxury with free agency looming. If Revis confirms that his injury hasn't affected his ability once he starts playing again, he probably won't forego free agency unless the Jets meet his pre-injury salary expectations. This dynamic could lead to the Jets making Revis an initial contract offer before they are comfortable with their evaluation of him that's comparable to or less than his current contract, which he might regard as a lowball offer.
Revis should also consider the possibility that his free agent market might not materialize as he anticipates, given the type of money he would be seeking. The top of the cornerback market has been fairly stagnant in the last couple of years. Nnamdi Asomugha, who was regarded as the NFL's second-best cornerback behind Revis when he was an unrestricted free agent in 2011, couldn't match his average yearly salary in his previous contract with the Oakland Raiders (two years averaging $14.296 million per year). He signed a five-year, $60 million contract ($25 million fully guaranteed, $36 million in the first three years) with the Philadelphia Eagles and no one else has been able to eclipse Revis' current deal.
It's going to take some creativity to structure a contract that fairly compensates Revis if he returns to his pre-injury standa rds while providing the Jets with some cap flexibility if he doesn't. Revis' situation could potentially become a season long distraction for the Jets in 2013 where it's his last season with the team if this can't be done.
Follow me on Twitter: @corryjoel
Joel Corry is a former sports agent who helped found Premier Sports & Entertainment, a sports management firm that represents professional athletes and coaches. Prior to his tenure at Premier, Joel worked for Management Plus Enterprises, which represented Shaquille O'Neal, Hakeem Olajuwon and Ronnie Lott. You can email Joel at jccorry@gmail.com