September 13, 2012 -
Dion Caputi
Revis still hasn't been cleared for practice
There appears to be a growing amount of cynicism about cornerback Darelle Revis' chances to play in Week 2 against the Pittsburgh Steelers after suffering a concussion in last Sunday's contest against the Buffalo Bills.
According to Rich Cimini of ESPN New York, the Jets' star defender has still not been cleared for practice, despite getting the green light for physical activity on Wednesday.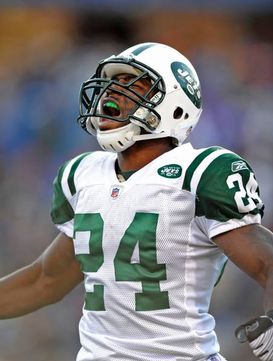 ICONCan the Jets slow down Big Ben and the Steelers without Darrelle Revis?
Revis has resorted to working on the sidelines on the exercise bike while his team prepares for a showdown at Heinz Field on Sunday -- the former University of Pittsburgh star's collegiate home stadium.
Head coach Rex Ryan said the team expects to make a decision regarding his status by Saturday before the team travels to Pittsburgh.
"If he's not 100 percent, Darrelle won't play, it's as simple as that," said Ryan. "This coach would never put a player out on the field if there's a higher risk of him getting injured. There's no way in heck I'd do it."
In order for Revis to play Sunday, he must be cleared by both the team doctor and an independent neurologist, per NFL protocol.
The Pittsburgh Steelers have not begun a season 0-2 since 2002 and linebacker LaMarr Woodley essentially assured media members the streak will not end this season, potentially adding even more incentive to run Revis out this week. With that said, it does not seem as though any external influence will factor into the team's decision.
Stay tuned for an update.
Follow me on Twitter: @NFLDraftUpdate