August 08, 2012 -
Dion Caputi
Richardson to have minor knee surgery
Renowned in his profession or not, the one person you'd preferably never have an individual on your football team be forced to visit is Dr. James Andrews. In the case of Cleveland Browns rookie running back Trent Richardson, it's reality.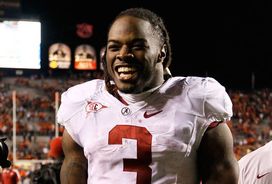 ICONFormer Alabama running back Trent Richardson is expected to undergo surgery.
Via Nate Ulrich of the Akron Beacon-Journal, Browns head coach Pat Shurmur announced the rookie runner is traveling to Pensacola, Florida to have his left knee further examined by Dr. Andrews on Thursday.
Dealing with soreness, Richardson spent Tuesday's practice on the exercise bike with a sleeve covering the same left knee he had scoped last February. The issue prompted a cautionary MRI which revealed nothing worrisome.
Shortly after Mary Kay Cabot of the Cleveland Plain Dealer reported the former Alabama star has had some swelling, ESPN's Chris Mortenson revealed Richardson's visit to Dr. James Andrews tentatively includes arthroscopic knee surgery in order to clean up a loose particle of cartilage -- a minor procedure, unrelated to his February meniscus repair.
"Richardson is expected to be ready for (the) season opener, if not sooner," writes Mortenson.
While knee issues are never to be brushed aside, it appears the Browns are simply taking a proactive approach in order to ensure the team's top draft pick is healthy and ready for the start of the regular season.
Follow me on Twitter: @NFLDraftUpdate