December 13, 2012 -
Joel Corry
Salary cap kings
The largest salary cap numbers can be a pretty good indicator for how NFL teams value the different playing positions. Normally, quarterbacks dominate a list of the largest cap numbers, but that's not the case this year. Matthew Stafford ($17,098,750), Ben Roethlisberger ($16.92 million), Eli Manning ($16.35 million) and Tom Brady ($15.2 million) lowered their 2012 cap numbers in contract restructurings designed to create cap room for their respective teams.
Calvin Johnson was scheduled to have the NFL's largest cap number at $21,081,946 until he leveraged it into a seven-year, $113.45 million contract extension (with $53.25 million in guarantees) from the Detroit Lions, which is the richest deal in NFL history for a non-quarterback. Here's a look at the players with 2012's largest cap numbers. The Collective Bargaining Agreement's daily amounts for participating in a team's voluntary offseason workout program are included in the cap numbers.
1. Dwight Freeney (OLB)-Indianapolis Colts: $19,038,255
Freeney is in the final year of a six-year, $72 million contract (with $30 million guaranteed) he signed in 2007 that made him the NFL's highest paid defensive player. His $14.035 million base salary is the second largest in the NFL this year. Freeney's streak of four consecutive Pro Bowls will likely come to an end since his production has slipped in his transition from 4-3 defensive end to 3-4 outside linebacker. It will be interesting to see whether the Colts will make a serious attempt to re-sign the 32-year-old after giving 31-year-old Robert Mathis, his outside linebacker counterpart, a four-year, $36 million deal (with $17 million guaranteed) in early March to keep him off the free agent market. The Colts' salary cap situation won't be an issue because they could have more than $45 million of cap room heading into free agency.
2. Chris Long (DE)-St. Louis Rams: $18,562,305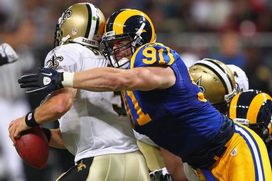 Long landed a brand-new deal last offseason.
Long signed a four-year, $48.2 million contract extension (with $36.76 million in guarantees) when training camp opened. The Rams didn't get any cap relief with the deal because Long's cap number for this year, the final year of his rookie contract, stayed the same. Unlike most contract extensions with large existing cap numbers, his $10.31 million base salary wasn't reduced by converting some portion of it into a signing bonus in order to prorate it over the five years of the contract. Long's contract situation had to be addressed to ensure that he remained with the Rams long term. It would have been virtually impossible to franchise him after the season because his franchise number would have been $22.269 million. The Rams couldn't take the chance that some team would have paid the 27-year-old a premium in free agency because of his pass rushing ability.
3. Peyton Manning (QB)-Denver Broncos: $18,004,960
Manning's five-year, $96 million contract is structured differently than the typical NFL contract. It protects the Broncos from his pre-existing neck condition. Manning's $18 million base salary this season is fully guaranteed. His 2013 and 2014 base salaries at $20 million in each year become fully guaranteed if he is still on Denver's roster on the last day of the 2012 League Year (early March 2013). However, Manning's 2014 injury guarantee voids if he injures his neck during the 2013 season.
4. Patrick Willis (ILB)-San Francisco 49ers: $17,620,654
Willis' restructuring of his five-year, $50 million contract extension (with $29 million in guarantees) in 2011 increased this year's cap number by $10,640,240 even though his $3.604 million salary didn't change. A clause allowing him to void his 2013-2016 contract years at his discretion was added where the 49ers can buy them back for $1,000. Since the contract's voiding is within Willis' sole control, the proration from those years accelerated into this year's cap. As a consequence of the restructuring, his 2013 cap number dropped to $3,605,125.
5. Elvis Dumervil (DE)-Denver Broncos: $15,626,100
Dumervil's cap number is the result of the six-year, $61,361,335 contract he signed in 2010 that had a team-friendly structure. Although Dumervil's deal contained $43.168 million in guarantees, his first year compensation equaled his $3.168 million restricted free agency tender. Since 2010 was an uncapped year, the service time to become an unrestricted free agent increased from four years to six years. The 2010 season-ending torn pectoral muscle Dumervil suffered during training camp put his contract in jeopardy because $40 million of his guarantees were only for injury. Denver could have released him before his 2011 and 2012 base salaries, both $14 million, became fully guaranteed on the fifth day of the 2011 League Year with minimal cap ramifications.
6. Sam Bradford (QB)-St. Louis Rams: $15,599,960
Bradford is one of the last beneficiaries of high draft picks receiving rookie contracts where easily achievable escalators created large base salaries in their deals. As the first pick overall in the 2010 NFL draft, Bradford's six-year deal, which is worth up to $78 million, contains $50 million in guarantees. By contrast, Cam Newton signed a four-year, $22,025,498 contract as the first pick in 2011 after the CBA created a rookie wage scale.
7. Philip Rivers (QB)-San Diego Chargers: $15,314,960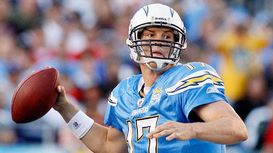 Rivers is one of just three quarterbacks who appear in the top-10 of this list.
Rivers' cap number took on additional significance during the offseason because it was used in the calculations for Drew Brees' exclusive franchise number, which was $16.371 million. Although non-exclusive franchise numbers are now calculated over a five-year period that's tied to a percentage of the overall cap, exclusive franchise numbers are still the average of the top five salaries at a position in the current year after the restricted free agent signing period ends (approximately a week before the NFL draft)
8. Larry Fitzgerald (WR)-Arizona Cardinals: $14,504,495
The Cardinals are wasting the talents of their best player with their inability to find a competent quarterback to replace Kurt Warner, who retired after the 2009 season. Fitzgerald is having his worst season statistically since his rookie year because Arizona's quarterbacks have only completed 43.5% of the passes where he has been targeted. With Warner, Fitzgerald consistently caught over 60% of the passes thrown in his direction. It's unlikely that the Cardinals would trade Fitzgerald less than two years after he signed a seven-year, $113 million contract extension (with $45 million in guarantees) that made him the NFL's highest paid non-quarterback even if he demanded one. His $10.25 million 2013 cap number would become $15 million in dead money with a trade.
9. Jared Allen (DE)-Minnesota Vikings: $14,203,194
Allen replaced Freeney as the NFL's highest-paid defensive player when he received a six-year, $73,260,072 contract (with $31,000,069 in guarantees) as a part of a 2008 sign and trade deal with the Kansas City Chiefs, who had franc hised him. Kansas City acquired Minnesota's first-round pick and two third-round picks in the 2008 draft via the trade. The teams also swapped 2008 sixth-round picks. Allen, whose contract expires after next season, should pay close attention to the deals older pass rushers Freeney and Osi Umeniyora sign in free agency because he will be 31-years-old if he hits the open market in 2014.
10. Trent Williams (OT)-Washington Redskins: $13,985,198
As the fourth player taken in the 2010 draft, Williams received a six-year, $60 million contract (with $36.75 million guaranteed). The deal made Williams the NFL's second-highest paid offensive lineman (by average yearly salary) without having to prove himself as an NFL player. Williams' deal also set the standard for guaranteed money in offensive lineman contracts until the Cleveland Browns gave Joe Thomas $37 million in guarantees with his 2011 contract extension.
Follow me on Twitter: @corryjoel
Joel Corry is a former sports agent who helped found Premier Sports & Entertainment, a sports management firm that represents professional athletes and coaches. Prior to his tenure at Premier, Joel worked for Management Plus Enterprises, which represented Shaquille O'Neal, Hakeem Olajuwon and Ronnie Lott. You can email Joel at jccorry@gmail.com