January 17, 2014 -
Joel Corry
Salary cap mailbag
I get a lot of questions on Twitter relating to NFL contracts and the salary cap. However, Twitter isn't designed for thorough answers with its 140 character limit. Below are more in-depth answers to five interesting or important questions I received from followers on Twitter this past week.
How much are you expecting the cap to increase? $3 million?-@jcomp11
NFL teams were informed at an NFL meeting in December that the 2014 salary cap is preliminarily projected to be $126.3 million. This is a 2.68 percent increase over the current $123 million salary cap. Based on my conversations with a few NFL front office executives, the cap could be as high as $128 million when it is finalized in late February or early March.
What are the benefits for a client to accept a restructured deal?-@Jacobs71
Contract restructures have become standard operating procedure in the NFL, particularly for teams with tight salary cap situations. In a typical restructuring (without taking a paycut), a player will convert some portion of his base salary and/or roster bonus into a signing bonus, which is prorated or spread out evenly over the life of a contract (most other salary components usually can't be prorated) for a maximum of five years. The team gets a lower cap number in the current season while the player gains more short-term security and potentially a better payment schedule in the current year of his contract. The player's cap numbers in the remaining contract years also increase. If the player is considered as one of the team's integral components, the higher cap numbers in those remaining contract years could make him a candidate for a new contract sooner rather later with increased leverage.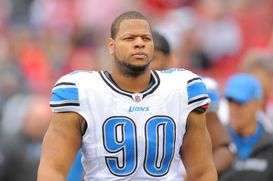 ICONSuh has a 2014 salary cap number in excess of $22 million.
For example, Lions defensive tackle Ndamukong Suh has the NFL's second-highest 2014 cap number at $22,412,500 because he has restructured his five-year rookie contract (worth up to $68 million with $40 million fully guaranteed) twice in the last two years. Detroit's cap situation makes it difficult for them to handle his cap number. When tenders for restricted free agents and exclusive rights players with expiring contracts are included, the Lions are approximately $7.3 million over the projected 2014 salary cap of $126.3 million. Additionally, Detroit can't afford for Suh to play out his contract if it carries his cap number because it will be virtually impossible to use a franchise tag on him in 2015. His franchise tag number will be $26.87 million, which is based off of 120 percent of his 2014 cap number. A contract extension for Suh should be the richest veteran deal in NFL history for a defensive tackle because he probably isn't going to think a decrease from his rookie contract is warranted after becoming a perennial All-Pro during his four-year NFL career.
For a team that doesn't overpay, will Colin Kaepernick's next deal forever compromise the integrity of San Francisco's salary cap?-@DeSimone80
The 49ers won't fundamentally alter their approach to contracts and the salary cap because of Colin Kaepernick. They will still sign core players to lon- term deals mostly at a discounted rate and with favorable contract structure well in advance of the expiration of rookie contracts. Having a quarterback with a deal approaching the $20 million per year neighborhood and upwards to $55 million in guarantees could change how cap dollars are allocated and may cause the 49ers to lose some key players to free agency that otherwise could have been retained. That's a consequence of having a deep and talented roster. It may become more challenging for the 49ers to sign free agents to moderate one and two-year deals with escalators and incentives. More veteran players could be signed to one-year minimum salary benefit contracts. A player receives his league minimum base salary and a maximum of $65,000 as a signing bonus with these deals. The player's base salary counts on the cap at the minimum salary for players with two years of service ($570,000 for the 2014 season) instead of at his actual base salary. The 49ers have one player with a minimum salary benefit contract this season. There were four in 2012 and none in 2011.
It will be a surprise if Kaepernick's contract is structured like Joe Flacco's deal where his peak cap number is over $30 million. It's more likely the 49ers will use something similar to the Green Bay Packers' approach with Aaron Rodgers, where the cap numbers are more manageable and without big fluctuations. Kaepernick's contract will include large per game active roster bonuses, just like San Francisco's other lucrative deals, even though they aren't in most of the top quarterback contracts. Only Rodgers and Jay Culter have them. The primary benefit of the roster bonuses is that they provide some financial and cap relief with injuries. The per game amount is only payable if the player is on the 46-man active roster for that particular game. For example, All-Pro linebacker NaVorro Bowman has $750,000 roster bonuses ($46,875 per game) in most years of his deal. If he suffers a season-ending injury after playing eight games in 2015, he won't earn the remaining $375,000 of his 2015 roster bonus.
When do the Panthers restructure or part ways with Jonathan Stewart?-@StevenFeezor
It didn't make sense for the Carolina Panthers to sign Jonathan Stewart to a five-year, $36.5 million contract extension (including $23 million guaranteed and worth a maximum of $41.5 million through salary escalators) in 2012 after paying DeAngelo Williams like a workhorse running back a year earlier. The structure of Stewart's contract will prevent the Panthers from releasing him in 2014.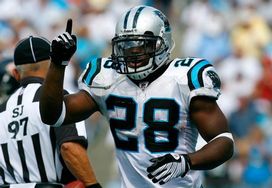 Stewart's contract appears to have been a big mistake.
Stewart has a $6.785 million option bonus due on the 10th day of the 2014 league year (March 20) to extend his contract an additional year so it runs through the 2017 season. There is an equivalent non-exercise fee due the following day if the Panthers don't exercise their option for the extra year. Paying the option bonus or non-exercise fee will reduce Stewart's fully guaranteed $8.285 million 2014 base salary (without an offset) to a fully guaranteed $1.5 million (without an offset). His 2014 cap number is $5,496,250 with exercise of the option. If Stewart is released before the option bonus is payable, the Panthers will have a 2014 cap charge (or dead money) of $18.185 million for him. The $18.185 million includes Stewart's $8.285 million 2014 guaranteed base salary and $2.5 million 2015 base salary guarantee, which would accelerate onto Carolina's 2014 cap upon release. Giving Stewart a post-June 1 designation would keep the $5.1 million of signing bonus proration associated with the remaining years of his deal from accelerating into 2014. The Panthers would have $13.085 million of dead money because of Stewart's departure.
There would be a $7,996,250 2014 cap charge for Stewart if he is released after June 1 with exercise of the option primarily becaus e of his base salary reduction. The Panthers would also have $10,188,750 of dead money for him in 2015. The dead money is usually the same if a player receives a post-June 1 designation or is released after June 1. The different amounts with Stewart are due to the option bonus and non-exercise fee.
Stewart has an $8,496,250 2015 cap number if the option is exercised. The Panthers will gain $2 million of cap room by releasing Stewart in 2015 with post-June 1 treatment (assumes the option was exercised). There would be $6,496,250 of 2015 dead money and $6,192,500 of dead money in 2016.
Who do you think will be the biggest cap casualty surprise?-@chancey_
Keep an eye on Frank Gore's situation even though he finished ninth in the NFL in rushing with 1,128 yards. Gore is scheduled to make $6.45 million next season, which is the last year of his contract, and turns 31-years-old in May. Running backs in their thirties usually don't command such a high salary, especially on teams with good depth at the position. Marcus Lattimore, who is essentially "redshirting" this season as a rookie because of a serious knee injury suffered in college, could be the future of San Francisco's rushing attack.
It is unusual for running backs to sustain or improve their production in their thirties especially if they have had a heavy workload earlier in their careers. Gore is second among active players with 2,187 career rushing attempts and tied for 29th all-time. Although Gore is still performing at a high level, just eleven running backs have ever hit the 1,000-yard rushing mark at 31-years-old.
The situation could take a turn for the worse if the 49ers ask Gore to take a paycut where he isn't sensitive to the older running back marketplace. Only five running backs, including potential cap casualty Chris Johnson, are scheduled to make more than Gore next season. Darren Sproles and Steven Jackson, who are both 30-years-old, will be the highest paid older running backs with $3.5 million and $3 million salaries.
Follow me on Twitter: @corryjoel
Joel Corry is a former sports agent who helped found Premier Sports & Entertainment, a sports management firm that represents professional athletes and coaches. Prior to his tenure at Premier, Joel worked for Management Plus Enterprises, which represented Shaquille O'Neal, Hakeem Olajuwon and Ronnie Lott. You can email Joel at jccorry@gmail.com.