March 02, 2014 -
Joel Corry
Set to strike it rich
Detroit Lions general manager Martin Mayhew indicated at the NFL Combine in Indianapolis that he would like to extend defensive tackle Ndamukong Suh's contract by the time the 2014 league year begins on March 11. The biggest obstacle to a new deal right now is that Suh doesn't have an agent. He recently fired Roosevelt Barnes, who made Suh the highest paid defensive tackle in NFL history with a five-year rookie contract worth a maximum of $68 million with $40 million guaranteed. Technically, Suh has a 2015 contract year that will void five days after Super Bowl XLIX (February 6, 2015) so he is entering the final year of his rookie deal.
Suh has been linked to Jay-Z's Roc Nation Sports but hasn't made a final decision about new representation. If Suh chooses Roc Nation, his best bet would be to have the same arrangement as New York Giants wide receiver Victor Cruz. Roc Nation handles Cruz's marketing while Creative Artists Agency's Tom Condon negotiated his football contact. Hakeem Nicks switched to Roc Nation with their in house contract negotiator, Kimberly Miale, and Condon representing him for football matters.
Suh has the NFL's second highest 2014 salary cap number at $22,412,500 because he has restructured his deal twice in the last two years. The Lions can't afford for Suh to play out his contract if they carry his cap number because it will be virtually impossible to use a franchise tag on him in 2015. His franchise tag number would be $26.87 million, which is based on 120% of his 2014 cap number.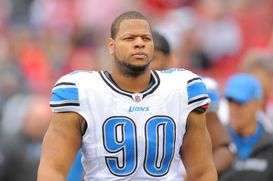 ICONSuh has started 62 of a possible 64 regular season games since entering the league in 2010.
The Lions have slightly over $10 million of cap room before factoring in tenders for restricted free agents and exclusive rights players with expiring contracts that haven't re-signed. Most notably, running back Joique Bell should receive a second round restricted free agent tender of $2.187 million.
Detroit's predicament with Suh is similar to the one the organization had with wide receiver Calvin Johnson two years ago when his 2012 cap number of over $21 million in his contract year gave him tremendous leverage. Johnson signed a seven-year, $113.45 million contract extension (with $53.25 million guaranteed) that made him the NFL's highest paid non-quarterback. The Lions picked up $9.55 million in 2012 cap room with his extension.
Suh has enough leverage that he should be able to set a new standard for interior defensive linemen compensation with his new deal unless he's willing to give the Lions a hometown discount. The five-year, $61 million contract (with $35 million guaranteed) Haloti Ngata received from the Baltimore Ravens in 2011 is the top veteran deal for an interior defensive lineman. Suh has earned $51.95 million in the four years ($12,987,500 average per year) he's played under his rookie contract. He probably isn't going to think a decrease from his rookie contract is warranted after becoming a four-time All-Pro in his four NFL seasons. Don't be surprised if Suh's extension averages more than $14 million per year with over $45 million in guarantees. The Lions should be able to pick up at least $6.5 million of 2014 cap room with Suh's new deal. The $9,737,500 of bonus proration that's a part of Suh 2014 cap number limits the amount of cap room the Lions can gain. By contrast, Johnson only had $2,581,946 of bonus proration as part of his 2012 cap number prior to his extension.
Only if the Lions aren't comfortable with Suh's contract demands should they explore trading him. There would be a glaring need at defensive tackle without Suh on the roster, but the Lions would likely get much better draft compensation via trade that could be used in 2014 instead of waiting on a compensatory pick for Suh in 2016 after departing via free agency. The best compensatory pick the Lions could get would be at the bottom of the third round. The Lions would have $19.475 million in dead money (a cap charge for a player no longer on the roster) by trading Suh, which is $2,937,500 less than his current cap charge.
Suh is fortunate that the 2011 collective bargaining agreement's rookie wage scale wasn't implemented a year earlier. Instead of setting the defensive tackle market with his rookie contract, he would have signed a fully guaranteed four-year, $21,000,380 deal. Detroit would have picked up their option for a fifth contract year where Suh's 2014 salary would have been $7.039 million, the 2013 transition tag number for defensive tackles. Without an astronomical 2015 franchise tag in the equation, there wouldn't be the same sense of urgency for a new deal and the Lions probably would have tried to keep a new contract in line with the five-year, $53.327 million extension Geno Atkins received from the Cincinnati Bengals right before the start of the 2013 regular season.
Tampa Bay defensive tackle Gerald McCoy is the player most interested in Suh's situation. He was taken immediately after Suh as the third overall pick in the 2010 NFL draft. The two-time Pro Bowler is also entering a contract year and has a $15,267,253 2014 cap number. If Suh signs a new contract, McCoy, who has made $44.405 million in four NFL seasons, will likely try to get a new deal for slightly less than Suh's.
Follow me on Twitter: @corryjoel
Joel Corry is a former sports agent who helped found Premier Sports & Entertainment, a sports management firm that represents professional athletes and coaches. Prior to his tenure at Premier, Joel worked for Management Plus Enterprises, which represented Shaquille O'Neal, Hakeem Olajuwon and Ronnie Lott. You can email Joel at jccorry@gmail.com.