October 15, 2013 -
Jeff Fedotin
Should the NFL get rid of Thursday Night Football?
Panthers linebacker Thomas Davis had completed one of the most impressive medical recoveries in football history.
He became the first NFL player to successfully resume his career after three ACL reconstructions to the same knee, playing 15 games in 2012.
But when I talked to him last season, he was smarting over the game he missed — a 36-7 loss to the Giants in Week 3 on Thursday Night Football.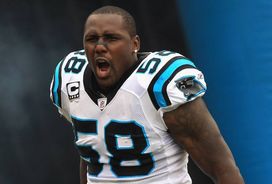 Davis appeared in 15 games last season, but missed Carolina's Thursday night showdown with the Giants.
Given a full week's time to recover, Davis swears his hamstring injury would've healed enough for him to suit up.
Instead playing football on a short week is even more grueling for players already competing in a physically and mentally taxing sport.
"You can't really just dig into practice like you would if it was a normal week," Saints wide receiver Robert Meachem told NFP. "It's hard physically because you've got to get your body back ready for a quick week. There are a lot of bumps and bruises that fans and other people just don't see. They don't understand what we have to get through to get to the game."
As a result there is a carryover into the overall performance in the games. Excluding Week 1's 49-27 Broncos win — for which Denver and the Ravens had all offseason to prepare — Thursday nights this season have featured a number of ugly, mistake-filled contests.
Week 2 — Patriots 13, Jets 10
This slopfest had a multitude of dropped passes on both sides. Future Hall of Fame quarterback Tom Brady recorded a 71.0 QB rating, and his counterpart, Jets quarterback Geno Smith, threw three fourth-quarter interceptions. On the 17 possessions in the first half, there were 11 punts, a lost fumble, one missed field goal, three field goals and a touchdown.
Week 3 — Chiefs 26, Eagles 16
The Eagles had four first-half fumbles, including gaffes that should not happen on the high school level. Philadelphia fumbled a shotgun snap, and Damaris Johnson's muffed fair catch gave Kansas City the ball at the Philadelphia eight-yard line.
Week 4 — 49ers 35, Rams 11
The teams combined for 18 penalties totaling 167 yards. The Rams averaged .9 yards per carry, and Rams quarterback Sam Bradford completed just 19-of-41 passes.
Week 5 — Browns 37, Bills 24
This was actually one of the more entertaining Thursday Night Football contests this year, and it says something when a game that ended in a Jeff Tuel-Brandon Weeden quarterback duel qualifies as such.
Week 6 — Bears 27, Giants 21
The game was decided when the potential game-winning pass went right through the hands of Giants tight end Brandon Myers and was intercepted by Bears cornerback Tim Jennings. Perhaps that's just indicative of the Giants' woeful season, but New York's execution certainly did not look crisp on the contest's most important play.
Lack of prep and soreness
The Week 6 game was also different in ways not noticeable to the everyday fan. Bears quarterback Jay Cutler said both teams ran more basic and vanilla schemes because of the short week.
Teams change their gameplan because they are forced to scale back their preparation. The Saints, for example, typically cut down the number of their practice reps each day and do not go in full pads all week before they play on Thursday night.
"Before you know it, the game's on you," Saints center Brian de la Puente said. "You like being in the spotlight, but it also poses recovery and logistical issues."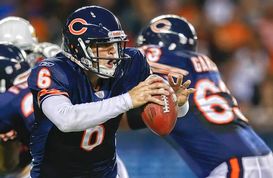 ICONCutler said teams tend to be a bit more 'vanilla' in their game planning when playing on Thursday night.
Regarding his typical recovery, Cutler said Thursday is the day his body is "just starting to feel a little bit better."
"Physically just being able to go out there full speed on Thursday is a challenge," he said. "It's hard to win in this league especially on a Thursday."
For Cutler's teammate, cornerback Charles Tillman, Thursday was not enough time. The two-time Pro Bowler missed his first game since 2009 because of a knee injury, even though he showed up at 6 a.m. every morning for treatment, leading up to the game.
Because quality starters like Tillman have to miss the game, the product on the field becomes worse.
Moreover, the truncated week seems contradictory when the NFL is making such an apparent public effort to focus on player safety, including the way the league now legislates hits on receivers and quarterbacks.
Will the NFL eliminate Thursday night games?
Despite that hypocrisy, don't look for Thursday night games to go away. It gives the NFL a platform to showcase its NFL Network and a reason for cable companies to pay for it.
Most of the games have been sloppy and lacked marquee opponents. The NFL Network's slate has yet to feature a contest between two over .500 teams this season.
The games, however, are drawing strong ratings. Through five weeks the 2013 games have averaged a 5.1 American household rating (a 28 percent increase over last year) and 8.1 million viewers (a 27 percent increase over last year.)
Even though Week 6 featured the winless Giants, approximately 1.7 million more people watched that than the American League Division Series between the Tigers and A's, according to Nielsen ratings.
It just goes to show the insatiable thirst for all things NFL. Fans cannot get enough of it.
But in this case Thursday Night Football represents quantity over quality.
Follow Jeff on Twitter: @JFedotin
Jeff Fedotin has written for Packers.com, Pro Football Weekly, ESPN The Magazine, the Lawrence (Kan.) Journal-World and Rivals.com. After graduating from Northwestern University, he interned for the Buffalo Bills. During his football playing days at Pembroke Hill (Mo.) School, Fedotin was known for his bad knees and even worse blocking.