December 23, 2010 -
National Football Post
Should we care about Rex?
Rex Ryan is the most-outward public figure at a company valued over $1.14 billion. His original four-year, $11.5-million contract — and his subsequent extension last offseason — displays that fact pretty clearly. You don't pay someone nearly $3 million per year to sit in a cubicle.
Through nearly two seasons, Ryan has earned his paycheck. He took the Jets to the AFC Championship game a year ago. And despite inconsistent quarterback play and a host of key injuries on defense (Kris Jenkins and Jim Leonard, among them), he has New York sitting at 10-4 and on the verge of another playoff appearance.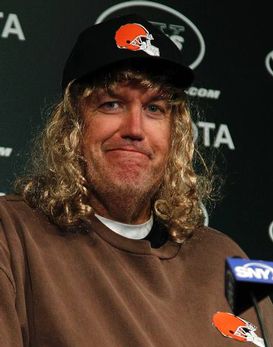 Ryan's vivacious off-the-field personality has made him fan-favorite.
Since being hired away from the Baltimore Ravens, Ryan has been called a lot of things. Braggadocios? Sure. Overzealous? You bet. Politically incorrect? As Rex would say, hell yeah.
On Tuesday evening, Ryan had a different identity thrust upon him — one I'm not entirely sure how to categorize. Read for yourself. This has nothing to do with football. These "scandals" rarely do.
Which begs the question: Why should we care?
Trust me, I get it. We live in a PR-driven world, where Tiger Woods can go from one of the greatest marketing tools of our time to a figure mired in humiliation, disgrace, and overall disdain — all in a matter of hours. And we live in a scandal-starved society, hoping in some sick way that the downfall of public figures humanizes them and makes them more like us.
There's an obsession with celebrity in this country, a fixation with peering into the lives of people we could never imagine being. It's why tabloids exist, why TMZ launched a sports wing to its gossip enterprise, and why Deadspin's post on the Ryan "scandal" has over 700,000 views in less than 48 hours.
Make no mistake, Rex Ryan is a celebrity — partly thanks to his own bravado and partly due to the market in which he works. Again, they don't pay you nearly $3 million per year to push papers and sit behind a desk.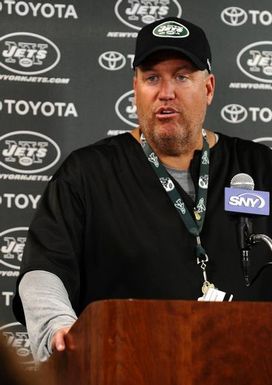 ICONRyan's private life became very public after Deadspin's report on Tuesday.
So why should we care that Rex's wife, Michelle, seems to have a foot fetish? Is it a bit humorous? Sure. An embarrassment to the Jets? Depends on your perspective. But it's nothing more than that. This isn't a criminal act, nor does it detract from Rex's coaching ability.
In his two seasons with the Jets, Ryan has proved to be an unconventional coaching commodity. He swears too much. He brings in seemingly troubled players (Santonio Holmes and Braylon Edwards) and over-the-hill stars (LaDainian Tomlinson), meshing them seamlessly into his team. And he's not bashful in expressing his desires and expectations to win a Super Bowl.
Before Tuesday, this is pretty much all we knew about Ryan. His private life was kept away from the cameras and podiums. Those starving to know more about Rex The Celebrity got their wish.
Now can everyone please just move on?
Scott Miller is a senior at The University of Iowa and a contributor to the National Football Post. Follow him on Twitter: @stmillr.