February 29, 2012 -
Dion Caputi
'Skins targeting receivers in free agency
While it's no secret that the Washington Redskins have a major need at the quarterback position, the team has also been seeking reinforcements at the wide receiver position since last offseason.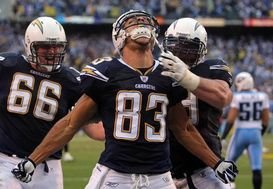 Could Vincent Jackson be headed for Washington?
According to Mark Maske of the Washington Post, the team is preparing to add an impact player to its receiving core.
"The Washington Redskins are making plans to add a high-profile wide receiver in an NFL free agent market," writes Maske, citing several sources close to the team. "People with knowledge of the team's plans say they appear to be focusing on the free agent market, rather than the draft, for that player"
Adding a top flight receiver would certainly protect any sort of investment Washington could make in the quarterback position come draft time.
Among possible targets listed by Maske are Vincent Jackson of the San Diego Chargers, Colts duo Pierre Garcon and Reggie Wayne, and Marques Colston of the New Orleans Saints.
The Washington Redskins will head into free agency as one of a handful of teams with a significant amount of free cap space. It will be interesting to see what they do with the financial flexibility and the free-spending mindset of owner Daniel Snyder on March 13th.
Follow me on Twitter: @NFLDraftUpdate