January 17, 2013 -
Joel Corry
Something is better than nothing
Earlier in the season, I identified several players that were potential candidates to be released during the offseason. Sometimes it is in everyone's best interest for a player to accept a lower salary instead of getting released. Here's a look at five players who could be asked to take a pay cut in order to remain with their clubs.
Nnandi Asomugha (CB)-Philadelphia Eagles: Prior to signing a five-year, $60 million contract ($25 million guaranteed) with the Eagles, Asomugha was considered as the NFL's second-best cornerback behind Darrelle Revis. The expectation was that he would be Philadelphia's best cornerback since five-time Pro Bowler Troy Vincent. Unfortunately for the Eagles, Asomugha's play has been more reminiscent of Izel Jenkins, who was given the nickname "Toast" in the early nineties because he was burnt on too many long pass plays.
Asomugha has a $15 million base salary in 2013. $4 million of his salary is fully guaranteed without an offset. The lack of an offset will allow Asomugha to receive the $4 million from the Eagles if they release him in addition to what he makes from another team in 2013. Asomugha has indicated that he would like to remain in Philadelphia next season. Given how he has performed, his best move financially may be taking a huge pay cut instead of hitting the open market as a 31-year-old cornerback. The impending free agency of Dominique Rodgers-Cromartie, Philadelphia's other starting cornerback, could factor into whether Asomugha returns.
Doug Free (OT)-Dallas Cowboys: The Cowboys signed Doug Free to a six-year, $48 million contract ($17 million guaranteed) in 2011 to anchor the offensive line. The last two contract years worth $16 million automatically void if he is still on the Cowboys' roster 23 days before the 2015 League Year begins. After struggling with premier pass rushers at left tackle in 2011, Free was moved to right tackle this season but didn't fare any better. Late in the season, Dallas started rotating in Jeremy Parnell at right tackle, with Free taking a majority of the snaps.
Dallas is currently $20.52 million over the expected $121 million 2013 salary cap. Thanks to a March 2012 contract restructuring, which created $3.84 million of cap room for Dallas and increased Free's 2013 cap number to $10.02 million, releasing him will not help the Cowboys get under the cap before the start of the 2013 League Year. His $10.02 million cap number is the same as his dead money charge if he's not on the roster. The only way Dallas can get any immediate cap relief with Free's contract is by reducing his $7 million 2013 base salary.
Kevin Kolb (QB)-Arizona Cardinals: Cardinals president Michael Bidwell recently stated that he wasn't ready to give up on Kolb. Bidwell also acknowledged that the Cardinals haven't gotten value from him yet. Arizona gave up cornerback Dominique Rodgers-Cromartie and a 2012 second-round pick in a 2011 trade to acquire Kolb from the Eagles. He signed a five-year, $62.108 million contract extension (with $20 million in guarantees) as a part of the trade.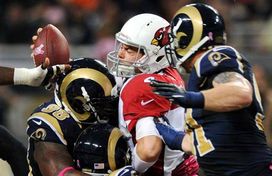 Kevin Kolb's best bet may be to stay in Arizona where he can compete for the starting job.
After an uneven and injury-plagued debut season for the Cardinals, Kolb lost a preseason battle for the quarterback job to John Skelton. Kolb took advantage of the opportunity when Skelton injured his ankle in the season opener by leading the Cardinals to a 4-0 start before suffering a season-ending rib injury in Week 6. Although he was playing his best football in his Arizona career before the injury, Kolb wasn't the second coming of Kurt Warner. However, he may have been able to save general manager Rod Graves and head coach Ken Whisenhunt's jobs if he had stayed healthy.
Kolb is scheduled to make $11.5 million in 2013. $2 million of his salary is a roster bonus that's payable on the fifth day of the League Year (March 16th). Remaining in Arizona is Kolb's best opportunity to start in 2013. If he is released, he will likely become a backup quarterback where the top of the market is $3.5 million per year (Jason Campbell and Kyle Orton). Given his alternatives, Kolb should be receptive to a salary reduction that gives him the chance to earn most of the money back in not likely to be earned incentives, provided that he performs up to expectations.
Zach Miller (TE)-Seattle Seahawks: Miller has primarily been a blocking tight end with Seattle since signing a five-year, $34 million contract ($17 million in guarantees) in 2011. That type of money is usually reserved for pass catching tight ends. His eight catches for 142 yards against the Atlanta Falcons in the divisional playoff round was his most productive game with the Seahawks. In two seasons with Seattle, Miller has caught 63 passes for 629 yards. His Seattle receiving totals are less than his 2009 season with the Oakland Raiders in which he had 66 receptions and 805 receiving yards.
Miller is scheduled to make $10 million in 2013. $4 million of his base salary is fully guaranteed and $3 million is a tenth day of the League Year roster bonus (March 21st). Miller's $10 million salary and $11 million cap number are easily the highest 2013 figures for tight ends. Unless Seattle plans on utilizing Miller as more of a receiving threat in their passing game next year, devoting some of his 2013 salary to a more impactful position would be a better allocation of financial resources. Since only $5 million of Miller's $17 million in guaranteed money is a signing bonus, Seattle would have a $3 million cap charge in dead money if they released him.
DeAngelo Williams (RB)-Carolina Panthers: The Panthers raised a lot of eyebrows by signing Williams to five-year, $43 million contract (with $21 million guaranteed) in 2011 after he missed a majority of the 2010 season with a foot injury. Carolina compounded their running back situation by giving Jonathan Stewart a comparable five-year contract extension during the preseason. Williams started the first five games of the season but lost his job to Stewart because of ineffectiveness. Subbing for Stewart, who missed the last five games of the season with an ankle injury, Williams set a franchise record with 210 rushing yards in the season finale against the New Orleans Saints.
The Panthers have approximately $129.5 million committed towards the 2013 cap so they need to re-structure several contracts or release players to be cap compliant by March 12th, the start of the 2013 League Year. Williams, who turns 30-years-old in April, counts $8.2 million towards the cap in 2013. His cap number is the NFL's sixth-highest for a running back. Williams also has a $5 million 2013 salary, which is too much for a time share situation with Stewart. Because of how Williams' contract is structured, releasing him would increase his cap charge to $9.6 million. The Panthers could designate him as a post-June 1 cut to lessen the cap obligation to $3.2 million by delaying the acceleration of the $6.4 million in signing bonus proration from the remaining contract years until 2014. However, Carolina would still carry his $8.2 million cap number until June 2nd under this scenario.
Follow me on Twitter: @corryjoel
Joel Corry is a former sports agent who helped found Premier Sports & Entertainment, a sports management firm that represents professional athletes and coaches. Prior to his tenure at Premier, Joel worked for Management Plus Enterprise s, which represented Shaquille O'Neal, Hakeem Olajuwon and Ronnie Lott. You can email Joel at jccorry@gmail.com