December 27, 2011 -
Barry Dorey
Spagnuolo to coach Philly defense next season?
Recent reports have indicated that St. Louis Rams owner Stan Kroenke is preparing to wipe the slate clean this offseason and search for a new head coach in 2012, meaning current head coach Steve Spagnuolo could become an attractive option for some teams in need of a defensive coordinator.
Kevin Acee of the San Diego Union-Tribune, citing league sources, reports that big things could be coming in the near future.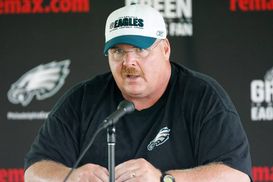 ICONDoes Andy Reid have a new defensive coordinator coming to town in 2012?
"League sources have said for weeks that Kroenke plans to clean house after the season, firing both head coach Steve Spagnuolo and General Manager Billy Devaney," writes Acee. "League sources also said this week that it is all but certain that Spagnuolo will join Andy Reid's staff in Philadelphia as the Eagles' defensive coordinator."
After an abysmal three-year record of 10-38, Spagnuolo has been on the hot seat for some time now. The head coach previously spent eight years in Philadelphia as a defensive assistant and positional coach prior to becoming the defensive coordinator of the New York Giants in 2007.
With Eagles head coach Andy Reid giving defensive coordinator Juan Castillo the dreaded vote of confidence after a disappointing season, the position may be vacant this offseason.
As far as the St. Louis Rams are concerned, Jason La Canfora of the NFL Network suggested that former Tennessee Titans head coach Jeff Fisher is among the team's top head coaching candidates, should Spagnuolo be fired.
"I expect the Rams to take a serious run at Jeff Fisher," said La Canfora.
The coaching carousel is going to be turning at full speed very shortly.
Stay tuned.
Follow me on Twitter: @NFLDraftUpdate