January 17, 2012 -
Dion Caputi
Steelers to hold off on extending Mendenhall
The timing of Pittsburgh Steelers running back Rashard Mendenhall's torn ACL couldn't have been worse. On top of the fact that the knee injury put him on the shelf one week before the AFC wildcard round, Mendenhall is only a year away from becoming an unrestricted free agent.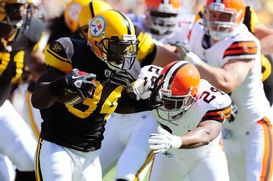 ICONThe Steelers don't plan to offer Mendenhall an extension until they see what he can do.
The former first round draft choice from Illinois is set to make $650,000 in the final year of his contract next season and is deserving of a new deal. However, the correct amount in a possible extension may soon become a hot-button issue within the Steelers organization.
According to Scott Brown of the Pittsburgh Tribune, Steelers team president Art Rooney II said the team will take a wait-and-see approach regarding Mendenhall in order to properly gauge how he responds to reconstructive knee surgery.
With that being said, the organization is widely regarded as being one that takes care of its own. Provided he can display the same ability early on, Mendenhall should receive compensation for the 3,367 yards and twenty-nine touchdowns he has rushed for in a Steelers uniform.
At only 24 years of age, Mendenhall has established himself as one of the league's better young runners.
Follow me on Twitter: @NFLDraftUpdate