March 27, 2014 -
Jerry Angelo
Tape vs. Workouts
Pro Days are a very big deal for NFL organizations. This is the last time teams will rally onto college campuses around the country, reassuring themselves of the work they put in during the year while additionally determining the final fate of these draft prospects.
The area scout's mindset is different from the coaches. This specific scout has spent more than eight months evaluating the players in his designated region of the country. His many visits to college campuses are well documented based on airfare, car mileage and the many meals he ate on the road at local diners or in the driver's seat of his car while traveling to the next school.
For the area scout, the Pro Day means closure.
Pro Days are a great place to mix and network with other clubs. Some teams may be represented by four to six employees, meaning they have a sincere interest in a particular player or players at that school. Most teams generally send two or three officials to watch and gather information based on the workouts.
A lot of intelligence can be gathered by attending a Pro Day. Between pro coaches, scouts, NFL front office types and the college coaches—who mingle with their NFL guests—there is a lot of news, data and advice being garnered and bantered around by the football fraternity.
The ability to watch athletes perform on their own college campus allows you to see them in a more relaxed atmosphere. When players are at the Combine in Indianapolis, they can be overwhelmed or overhyped, so they may not perform the way they would at their school or when they are less tense.
I remember a receiver out of the University of Miami named Horace Copeland who ran a 4.6 40-yard dash at the 1993 Combine. Horace was regarded as one of the faster receivers in the country that season, so that 4.6 had many scouts in disbelief. At his Pro Day on Miami's campus a few weeks later, Copeland ran in the 4.4s, which was much more in tune to how he played as a member of the Hurricanes.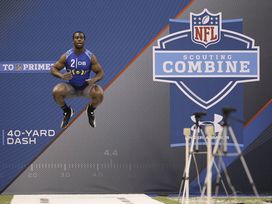 Pro Day workouts provide draft prospects a more comfortable setting to improve on their Combine numbers.
It is not uncommon for players to run much better on their home turf. Most teams will take the best results of a player, regardless of where he works out. However, if a player did not perform well at the Combine and then failed to improve on those numbers at his Pro Day, then the obvious is the obvious. There have been many players who looked fast or overly talented on tape, but couldn't perform in shorts.
The one player that comes to mind in this instance is an elite pass rusher, who the Baltimore Ravens drafted in the first round. This prospect looked like a great athlete on tape at Arizona State—where he was a premier pass rusher—so much so that he declared early for the draft. I remember this player's agent, Gary Wichard, being so livid after a workout performance that he lit into his client behind closed doors.
I talked to Gary sometime after that workout and he told me what he said to his client. I was shocked, but that's what made Gary one of the better agents. He told his players how it was and didn't tell them what they wanted to hear. He felt his player hadn't trained hard enough, so he let him know it.
Unfortunately, this player's follow-up workout on his college campus didn't erase his previous performance. It was slightly better, but by most accounts was certainly not a "first round" workout. I give credit to Baltimore general manager Ozzie Newsome for drafting Terrell Suggs. He relied on the tape and he was right. He got a special player at a real value based on where the Ravens took him, as opposed to where Suggs was projected to go. So the lesson here is that you can't overrate these workouts.
When I made an evaluation on a prospect, at least 60-70 percent was based on his college tape. The workouts are important, but the tape talks the loudest about a player. The question each team has to figure out is what emphasis you place on the workout versus the player's game tape. That's what separates scouts and organizations. I always told our scouts, "Information gatherers made a living, evaluators made money."
Evaluating players is no science. You can look for the same things from player to player, but no two players are alike. Each prospect possesses certain strengths and weaknesses. The good evaluators are able to discern those and determine if he'll be able to play over his shortcomings. That's the bottom line for scouts: Who can play, who can't play and why.
The teams that do the best jobs of this will find good players during the later rounds. The league is full of later round picks and college free agents who not only made teams, but started and excelled as one of their team's better players.
Most of these players didn't have great workouts, but they had good tape and the one thing that no stop watch can measure: A warrior's heart.
Follow Jerry on Twitter: @RealJerryAngelo
Jerry Angelo was the General Manager of the Chicago Bears from 2001 to 2012. Prior to joining the Bears, Angelo spent 14 years overseeing the Tampa Bay Buccaneers' scouting department as their Director of Player Personnel. Angelo graduated from Miami University in 1971.