February 27, 2013 -
Joel Corry
Ten players who could restructure their contracts
Contract restructurings have been on the rise since the lockout ended because there has been minimal growth in the cap. With the salary cap expected to only increase from $120.6 million to $122 million this year, there could be plenty of restructurings before the 2013 league year begins on March 12 when all teams must be under the cap.
A contract restructuring is different from a pay cut. In a typical restructuring, a player will convert some portion of his base salary or roster bonus (without reducing salary) into a signing bonus because it can be prorated or spread out evenly over the life of a contract (most other salary components usually can't be prorated) for a maximum of five years. The team gets a lower cap number in the current season while the player gains more short-term security and potentially a better payment schedule in the current year of his contract. The player's cap numbers in the remaining contract years also increase, which can make him more susceptible to becoming a cap casualty in the future.
For example, Eli Manning created $6.75 million of cap room for the New York Giants when he lowered his 2012 cap number from $16.35 million to $9.6 million by converting $9 million of his $10.75 million 2012 base salary into a signing bonus. As signing bonus, the Giants were able to prorate this $9 million over the four years left on his contract. Manning's 2013, 2014 and 2015 cap numbers each increased by $2.25 million to $20.85 million, $20.4 million and $19.75 million with the restructuring.
Players can restructure their contracts at any time, including multiple times in the same season. There isn't a limitation on how many consecutive years a player can restructure his contract. However, once a player receives a salary increase when reworking his contract, he can't receive another salary increase for one year.
Here's a look at ten players—with their 2013 cap numbers—who could be candidates to restructure their contracts in the coming weeks.
Brandon Carr (CB)-Dallas Cowboys: $16.3 million
The five-year, $50.1 million contract Carr signed last March only contained a $3,205,425 2012 cap number. His 2013 cap number is the highest cornerback figure in the NFL. Dallas needs to clear slightly over $20 million of cap room in order to be cap compliant when the 2013 league year starts. If the Cowboys reduce Carr's $14.3 million base salary to $1.3 million while converting the remaining $13 million into a signing bonus, his 2013 cap number would become $6.55 million. This maneuver would create $9.75 million in immediate cap savings for Dallas. Carr's 2014 through 2016 cap numbers would each increase by $3.25 million.
Peyton Manning (QB)-Denver Broncos: $20 million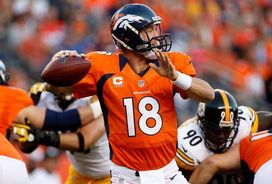 Manning restructured his 2004 contract twice while with the Indianapolis Colts.
The Broncos will have slightly more than $6 million of cap room after All-Pro left tackle Ryan Clady is franchised at approximately $9.7 million. Denver has a lot of flexibility in how much cap room they can create with Manning's fully guaranteed $20 million 2013 base salary. Manning has a history of restructuring contracts to help his team with cap room. He restructured the seven-year, $98 million contract he signed in 2004 twice while with the Indianapolis Colts.
Andre Johnson (WR)-Houston Texans: $14,852,918
Johnson has the largest 2013 wide receiver cap number because he earned $3.3 million in 2013 base salary escalators primarily for ranking among the NFL's top-five in receptions and receiving yards during the 2012 season. The Texans gained $4.4 million in cap room when Johnson restructured his contract last March. If last year's contract restructure is an indication of how Houston will approach reworking Johnson's deal, $8.5 million of his $9.5 million 2013 base salary will be converted into a signing bonus and his $1 million first regular season game roster bonus will stay intact. Such a move will create $6.375 million in 2013 cap room for the Texans. The cap numbers in the remaining three years of his contract will each increase by $2.175 million. Johnson's 2014 cap number would become $12,894,583.
Julius Peppers (DE)-Chicago Bears: $16,383,333
If Pro Bowl defensive tackle Henry Melton receives Chicago's franchise tag for approximately $8.3 million, the Bears will have less than $3 million in cap room. Peppers restructured his contract in 2011 by converting his $10.5 million first day of the league year roster bonus into a signing bonus. 2013 could be Peppers' last year in Chicago if a significant portion of his $12.9 million base salary is used to create cap room because his 2014 cap number is already $17,183,333.
Drew Brees (QB)-New Orleans Saints: $17.4 million
The Saints need to clear close to $15 million in cap space by March 12.
New Orleans must rid themselves of almost $15 million in cap obligations by March 12. Brees has the highest cap number on the team and the NFL's fifth-highest 2013 quarterback cap number. He can generate $6,562,500 of cap room by turning $8.75 million of his $9.75 million 2013 base salary into a signing bonus. His 2013 cap number would become $10,837,500 in his reworked deal. Brees may not be comfortable restructuring his contract because his 2015 and 2016 cap numbers, which are $26.4 million and $27.4 million, would each increase by $2,187,500.
James Laurinaitis (LB)-St. Louis Rams: $12.4 million
St. Louis is approximately $1.5 million over the cap but would like to re-sign wide receiver Danny Amendola. The Rams' three best options to help them get under the cap are Cortland Finnegan ($15 million), Chris Long ($13.25 million) and Laurinaitis. The five-year, $41.5 million contract extension Laurinaitis signed one day before the Rams' 2012 regular season opener contains an $11 million fifth day of 2013 league year roster bonus that became fully guaranteed after the third game of the 2012 season. The easiest way to gain cap room is to convert some portion, if not all, of Laurinaitis' roster bonus into a signing bonus.
Ben Roethlisberger (QB)-Pittsburgh Steelers: $19.595 million
The Steelers are approximately $8 million over the cap after linebacker Lawrence Timmons restructured his contract on February 26. Roethlisberger, who has restructured his contract in each of the last two years, is reportedly close to completing his third contract restructure. Fortunately for Pittsburgh, the signing bonus proration from his 2008 contract extension only runs through his 2013 contract year. Roethlisberger's 2014 and 2015 cap numbers, which are $15.895 million and $15.395 million, would still be somewhat manageable with another restructure.
Santonio Holmes (WR)-New York Jets: $12.5 million
The Jets finally have a little breathing room because they saved $31.265 million on the cap by releasing five players last week. Those roster moves put them approximately $7 under the cap. New York is reportedly interested in restructuring Holmes' contract. His $12.5 million cap number is the NFL's second-highest 2013 wide receiver cap number and third-highest on the Jets roster. $7.5 million of his $11 million 2013 base salary is fully guaranteed. Currently, the Jets can release Holmes, who is coming off a foot injury that caused him to miss 12 games last season, in 2014 with only $2.5 million in dead money from his 2014 and 2015 contract years if he doesn't have a productive 2013 season. Holmes' 2014 dead money would double to $5 million if the Jets cut his cap number to $10 million by converting $3.75 million of base salary guarantee into a signing bonus.
Ndamukong Suh (DT)-Detroit Lions: $18,172,500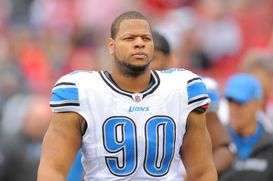 ICONSuh currently has the highest 2013 cap number for any defensive player.
Restructuring Suh's contract for a second straight year could become an option if the Lions can't lower quarterback Matthew Stafford's $20.82 million 2013 cap number by quickly signing him to a contract extension. Suh has the NFL's highest 2013 cap number for a defensive player because he has earned most of the lucrative, easily achievable salary escalators in his rookie contract. Detroit can spread out the amount turned into a signing bonus over three seasons because Suh's rookie deal contains a 2015 contract year that voids five days after the 2014 season's Super Bowl. Any additional amount of signing bonus proration added to Suh's 2014 cap number, which is $17,572,500, will ensure that he becomes an unrestricted free agent in 2015. His 2015 franchise number is already $20.937 million. A restructure will also increase the $5.897 million cap charge the Lions will have in 2015 because of Suh's contract voiding unless he signs a contract extension before early February 2015.
Jordan Gross (OT)-Carolina Panthers: $11.7 million
Carolina is $9 million over the cap after creating $2.2 million in cap space by restructuring center Ryan Kalil's contract on February 13th. Gross is entering the fifth year of a six-year deal signed in 2009 averaging $9.4 million per year. The Panthers can create $3.85 million in cap space by turning $7.7 million of his $8.7 million base salary into a signing bonus. Gross' contract expiring after the 2014 season limits the cap room the Panthers can get from him unless they are willing to add up to three voidable years to his deal. Carolina put a voidable 2017 contract year in Kalil's deal when restructuring his contract.
Follow me on Twitter: @corryjoel
Joel Corry is a former sports agent who helped found Premier Sports & Entertainment, a sports management firm that represents professional athletes and coaches. Prior to his tenure at Premier, Joel worked for Management Plus Enterprises, which represented Shaquille O'Neal, Hakeem Olajuwon and Ronnie Lott. You can email Joel at jccorry@gmail.com