January 21, 2011 -
National Football Post
Texas' ESPN deal a microcosm of college football
Two weeks ago, on the eve of college football's biggest game, Iowa football beat writer Marc Morehouse went to Twitter and asked a simple question: Can you win a national title at Iowa?
This was a localized inquiry, but it applies to a much grander audience. In a sport that so clearly defines its haves and have-nots — heck, we now have a name to call the have-nots: Non-AQ — the answer to me has always been obvious: As long as the current BCS system remains in place, a school such as Iowa will never will a national championship.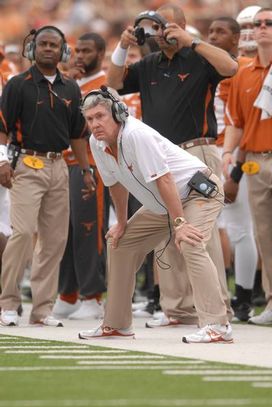 ICONMack Brown and Texas signed a 20-year, $300-million deal with ESPN this week.
There are hundreds of reasons for this — most of which center around common themes of recruiting, financial backing, in-conference competition, and the absurdity known as the BCS. For now, though, let's just talk about one reason: ESPN's 20-year, $300-million deal with the University of Texas to launch a 24-hour network devoted to the Longhorns.
How exactly is a school like Iowa — or other non-elites such as Maryland, Pittsburgh, Texas A&M, or Oklahoma State — supposed to compete with that? I mean, they were already at a disadvantage because they weren't Texas or Florida or USC or Ohio State — the gold-standard of college football.
But now you give Texas its own network? You give it $15 million per year and almost 9,000 hours of guaranteed airtime per year promoting its school? You give it even more clout in recruiting — as if being in one of the most talent-rich states in America wasn't enough?
In the understatement of the new decade, Texas coach Mack Brown said, "What an exciting day for Texas athletics." But what a not-so-exciting day for everyone else. Texas already made nearly $140 million in revenue in the 2008-09 year, according to USA Today. Indeed, the rich almost always get richer.
This is not to say Texas will now take over the college-football landscape. The usual powerhouses — Alabama, Florida, LSU, Oklahoma, Ohio State — will all remain contenders. This just makes their job a little harder.
But more so than that, this is another step in the wrong direction for a sport steadfastly stuck in its ways. The BCS and the Looney Toon band of brothers that run it are content with keeping the status quo — and right now, the status quo screws the little guy.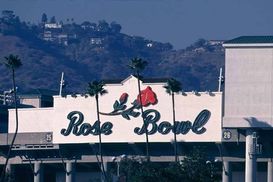 TCU beat Wisconsin in the 2011 Rose Bowl, 21-19.
TCU can run the table; it can beat the best team from one of the best conference in a prestigious bowl game. But there's no national-title hysteria in Fort Worth today because a 13-0 record wasn't good enough. TCU will always be a have-not. Such a thing would never happen to the school three hours down the road.
Don't get me wrong: Texas' deal with ESPN will not ruin college football. It's just the perfect microcosm for a sport already mired in an anti-NFL philosophy. There is no parity in major college football. All five of the last national champions have come from the almighty SEC. The five before that? Texas, USC, LSU/USC, Ohio State, and Miami (Fla.). Not exactly the Little Sisters of the Poor, as Ohio State president E. Gordon Gee famously called the have-nots.
This is not a new problem. But in the buddy-buddy BCS era, this isn't really viewed as a problem. Schools like Iowa and Texas A&M aren't supposed to compete for national titles. Texas' new contract with ESPN will only make it harder for the have-nots, keeping the power where it has been all along.
Scott Miller is a senior at The University of Iowa and a contributor to the National Football Post. Follow him on Twitter: @stmillr.
Want to work in the NFL? Click here to sign up for the NFP's Chalk Talk session at the Combine in Indianapolis on February 25th.