January 04, 2013 -
Joel Corry
The 2012 Contract Awards
These awards differ from the traditional NFL awards because they are primarily based on 2012 contract signings. Rookies were not given any consideration because their salaries are dictated by draft position and the rookie wage scale.
Most Valuable Acquisition
Peyton Manning (QB)-Denver Broncos: Manning's five-year, $96 million contract was seen as a calculated risk because of concerns over his arm strength returning and whether his neck could withstand the rigors of an NFL season. The Broncos protected themselves from Manning's neck injury by having his unguaranteed 2013 and 2014 base salaries at $20 million in each year become fully guaranteed only if he is on Denver's roster on the last day of the 2012 league year (March 11). His 2014 injury guarantee will void if he injures his neck during the 2013 season.
After leading Denver to the AFC's top playoff seed with a 13-3 record, signing Manning was a stroke of genius. He finished second in the NFL in passer rating (105.8), second in completion percentage (68.8%), third in touchdown passes (37) and sixth in passing yards (4,659). His completion percentage, touchdown passes and passing yards are each the second-best marks of his career.
Offensive Signing of the Year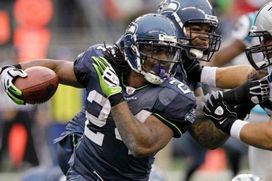 Marshawn Lynch delivered in a big way for the Seahawks this season.
Marshawn Lynch (RB)-Seattle Seahawks: Seattle avoided using their franchise tag on Lynch by signing him to a four-year, $30 million contract less than 24 hours before the end of the franchise player designation period. The contract contains $18 million in guarantees and $1 million in incentives based on Lynch's 2014 and 2015 rushing yards. Lynch rewarded the Seahawks by staying in "Beast Mode" all season. He earned his third Pro Bowl berth with 1,590 rushing yards, which ranked third in the NFL.
Defensive Signing of the Year
Tim Jennings (CB)-Chicago Bears: Jennings signed a two-year, $6.6 million deal (with a playtime escalator worth up to $1 million) as free agency began. The undersized cornerback (5-8, 185 pounds) got off to a fast start by intercepting four passes in September to earn NFC Defensive Player of the Month honors. Jennings led the NFL with nine interceptions and was named to his first Pro Bowl. With the Bears firing head coach Lovie Smith, it will be interesting to see whether the next coach sticks with the Cover 2 defensive scheme Jennings excelled in this season.
Biggest Steal
Reggie Wayne (WR)-Indianapolis Colts: Wayne surprisingly decided to re-sign with the Colts by taking a "home team discount" on a three-year, $17.5 million contract ($7.5 million guaranteed) while there was a run on wide receivers during the initial days of free agency. Pierre Garcon, Indianapolis' other starting wide receiver last season, signed a five-year, $42.5 million deal ($20.5 million in guarantees) with the Washington Redskins. Wayne rebounded from a 2011 season in which he had less than 1,000 receiving yards for the first time since 2003 to have his sixth Pro Bowl season as rookie quarterback Andrew Luck's security blanket. The 34-year-old's 106 receptions and 1,355 receiving yards are the second-best single season totals in his 12-year career.
Best Use of a Contract Year
Henry Melton (DT)-Chicago Bears: The former Texas Longhorns running back was named to his first Pro Bowl in 2012. Melton's 13 sacks rank second among defensive tackles since Chicago released Tommie Harris—who was a three-time Pro Bowler—after the 2010 season to make way for Melton in the starting lineup. The Bears reportedly have opened contract negotiations for a new deal with Melton, who is making $565,000 in the final year of his four-year rookie contract. The four-year, $37.965 million contract extension Harris, his predecessor, signed in 2008 has probably been a topic in the discussions. If an agreement can't be reached before early March, the Bears will probably franchise him. According to NFL.com's Ian Rapoport, the defensive tackle franchise number has been tentatively set at $8.306 million.
Worst Use of a Contract Year
Jake Long (OT)-Miami Dolphins: With a strong start to the season, the two-time All-Pro left tackle may have been able to leverage his $15.36 million 2013 franchise number into a deal comparable to the seven-year, $80.5 million contract extension (with $37 million in guarantees and $3.5 million in Pro Bowl escalators) Joe Thomas signed with the Cleveland Browns last year. Instead, the first overall pick in the 2008 NFL draft followed a subpar 2011 campaign with the worst season in his five-year NFL career.
Long, who wasn't an ideal fit in head coach Joe Philbin's zone blocking scheme, was placed on injured reserve with a torn triceps in his left arm after 12 games. Rookie Jonathan Martin demonstrating that he could be a serviceable left tackle during Long's absence increases the likelihood that Miami won't franchise him. Even though Long hasn't played at an elite level in two years and wasn't named to the Pro Bowl for the first time in his career, he could be a hot commodity in free agency because NFL teams consider left tackle as a premium position. However, Long should have a difficult time getting a deal equaling his five-year rookie contract that averaged $10.625 million per year (with $30 million guaranteed).
Least Valuable Acquisition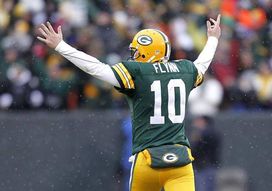 It was just one year ago that Flynn was considered a hot free agent prospect.
Matt Flynn (QB)-Seattle Seahawks: When Flynn signed a three-year, $19.5 million contract ($10 million guaranteed and worth a maximum of $26.2 million through escalators and incentives) he was expected to become Seattle's starting quarterback. Most pundits dismissed Russell Wilson's chances to start after head coach Pete Carroll declared there would be an open competition in training camp for the quarterback job. Flynn opened the door for Wilson by missing Seattle's third preseason game with an elbow injury. Even after Wilson won the job, Carroll's decision was criticized until Wilson's play steadily improved while the Seahawks moved into playoff contention.
Flynn was relegated to mop-up duty. He completed five of his nine pass attempts in very limited action. With Wilson firmly entrenched at quarterback, there is speculation that Flynn will be traded in the offseason. The Seahawks can afford his $5.25 million 2013 base salary ($2 million is fully guaranteed), which makes him one of the NFL's most expensive backup quarterbacks, because Wilson's four-year rookie deal is worth $2,996,774 (includes a $619,472 signing bonus). Their combined 2013 salary cap numbers and compensation are $7,931,085 and $5,776,217, respectively.
Follow me on Twitter: @corryjoel
Joel Corry is a former sports agent who helped found Premier Sports & Entertainment, a sports management firm that represents professional athletes and coaches. Prior to his tenure at Premier, Joel worked for Management Plus Enterprises, which represented Shaquille O'Neal, Hakeem Olajuwon and Ronnie Lott. You can email Joel at jccorry@gmail.com