February 06, 2014 -
Erik Oehler
The 6-10 syndrome
8-8, 3-13, 8-8, 6-10, 9-7, 5-11, 7-9, 7-9, 7-9, 6-10, 4-12, 6-10, 6-10, 6-10
That nauseating sequence of numbers is what the last 14 playoff-free seasons have looked like for Bills' fans.
Over that time, I've seen unwatchable games, like the 2009 6-3 home loss to Cleveland. I've seen a lot of bad calls, like the pass interference call this season that gave Atlanta a game-tying touchdown towards the end of regulation. But mostly, I've seen 14 years of inexplicably poor decisions in every aspect of football operations from scouting to draft day to in-game management. I know this sounds like hyperbole, but consider the following example.
In this season's home opener. In the second quarter of Doug Marrone's first game as the Bills' coach, down 10-0 to a Patriots team that looked uncharacteristically vulnerable, I sat in Ralph Wilson stadium as the Bills were facing a fourth-and-two from the Pats' 40. C.J. Spiller, Fred Jackson, and a mix of short dump passes and read options were moving the ball well for the first time in the game. This was our chance to look the perennial class of the division in the eye and let them know this year would be different. We weren't going to be the team that lays down while they coast to another division title.
Then, it happened. Our rookie coach, the symbolic fresh start, in his first game of a four-year contract, never having more leeway to make mistakes, punted. The punt sailed into the endzone for a net of 20 yards. I turned to my friend, Pete, and said, "That's it."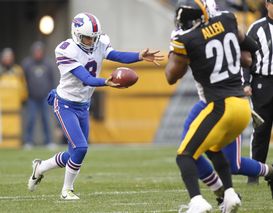 What? No! Why?
That wasn't the only sign that day. The few times EJ Manuel threw beyond 20 yards, it was wounded duck ugly. The Bills came back and made a game of it, ultimately losing 23-21. They won two of their next three to get to 2-2, but that game was always in my mind. Still, I held out hope longer than many, and even at 3-6, was still looking ahead on the schedule imagining they could go on a run against a string of sub-.500 opponents. I didn't completely accept the reality of another wasted season until week 10. Down 17-3, with a little over 14 minutes left, the Bills faced a fourth-and-five on the Pittsburgh 36. They punted. Again. From the Pittsburgh 36.
The percentages of fourth down conversions aside, I've decided that should be a fire-able offense given the context. It should be in Doug Marrone's contract: "If you are down 14, on the road, in the fourth quarter, with any hope of saving your season, and you punt from the opposition's 36, you're fired. No questions asked." Like Chan Gailey, Dick Jauron, Mike Mularkey, and Greg Williams before him, Marrone made at least three decisions each game that I wouldn't have made in college, playing Madden, drunk. If anything, that number is conservative. I won't bore you any more specific plays, but I can recall every one of them because I watched every second of the cesspool of mediocrity better known as the 2013 Bills' season.
If your team has been in the playoffs in the past decade, it probably sounds like I'm making too big a deal out of it, but they've punted (figuratively) on that play for the past 14 playoff-free seasons, and it's a sickness. I'm coining this affliction, "The 6-10 Syndrome." It's a limbo that the Bills have been joined in by the Raiders, Browns, and the occasional transient for nearly half my lifetime. They've never been bad enough to get Andrew Luck, and they've always won just enough games to maintain the appearance that they are one piece away from turning it around. As evidenced by continually increasing season ticket sales, they succeed in selling the fans, including myself, on the same delusion.
So what's the cure? Short of tanking intentionally, they've tried all the tricks. They tried signing the best available free agent (Mario Williams). They've replaced the GM, coach, and quarterback in the same year, twice (2010 and 2013). This brings me to Cleveland. Lombardi and company came under fire for their decisions this season, and particularly, the firing of Rob Chudzinski, but I think they may be onto something.
Greg Gabriel wrote about it, and I agree. You, sometimes, have to do things regardless of how they're perceived because you just know it's the right thing to do. The Bills have been doing this same dance in two, three, and four year incremental experiments of sub-par coaches and quarterbacks for 14 years. And every second or third year of those experiments, I've been convincing myself that they just need another year to "grow". I'm not doing it this time. I, and the Buffalo faithful, have more than enough experience to know what bad looks like. Manuel and Marrone are bad. How you're perceived is irrelevant. Because, currently, the perception is that every team in the league looks at us on their schedule, and pencils in a win. You should keep drafting quarterbacks until you find the right one, and you should keep looking for coaches until you find one that, literally and figuratively, isn't going to punt from the 36.
Follow me on Twitter @erikoehler