April 23, 2014 -
Joel Corry
The Aldon Smith contract dilemma
There are conflicting reports regarding whether or not the San Francisco 49ers will pick up an option on a fifth year for Aldon Smith after his latest brush with the law. Smith was arrested on April 13 at Los Angeles International Airport for making a false bomb threat.
The 49ers' deadline to exercise their option for a 2015 contract year with Smith is May 3. Smith's salary in 2015 will be $9.754 million, the same as this year's transition tag for linebackers. The $9.754 million will be guaranteed for injury only if the option is exercised. It becomes fully guaranteed on the first day of the 2015 league year.
From a pure football standpoint, the 49ers should pick up Smith's option year. Smith is a premier pass rusher in the NFL, with 42 sacks in 43 games during his three NFL seasons. Smith was a 2012 first team All-Pro after leading the NFC with 19.5 sacks. His 33.5 sacks are the most through two seasons for any player in NFL history.
Exercising the option would give the 49ers more flexibility with Smith. San Francisco will be in a better position to trade Smith if he has a 2015 contract year, although moving him is unlikely. Smith could also be released before his salary becomes fully guaranteed on approximately March 10 next year. The risk of being on the hook for Smith's 2015 salary due to injury is minimal. It would most likely require some sort of serious injury late in the season for the injury guarantee to become part of the equation.
Releasing Smith isn't a consideration after his latest transgression, his fourth in a little over two years. His $2,336,454 2014 base salary is fully guaranteed. Smith has an April 29 court hearing in Santa Clara, CA Superior Court relating to his September 2013 suspicion of DUI arrest and three felony counts of illegal possession of an assault weapon stemming from a 2012 incident during a party at his house where he was stabbed. The results of the court hearing could influence San Francisco's decision on Smith's option year.
Declining the option would send a message to both the locker room and public that players must be held accountable for their actions. Smith isn't helped by the fact that his latest incident came shortly after Chris Culliver's arrest for a hit and run and the Miami police opening an investigation of Colin Kaepernick in connection with a suspicious incident at a hotel.
Typically, teams continually make allowances for players with Smith's talent. The 49ers are already guilty of this with him. The team received criticism for playing Smith every defensive snap in a game two days after his 2013 DUI arrest and a day before he voluntarily entered a drug and alcohol rehabilitation facility. Passing on a fifth year would also be a signal that Smith no longer fits in the 49ers' long term plans. If Smith cleaned up his act during the 2014 season, the 49ers could still retain his rights in 2015 by using their franchise tag on him. The 2015 linebacker franchise tag should be slightly over $13.35 million with similar growth in salary cap as this year's 8.13 percent increase.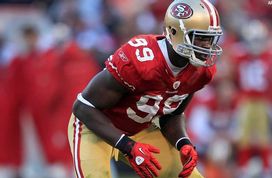 Smith has notched a staggering 42.0 sacks in just 43 career regular season games.
Regardless of the 49ers' decision on Smith's option, his latest off-the-field problems will likely alter the team's draft plans. Under normal circumstances, Smith would be considered a core player who is the top priority for a contract extension after Kaepernick. Since Smith has demonstrated that he can't be counted on, finding a pass rusher early in the draft could be a priority. The 49ers have six selections among the first 100 picks of the 2014 NFL draft. Michael Crabtree or Mike Iupati could also be the beneficiaries of Smith's troubles by becoming higher priorities for a new deal, as both players are entering contract years.
Typically, the results of the draft would factor into the 49ers' decision on Smith because the draft is usually held in late April. The 49ers don't have this luxury this year with the draft beginning on May 8, five days after the deadline for the option.
In addition to Smith's long term future with the 49ers being in doubt, the team's pass rushing needs have been increased by the prospect of Smith missing a significant portion of the 2014 season. There's a possibility that Smith may not play at all in 2014. He could be facing jail time for the weapons charges or the DUI. Commissioner Roger Goodell may also give Smith a lengthy suspension under the NFL's personal conduct policy that takes effect this season.
As a multiple offender of the policy, Goodell has latitude to depart from the usual protocol of waiting for the resolution of court proceedings or investigations with non-criminal conduct in disciplining Smith. It would be ideal for the 49ers if Goodell made a quick decision on Smith right after his Santa Clara court hearing so they could have clarity heading into the draft.
Goodell was expected to show Smith some leniency under the policy for voluntarily missing five games in 2013 to enter rehab. He may not be so forgiving after Smith's latest transgression. The suspensions Goodell handed out to repeat personal conduct policy offenders Adam "Pacman" Jones and Tank Johnson could be a guide for the type of discipline Smith will receive. Johnson received an eight game suspension in 2007 for violating his probation of an earlier gun charge after six unregistered firearms were found in a police raid of his home. Jones was given a one year suspension in 2007 because of five arrests and his role in a Las Vegas strip club melee that led to a security guard being paralyzed in a shooting.
Smith will not be paid while suspended. The suspension will also void Smith's salary guarantees, which will make it easier to release him. A year long suspension will toll Smith's contract. Assuming reinstatement, Smith would play the 2015 season under the terms of his 2014 contract.
The length of a suspension that gives Smith the opportunity to play during the 2014 season could be key depending upon the 49ers' decision with the option. Six games (usually games on injured reserve or the 53-man roster) are needed for an accrued season, a year of service towards free agency. Any suspension longer than ten games where the option isn't exercised will make Smith a restricted free agent in 2015. The 49ers would be entitled to a first round pick as compensation on an unmatched offer if he is given a $2,570,099 tender (110 percent of his scheduled 2014 salary). There's a possibility that Smith could also be a restricted free agent with a shorter suspension if he is placed on the non-football injury/illness list (NFI) after his reinstatement. He wouldn't receive credit towards a year of service while on NFI. NFI could be a possibility because the 49ers might decide Smith isn't ready to play football after his suspension.
A suspension that gets Smith back on the field in 2014 is insignificant to his contract status with exercise of the option. He will be playing 2015 at his $9.754 million option year salary under nearly every circumstance.
The decision on the option year won't be the end of Smith&r squo;s saga. There's more left to be determined with him.
Follow me on Twitter: @corryjoel
Joel Corry is a former sports agent who helped found Premier Sports & Entertainment, a sports management firm that represents professional athletes and coaches. Prior to his tenure at Premier, Joel worked for Management Plus Enterprises, which represented Shaquille O'Neal, Hakeem Olajuwon and Ronnie Lott. You can email Joel at jccorry@gmail.com.