March 25, 2014 -
Joel Corry
The big five from free agency
With the NFL turning its attention to the annual owners meetings, here are some observations regarding this season's free agency period:
Adoption of "Pay as you go" contract structure
The Oakland Raiders and Jacksonville Jaguars, who began free agency as the two teams with the most salary cap space in the league, are utilizing a "pay as you go" structure when signing players. A player's cash and salary cap numbers are the same in each contract year because he is receiving salary guarantees instead of a signing bonus under the "pay as you go" model. Since there isn't any signing bonus proration, the team won't have any dead money (a cap charge for a player no longer on the roster) if a player is released during the latter years of the deal provided that his contract hasn't been restructured. For example, Zane Beadles' 2014 salary and cap number are both $7.5 million in the five-year, $30 million contract he signed with the Jaguars. When the guarantees in his deal are over in 2016, Jacksonville can release him without cap impunity.
The Tampa Bay Buccaneers adopted the "pay as you go" structure during Mark Dominik's tenure as general manager. This approach has allowed new head coach Lovie Smith and new general manager Jason Licht to remake Tampa Bay's roster this offseason because parting ways with Darrelle Revis, Davin Joseph and Donald Penn has created $29,416,667 of cap room with only $666,666 in dead money.
Soft running back market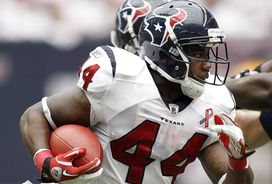 Tate's $6.2 million deal served as yet another reminder that the running back market isn't what it used to be.
The running back market hasn't rebounded from last year's downturn when Reggie Bush and Steven Jackson got the top deals at $4 million per year. Toby Gerhart and Donald Brown are setting the market with three-year, $10.5 million deals from the Jacksonville Jaguars and San Diego Chargers, respectively. Ben Tate, who was widely considered as the best running back available in free agency, signed a two-year, $6.2 million deal (worth up to $7.2 million with incentives based on rushing yards). Darren McFadden took a one-year, $1.75 million deal (with an additional $2.25 million in incentives) to return to the Oakland Raiders. Only $100,000 of McFadden's contract is guaranteed.
Tate will make $350,000 less than Michael Bush did in the first two years of the four-year, $14 million contract ($7 million guaranteed) he signed with the Chicago Bears in 2012 as Matt Forte's backup if he earns all of his incentives. Tate's situation entering free agency was somewhat analogous to Michael Turner's in 2008 when he became a free agent. Tate spent four productive years with the Houston Texans as Arian Foster's primary backup while Turner served as a complementary running back with the San Diego Chargers for four years. Tate's inability to land a deal comparable to the six-year, $34.5 million contract (with $15 million guaranteed and an additional $1.5 million in salary escalators) Turner received from the Atlanta Falcons six years ago is a good indication of how much the running back market has changed.
More lucrative older pass rusher deals
DeMarcus Ware receiving a three-year, $30 million contract (with $20 million in guarantees) from the Denver Broncos is one of the most puzzling free agent signings because pass rushers haven't fared well in free agency recently after turning 30-years-old. Dwight Freeney's two-year, $8.75 million contract (worth a maximum of $13.35 million through escalators and incentives) from the San Diego Chargers and the two-year, $8.5 million contract (with an additional $3.75 million in escalators) Osi Umenyiora received from the Atlanta Falcons paced the older pass rusher market in 2013.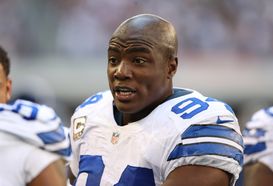 Not long after getting dumped by the Cowboys, Ware found a fat new payday waiting in Denver.
Ware, who turns 32 before the start of the 2014 season, is the NFL's only pass rusher making at least $10 million per year on a contract signed once hitting 30 years of age. $16.5 million is fully guaranteed at signing and Ware is making $13 million this year. 34-year-old Julius Peppers quickly landed a three-year, $26 million deal (with $7.5 million guaranteed and worth a maximum of $30 million through salary escalators) from the Green Bay Packers once the Chicago Bears released him.
Jared Allen has indicated that he would retire if can't get a "fair contract." Allen, who turns 32 in April, reportedly was seeking a deal averaging $12 million per year at the start of free agency. He is mulling over an offer from the Seattle Seahawks. It would be a surprise if Seattle's offer to Allen exceeded the $7.125 million average yearly salary in Michael Bennett's new four-year deal with the team. If Allen signs with the Seahawks, his contract could be comparable to the two-year, $13 million deal (with an additional $2.1 million in sack escalators and incentives) Cliff Avril got from the team in free agency last year.
Return of the middle class
The 2011 collective bargaining agreement drastically reducing salaries at the top of the NFL Draft by implementing a rookie wage scale was supposed to help increase salaries of rank and file NFL players. Instead, the NFL started becoming a league of haves and have nots with a shrinking middle class because of a relatively flat salary cap.
The unexpected growth in the salary cap from $123 million to $133 million, an 8.13 percent increase, is helping create a rebirth of the middle class. For example, defensive tackle Earl Mitchell signed a four-year, $16 million contract ($8 million in guarantees) with the Miami Dolphins and offensive tackle Breno Giacomini received a four-year, $18 million deal (with $7 million guaranteed and worth a maximum of $19.25 million with playtime and Pro Bowl salary escalators) from the New York Jets. These deals average slightly more than the 2013 average salary for starting defensive tackles ($3,747,118) and offensive tackles ($4,185,948). With the cap expected to have similar growth over the next couple of years and the league requirement for each team to spend a minimum of 89 percent of the cap in cash from over a four-year period from 2013 to 2016, expect the middle class rebirth to continue.
Familiarity brings comfort
Players and teams are becoming smarter in free agency where scheme fit, role and previous history are having an increased importance. This doesn't mean the elimination of more risky signings. It remains to be seen whether Eric Decker will thrive with the increased attention from opposing defenses as the New York Jets' primary receiving threat after signing a five-year, $36.25 million (with $15 million guaranteed) contract.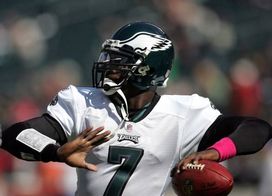 ICONVick landed with the Jets and former offensive coordinator Marty Mornhinweg.
Michael Vick's knowledge of Marty Mornhinweg's offensive system made him an attractive option to provide Geno Smith competition at quarterback. Mornhinweg was Vick's offensive coordinator with the Philadelphia Eagles for four years before taking the same position with the Jets.
The Jacksonville Jaguars became the landing spot for defensive linemen Red Bryant and Chris Clemons after the Seattle Seahawks released both players. Jacksonville head coach Gus Bradley was Seattle's defensive coordinator from 2009 to 2012.
Scott Pioli's influence as Atlanta Falcons' assistant general manager was quickly felt. Two of Atlanta's free agent priorities were defensive end Tyson Jackson and offensive guard Jon Asamoah. Pioli selected Jackson with the third overall pick in the 2009 draft and Asamoah in the third round in 2010 as the Kansas City Chiefs' general manager.
Tampa Bay Buccaneers head coach Lovie Smith turned to Josh McCown to be his starting quarterback after he served as a backup to Jay Cutler with the Chicago Bears for the better part of two years of Smith's coaching tenure in Chicago. It also isn't a coincidence that defensive tackle Henry Melton joined the Dallas Cowboys, who run the same Tampa-2 defense under defensive coordinator Rod Marinelli that made him a Pro Bowler with the Bears. Marinelli was Melton's defensive line coach in Chicago from 2009 to 2012.
Follow me on Twitter: @corryjoel
Joel Corry is a former sports agent who helped found Premier Sports & Entertainment, a sports management firm that represents professional athletes and coaches. Prior to his tenure at Premier, Joel worked for Management Plus Enterprises, which represented Shaquille O'Neal, Hakeem Olajuwon and Ronnie Lott. You can email Joel at jccorry@gmail.com.