December 12, 2013 -
Jeff Fedotin
The biggest reason for Kansas City's turnaround
On the Chargers' first offensive play in Week 12, quarterback Philip Rivers threw a screen pass to Ryan Mathews, and the running back was held to a one-yard gain.
It wasn't a linebacker or defensive back — but 6-3, 340-pound Chiefs nose tackle Dontari Poe —who flew across the field to corral Mathews.
"His quickness and his athletic ability for his size is really, really impressive," Chiefs defensive coordinator Bob Sutton told NFP. "He can run sideline to sideline."
That mammoth — yet freakishly athletic — nose tackle anchors Sutton's scheme, which employs the exotic linebacker blitzes and physical man-to-man coverage that he learned while coaching under Rex Ryan with the Jets.
That Chiefs defense has keyed Kansas City's improvement from 2-14 in 2012 to 10-3 in 2013. After ranking 25th in points allowed last year, the unit is fourth this season (entering Week 14). Tamba Hali and Justin Houston, who have combined for 22 sacks, have received the headlines especially during the team's 9-0 start.
But along with that linebacker pressure off the edge, Poe collapses the interior of the line, preventing the quarterback from stepping up in the pocket. The space eater, who has 47 tackles and 4.5 sacks, is also stout against the run.
"He's a very talented guy," Sutton said. "He's been an incredible performer this year."
Poe also has demonstrated incredible stamina. Heading into Week 14, Poe has been in the lineup for 95 percent of Kansas City's defensive plays, which amounted to 804 snaps and was 85 more than any other NFL defensive tackle.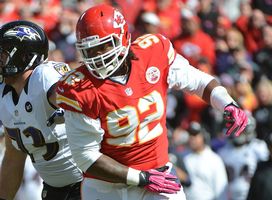 After notching zero sacks during his rookie season, Poe has recorded 4.5 through just 13 games this year.
That workload included collecting nine tackles while playing all 80 snaps during the Chiefs' 23-13 win against the Bills in Week 9.
"It's a great luxury because very seldom do you have a man as big as he that doesn't come out," Sutton said. "It's a tribute to his conditioning."
Poe, 23, changed his diet during the offseason to get in better shape. Despite having lived in two barbecue capitals of the world (his hometown of Memphis and Kansas City), he swore off barbecue during the summer.
Instead of eating beef, pork and fried food, Poe has opted for grilled chicken and fish as his go-to meals. As a result he lost 15 to 20 pounds before the 2013 season.
"His offseason conditioning was phenomenal. He worked his tail off," Chiefs head coach Andy Reid said. "He's a big guy that's relentless."
That relentless attitude wasn't always on display during his college career. He should have dominated his Conference USA competition. During his final season before declaring for the draft, however, the junior finished with 33 tackles and just one sack for a 2-10 Memphis Tigers squad.
But Poe wowed scouts during the 2012 NFL Combine, benching 225 pounds 44 times, a higher total than anyone else at the combine. He ran the 40 in 4.98 seconds, staggering speed for someone who — at the time — was the fourth heaviest defensive lineman to weigh in at the combine since 2000.
The Chiefs were so enamored with Poe's physical skills that they selected him 11th overall in the 2012 draft. Though former Chiefs general manager Scott Pioli has been criticized for poor draft selections, Poe was perhaps the most savvy acquisition of Pioli's much-maligned 2009-2012 tenure.
Since switching from a 4-3 defense to a 3-4 in 2009, the Chiefs struggled to find an effective nose tackle, shuffling through Kelly Gregg, Amon Gordon and Ron Edwards. Now they finally have found a man in the middle.
Poe earned the Chiefs' Mack Lee Hill Award as the team's top rookie or first-year player after starting all 16 games in 2012.
But he has elevated his play this year due to his improved conditioning and feel for the game. While slimming down he still maxed out at 495 pounds on the bench press during the offseason.
Because he recognizes offensive alignments more quickly, Poe said he can play more aggressively. His next goal is to become better at beating double-team blocks.
"He's really gained a great understanding of the position and the technique," Sutton said. "The arrow is pointing up for him, and he's got a really, really bright future."
Follow Jeff on Twitter: @JFedotin
Jeff Fedotin has written for Packers.com, Pro Football Weekly, ESPN The Magazine, the Lawrence (Kan.) Journal-World and Rivals.com. After graduating from Northwestern University, he interned for the Buffalo Bills. During his football playing days at Pembroke Hill (Mo.) School, Fedotin was known for his bad knees and even worse blocking.