May 13, 2013 -
Jeff Fedotin
The British Invasion
After his first American football practice, Lawrence Okoye was asked about the transition to his new sport.
"There's a lot of prep you have to do in the classroom before you get on the pitch," Okoye said before pausing to chuckle, "or the field or whatever you call it."
Evidently the 21-year-old British athlete is adjusting to both the terminology and technique of the gridiron.
And understandably so.
Born in the London borough of Croydon to Nigerian parents, the 6-6, 304-pounder had never played football before signing with the 49ers as an undrafted free agent.
Instead he had focused on discus where he holds the British record (68.24 meters) and qualified for the finals in the event at the 2012 Olympics before finishing in last (12th) place.
In Okoye's new sport, the 49ers, in addition to teaching him special teams, see him as a 3-4 defensive end.
"I'm a good mold for a defensive end — size, weight, speed, etc." Okoye said. "It's one of the easier positions to learn."
Wearing jersey No. 78, Okoye mixed up some of the play calls during the 49ers rookie minicamp but adopted a positive approach.
"It's all part of the learning process," Okoye said. "As it went on, I got more and more comfortable."
Despite his lack of football experience, Okoye became a coveted prospect after putting on a show at April's super regional combine in Cowboys Stadium. He ran the 40-yard dash in 4.78 seconds while demonstrating a 35-inch vertical leap and 10-foot-5 broad jump.
He also visited the Saints and Bears before the draft, but he chose San Francisco largely because of defensive line coach Jim Tomsula, who should serve as the perfect mentor.
"His background coaching guys in NFL Europe with minimal experience in the game was a big contributing factor," Okoye said.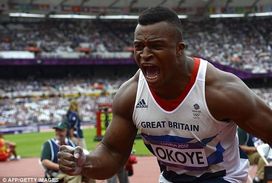 Okoye looks to make the transition from Olympian to NFL defensive end.
Before becoming a 49ers coach in 2007, Tomsula was in NFL Europe from 1998 to 2006. Often guiding athletic but raw foreign players, Tomsula started as the defensive line coach of the England Monarchs and then coached that same position group for five seasons with the Scottish Claymores.
A Berlin Thunder defensive coordinator for two years, he helped lead the Thunder to the World Bowl XII title during his first year while orchestrating a defense that ranked first against the run. That success led the Rhein Fire to name him head coach in 2006, and Tomsula (then 38) became the youngest head coach in NFLE history.
In addition to Tomsula's presence, the 49ers are the perfect team for Okoye because of the depth of arguably the league's most talented roster. After losing Super Bowl XLVII 34-31 to the Ravens, San Francisco signed CB Nnamdi Asomugha and DL Glenn Dorsey and traded for WR Anquan Boldin and QB Colt McCoy.
To further replenish their squad, the 49ers had 15 selections in the seven-round, 2013 Draft — the most of any team since 1994. After making several trades, San Francisco ended up selecting 11 players, including RB Marcus Lattimore in the fourth round.
The loaded 49ers can afford to treat the 2013 season as a redshirt year for Lattimore, who is coming off a horrific knee injury and his second torn ACL, by potentially keeping him on the physically unable to perform or injured reserved list for much of the season.
San Francisco likely will take a similar approach with Okoye — but because of his inexperience not health — and stash him as an inactive or practice squader during games while letting him focus on learning the basic concepts of football.
Whether it's this year or beyond, Okoye's future looks bright. He already has transitioned to a new sport before. He played rugby until he was 18 and then took up the discus, a track and field event at which he said he initially struggled.
Two years later he made the Olympics.
"That bodes well," said straight-faced 49ers head coach Jim Harbaugh.
Okoye also should pick up football quickly, considering his intelligence. He was accepted to Oxford University Law School, an offer he may pursue in the future.
But with his first minicamp in the books, Okoye's focus is now on football.
"This is the first step of many," he said.
Follow Jeff Fedotin on Twitter: @JFedotin
Jeff Fedotin has written for Packers.com, Pro Football Weekly, ESPN The Magazine, the Lawrence (Kan.) Journal-World and Rivals.com. After graduating from Northwestern University, he interned for the Buffalo Bills. During his football playing days at Pembroke Hill (Mo.) School, Fedotin was known for his bad knees and even worse blocking.