September 02, 2014 -
Jeff Fedotin
The Chiefs' new quarterback approach
KANSAS CITY, Mo.— On a sunny, 72-degree Labor Day morning, Chiefs general manager John Dorsey announced quarterback Alex Smith's four-year extension.
"It's a great day for the franchise," Dorsey told NFP.
The quarterback prospects indeed look bright for a club that previously had one of the NFL's more dismal track records at the game's most important position. (Joe Montana was the last Chiefs passer to win a playoff game, and that occurred after the 1993 regular season.)
Signing Smith to a four-year extension, averaging $17 million a year is a watershed deal for the Chiefs.
If Smith, who was slated to become a free agent after the season, plays out the entirety of his contract, he will have been with the Chiefs for six years, making him the longest tenured starting quarterback since Trent Green led the team from 2001-2006. (And a concussion limited Green to just eight games in 2006.)
That not only provides the Chiefs the kind of stability it hasn't had in about a decade, but it also allows them to potentially save their franchise tag and use it on linebacker Justin Houston, a free agent at year's end.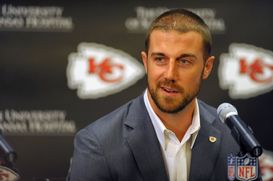 Smith won 11 games and led the Chiefs to the playoffs during his first season in Kansas City.
"As a quarterback you certainly don't want to hamstring your team in any way," Smith said. "At the same time, you do want something that's fair."
The deal does seem fair for a quarterback who owns a 30-9-1 record as a starter since 2011. While making the Pro Bowl last year, Smith completed 60.6 percent of his passes for 3,313 yards, 23 touchdowns and only seven interceptions.
The contract guarantees Smith $45 million. (In separate 2013 deals, Lions quarterback Matthew Stafford received about $42 million in guaranteed money, and Cowboys quarterback Tony Romo garnered $55 million.)
Smith's deal also was timely. Though he publicly said his uncertain contract status would not be a distraction during the year, he had pushed his agent, former Chiefs player Tom Condon, to agree to an extension before the start of the regular season.
"That kind of clutter's gone from your head, and you can really kind of focus in and get ready for this Week 1," Smith said. "I'm really happy that it did get done."
Smith expressed excitement about cementing Kansas City as his home, the respect the new deal gave him and said that his teammates were already busting his chops about his new cash flow, but he knows the reality that there is no such thing as complete security in the NFL.
"You're ultimately always proving yourself," Smith said. "And it's every year and it's every week."
In case Smith's play does decline, the Chiefs have wisely prepared for life after Smith, who turned 30 in May.
Last year the Chiefs signed rookie Tyler Bray, a strong-armed, 6-6 quarterback whose questionable maturity and football smarts caused him to unexpectedly slide in the draft, as an undrafted free agent. This year the Chiefs drafted Aaron Murray, the SEC's all-time leader in passing yards and touchdowns, in the fifth round.
Neither has the requisite experience to serve as Smith's No. 2, so the Chiefs made Murray their No. 3 quarterback behind Chase Daniel and deftly stashed Bray on the injured reserve list.
"It's great to be able to keep all of them," head coach Andy Reid said. "They all did a good job this camp."
Bray suffered a high ankle sprain in the final preseason game. (In order to qualify for injured reserve, a player must have suffered a serious injury lasting at least six weeks.) It is noteworthy that while most injured reserve players are not seen or heard from, Bray was dressed in a practice jersey and shorts on Monday, though he did not participate.
While several teams, including the Broncos and Patriots, have just two quarterbacks on the active roster, the Chiefs are wisely bucking that recent NFL trend by stockpiling signal-callers.
This is an important strategy, considering Kansas City's dire quarterback history. The last quarterback drafted by the team to win a game was Todd Blackledge in 1987. (And Blackledge didn't exactly "win" the game for the team, completing 6-of-15 passes for 79 yards during the 20-13 victory against the Chargers.)
The nine quarterbacks drafted since then (not including Murray) — Danny McManus, Mike Elkins, Matt Blundin, Steve Matthews, Steve Stenstrom, Pat Barnes, James Kilian, Brodie Croyle and Ricky Stanzi — have been total washouts.
But Reid and Dorsey are adopting the strategy they learned from the Packers, their first NFL organization, under general manager Ron Wolf.
Green Bay constantly drafted quarterbacks, even though it had Brett Favre on the roster. That approach netted players like fifth-round pick Mark Brunell, sixth-round pick Matt Hasselbeck and fourth-round pick Aaron Brooks.
Unearthing quality quarterbacks allowed the Packers to receive valuable draft picks in exchange for them later on. And if Favre had suffered injuries or not had such historic career longevity, the Packers would have had replacements in house.
The Packers still managed to draft Favre's successor, the exceptional Aaron Rodgers, in 2005.
Using that Packers method, the Chiefs have taken steps toward addressing the future of their quarterback position — most notably by ensuring that Kansas City remains Smith's home.
"We love it here," Smith said.
Follow Jeff on Twitter: @JFedotin
Jeff Fedotin has written for Packers.com, Pro Football Weekly, ESPN The Magazine, the Lawrence (Kan.) Journal-World and Rivals.com. After graduating from Northwestern University, he interned for the Buffalo Bills. During his football playing days at Pembroke Hill (Mo.) School, Fedotin was known for his bad knees and even worse blocking.