October 14, 2014 -
Jeff Fedotin
The curious case of LaMichael James
This season has featured the most unusual of career paths for running back LaMichael James.
After asking for his release from the 49ers' active roster, the 2012 second-round draft pick and former Oregon star joined the Dolphins' practice squad on Sept. 30.
James, who missed time with a dislocated elbow during training camp, had just two carries for zero yards in the 49ers' 28-17 Week 1 victory against the Cowboys. He then pushed for his release.
"He wanted to go to an offense where he had a hope of playing," said Jeff Sperbeck, James' agent. "He was playing in an offense that didn't necessarily fit his style."
The 5'9", 195-pounder didn't match the 49ers' scheme that features downhill thumpers rather than elusive backs who could be moved around the field.
However, it's still a bit odd that James would ask for his release. Sure, rookie Carlos Hyde had displaced him as the club's No. 2 running back behind Frank Gore, and James also had lost his return duties to wide receiver Bruce Ellington.
But the run-oriented 49ers lack the RB depth they had in years past. Marcus Lattimore remains on the active/non-football injury list, and Kendall Hunter tore his ACL during training camp.
What is an even more bizarre is that James opted to join another team's practice squad, typically a holding area for young, raw players or late-round draft picks.
James, now 24, finished third in the 2010 Heisman Trophy voting (behind Cam Newton and Andrew Luck), had a 15-yard touchdown in an NFC Championship Game and had three rushes and three kick returns in Super Bowl XLVII.
The practice squad hardly seems like a place for someone with his football resume and experience.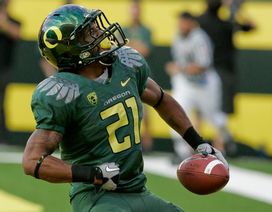 ICONJames was a star at Oregon, but the multi-purpose running back has yet to make a splash in the NFL.
Sperbeck would not disclose the specific franchises but said six teams showed interest with some wanting to sign him to their active roster.
On the surface, teams with injury-depleted RB groups like the Panthers and Chargers, poor rushing teams like the Broncos and Rams or the Ray Rice-less Ravens and Adrian Peterson-less Vikings may seem like more logical destinations than Miami.
But a major reason he chose the Dolphins was because offensive coordinator Bill Lazor's spread and zone-read offense complements James' style. Last season Lazor served as the QB coach for the Eagles' Chip Kelly, under whom James led the nation with 1,731 rushing yards at Oregon in 2010.
"He wanted to be with a team that he felt comfortable with the offense," Sperbeck said. "Miami made the most sense."
The expectation from his camp is that James, who has practiced with the team just over a week, will become an active player once he learns the verbiage of the offense.
But reaching the active roster and rising up the depth chart is no gimme.
Even after Knowshon Moreno tore his ACL Sunday, Lamar Miller, Daniel Thomas and Damien Williams sit ahead of James on the depth chart. Moreover, the Dolphins have run the ball well, ranking as the fifth best rushing offense in the league, heading into Week 6.
One could argue, though, that the roster doesn't have a star back, and the closest player to that — Moreno — is now out for the year.
James could potentially see time as a returner for Miami, but rookie Jarvis Landry adeptly has handled those duties so far.
Another obstacle besides playing time is money. Sperbeck did not disclose James' contract with the Dolphins, but practice squad compensation is typically about $6,300 a week. Whatever James is earning with Miami is likely a far cry from the four-year, $3.318 million contract to which the 49ers signed him after drafting him.
"It's a testament to his desire to want to play and be great," Sperbeck said. "Picking up a paycheck was not good enough. It's not what he plays the game for."
The 49ers do not owe him any more money, one likely reason they were amenable to his request for a release.
"I'm not going to talk about what led to it or the procedure," 49ers coach Jim Harbaugh said. "I wish LaMichael well. I appreciate his contribution and wish him success moving forward in his career."
Though rumors of discord between Harbaugh and the 49ers front office and his players have swirled, Sperbeck flatly denied that as a reason for James' decision to move on.
"He's fine with everybody," Sperbeck said. "He enjoyed San Francisco."
While with the 49ers, James averaged an impressive 4.5 yards per carry during his limited playing time. He performed particularly well in the 2012 postseason, carrying 11 times for 65 yards, though he fumbled in the Super Bowl.
He played in 10 games in 2013, seeing most of his action as a returner. He carried just 12 times for 59 yards and had just two catches for 16 yards. He did average 10.9 yards on 23 punt returns. Over his two seasons, he also returned 26 kickoffs, including a 62-yarder as rookie.
James, though, felt he could do more in a different situation.
"He's looking forward to contributing to the Dolphins," Sperbeck said.
Follow Jeff on Twitter: @JFedotin
Jeff Fedotin has written for Packers.com, Pro Football Weekly, ESPN The Magazine, the Lawrence (Kan.) Journal-World and Rivals.com. After graduating from Northwestern University, he interned for the Buffalo Bills. During his football playing days at Pembroke Hill (Mo.) School, Fedotin was known for his bad knees and even worse blocking.