May 07, 2014 -
Jerry Angelo
The decline of the running back position
Unless an NFL team thinks a specific running back is special, they would prefer to wait until later in the draft to target the position.
I came to appreciate and admire running backs when I was a coach at Syracuse. We had several running backs that functioned as our bread and butter. None had great talent, but when things got tough and we ran out of offensive imagination, we turned to them. More times than not, they gave us that needed kick that got us through.
When I got into the NFL, I saw more of the same. Running backs who had more heart than talent, but when the going got tough, they were the ones who got "the call."
There have been some great backs who have come out of the later rounds of the NFL draft. A Hall of Famer like Curtis Martin was taken in the third round. Houston's Arian Foster, one of the top backs in the game today, was an undrafted free agent. New Orleans' Pierre Thomas, a college free agent out of Illinois, is every bit as good and as valuable as Mark Ingram, whom the Saints drafted in the first round back in 2011.
That's the beauty of the running back position. You may get as good a running back in the later rounds as you would have in the earlier rounds.
When I look back on my career in the National Football League, running back was without question the position I admired most. Warrick Dunn, Errict Rhett and Mike Alstott were just a few of the guys acquired while I was working in Tampa. In Chicago, it was Anthony Thomas, Thomas Jones and Matt Forte.
All of these backs played prominent roles in the success of our teams. Because we never possessed a marquee quarterback, the bulk of the offense was built around these runners.
Of all the positions, a good running back can infuse a much-needed adrenaline boost that a team may be lacking at crunch time. This was generally the most underappreciated yet overused player in the lineup.
We see and hear much about protecting the quarterbacks and defenseless receivers. And while there's nothing wrong with that, the player who takes a real pounding week in and week out is the running back. The only rule that officials enforce to manage this player's safety involves the grabbing of his face mask. That means the other 95 percent of his anatomy is free game to defenders who derive pleasure from taking out their hostility and aggression on opposing running backs.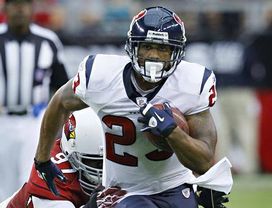 Undrafted out of Tennessee in 2009, Arian Foster's 4,264 rushing yards from 2010-2012 ranked second in the NFL.
The pure running back makes his living inside the tackle box. He rarely looked for or ran to the sidelines, unless he was going to the bench. When the running back's number is called, it's up to him to make it happen. When the play is over, he's usually the last one off the ground and back to the huddle. Hall of Famer Jim Brown was legendary for his consistency in being the last guy back to the huddle. His philosophy was to never let his opponents see him in pain. So Brown's slow motion jaunt back to his offensive posse allowed him the necessary time to gather himself. But after nine years, even Brown endured enough punishment. The same can be said for Detroit's Barry Sanders.
Sometimes even the great ones see the writing on the wall and cut their legacy short because eventually they realize that no gazelle will outrun all its prey all the time. Eventually, the lions will feed.
Why running backs don't get rewarded when their contracts are up the same way some other positions do really isn't all that curious because what they did for their alma maters and professional teams caused their bodies to wear down and their speed and power to lessen. They no longer qualified to be celebrated or decorated. They served their purpose and to pay them would be thinking with your heart and not your head. In the football business, future contracts are determined by expectations.
Most running backs' mark in history will be persevered, but it came with a price instead of a prize. Unlike all other positions who are rewarded for their past, the running back is doomed by it. Teams still need them, but at the price tag of what backups make at other positions.
Is this wrong? No more than two wrongs making a right. But it is their reality. To exploit them is a shame, but to reward them is foolishness.
The league should have a special amendment for running backs because they are not like any other positional group. Perhaps any back drafted in the first round should have his contract expire after four seasons, while those selected in rounds 2-7 should have their rookie deals terminate after three seasons. However, one could say that this approach would hurt the position's draft status, as teams would opt against selecting a back until later down the line.
Why? Because a running back's risk is greater, his tenure is shorter and the position's pay scale is tilted to favor the team, which is not the case at all the other positions. But given the running back's present plight, so what? At least they would have a chance to experience a lucrative second contract or have some security in their early, and possibly only, years.
Rarely is a play blocked cleanly enough to allow a running back to go untouched. He's always making some kind of contact, whether it's voluntarily or involuntarily. If he's going to run for 100 yards, half of that total will be yards the running back made on his own ability either by breaking a tackle or eluding it. In either case, it was through his efforts or ingenuity that allowed him to hit the century mark.
Follow Jerry on Twitter: @RealJerryAngelo
Jerry Angelo was the General Manager of the Chicago Bears from 2001 to 2012. Prior to joining the Bears, Angelo spent 14 years overseeing the Tampa Bay Buccaneers' scouting department as their Director of Player Personnel. Angelo graduated from Miami University in 1971.