October 10, 2014 -
Joel Corry
The DeMarco Murray dilemma
The Dallas Cowboys have had preliminary discussions with running back DeMarco Murray on a contract extension because of his terrific start to the 2014 season. According to NFL Media's Ian Rapoport, the Cowboys offered Murray, who is in the final year of his rookie contract, a four-year deal worth more than the top running back contracts signed during free agency. Chris Johnson set the running back market with the two-year deal averaging $4 million per year (includes an additional $1 million in salary escalators) he received from the New York Jets. The characterization of the offer suggests that it wasn't substantially better than this figure.
Murray has gotten the Cowboys off to an unexpected 4-1 start and become a serious MVP candidate while leading the NFL in rushing with 670 yards on 130 carries and five touchdowns. 24 teams are averaging less than the 134 rushing yards per game Murray is producing. He has also joined Jim Brown and O.J. Simpson as the only players in NFL history to begin a season with five straight games of 100 rushing yards or more.
Murray is on pace for 2,144 rushing yards on 416 carries and 2,541 yards from scrimmage. If Murray sustains his pace of production, he will set single season records for rushing yards and yards from scrimmage, and tie Larry Johnson's single season record for rushing attempts. It is unlikely with head coach Jason Garrett reiterating owner Jerry Jones' desire to reduce Murray's workload. There are also durability concerns with Murray, who has missed eleven games in his three previous NFL seasons because of ankle, foot and knee injuries. Since the Cowboys intend to continue using Murray as a workhorse running back, don't expect his carries to drop for the rest of the season to the 15.5 per game he received in 2013 when he rushed for a career-high 1,121 yards, his first 1,000-yard season, and was named to his first Pro Bowl. Decreasing Murray's carries to the average of last year's usage rate and his current 26 carries per game for the remaining 11 games (20.75 per game) would give him 358 carries for the season.
History doesn't favor Murray's quest for a record-setting season. Five other running backs (Stephen Davis-2003, Terrell Davis-1998, Jamal Lewis-2003, Barry Sanders-1994, Emmitt Smith-1995) in the last 25 years have been on pace for 2,000 rushing yards after their team's first five games. These players finished the season with an average of 361 carries for 1,835 rushing yards and 14 rushing touchdowns, which should be encouraging for Murray, provided he can stay healthy. Davis and Lewis topped the 2,000-yard mark with 2,008 and 2,066 yards, respectively, in 1998 and 2003.
Typically, when a player has a dominant season in a contract year, he becomes one the highest paid players at his position. Murray probably won't be able to capitalize on his success as much as he could at other positions because of the recent devaluing of running backs. Compensation at the position peaked in 2012 when the number of running backs with veteran contracts averaging at least $7 million per year jumped from five in 2011 to 11 in 2012 thanks to new deals by Matt Forte ($30.4 million/four years), Arian Foster ($43 million/five years), Marshawn Lynch ($30 million/four years), LeSean McCoy ($45 million/five year extension), Ray Rice ($35 million/five years) and Jonathan Stewart ($36.5 million/five-year extension). Currently, there are seven running backs at or above the $7 million threshold.
The top-10 veteran running back contracts averaged slightly under $9.475 million per year, contained almost an average of $22.5 million in guaranteed money with 4.7 years as the average contract length in 2012. The numbers have dropped to an average of a little less than $8.2 million per year and averaging approximately $16 million in guaranteed money with 4.1 years as the average contract length for 2014. Under a more favorable running back economic climate, Murray would be justified in seeking a four or five-year extension, averaging in excess of $10 million per year and containing $25 million in guarantees, which is in line with the average of the top five veteran running back deals in 2012 and 2013, with the type of season he is having.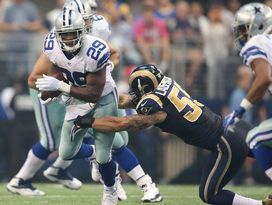 Murray is currently on pace for a record-tying 416 rushing attempts this season.
Besides the depressed market conditions for running backs, the Cowboys may be reluctant to invest heavily in another running back after giving Marion Barber a seven-year, $45 million contract (with $16 million guaranteed) in 2008 as a restricted free agent without having a 1,000-yard rushing season or being an every down running back. The six unrestricted free agent years Barber gave up averaged $7.073 million per year. That's the value after subtracting the $2.562 million restricted free agent tender he received. Barber made $21 million over three years on the deal before the Cowboys released him in 2011. During these years, he averaged 14.3 games, 188.3 carries, 730.3 rushing yards and six rushing touchdowns per year.
Another reason capable of making the Cowboys think twice about giving Murray a lucrative contract is the production after a season with at least 350 carries. Running backs in their fourth NFL season or at 26-years-old, just like Murray, have hit the 350-carry mark in a season 20 different times. These running backs averaged approximately 12 games, 242 carries, 959 rushing yards and six rushing touchdowns in the following season. Their averages were approximately 14 games, 252 carries, 1,011 yards and seven touchdowns two seasons removed from the heavy workload. Slightly under 13 games, 212 carries and 870 yards with a little more than five touchdowns were averaged in the third year. The running backs had more mileage on them prior to the 350-carry season than Murray did heading into this season. They averaged almost 861 career carries while Murray had 542 in his three NFL seasons.
Cutting in Murray's favor for defying the odds after a season of extreme usage is that the Cowboys' offensive linemen should remain largely intact for the foreseeable future. Right tackle Doug Free will be an unrestricted free agent when his contract voids after the season. Left tackle Tyron Smith is under contract through the 2023 season. 2013 and 2014 first-round picks center Travis Frederick and right guard Zack Martin won't be able to hit the open market until 2018 and 2019, respectively, if the Cowboys exercise their fifth-year options on them. Left guard Ronald Leary won't be eligible for unrestricted free agency until after the 2016 season.
Production following a 350-carry season suggests that the Cowboys should seriously consider using their transition or franchise tag on Murray and evaluating their options with him after the season, provided a long-term deal can be worked out with wide receiver Dez Bryant, who is also in a contract year, before the end of the franchise tag designation period in early March. The running back franchise tag number will be a little over $11 million in 2015 with a salary cap increase next year similar to this year's 8.13 percent ($144 million salary cap).
It's much more likely for Bryant to land a contract at the top of his position market in free agency than Murray. Bryant would become the NFL's third-highest wide receiver at worst (minimum of $13 million per year and $30 million in guarantees) if the Cowboys let him hit the open market. It's been a buyer's market in free agency with running backs in recent years. There also hasn't been a running back of Murray's caliber available in free agency in quite some time. Conceivably , some team with an abundance of cap room and a glaring need at running back, like the Oakland Raiders, could make Murray an offer he couldn't refuse.
The Cowboys can take some comfort with Michael Turner being the last running back to switch teams in free agency, with a deal over $5 million per year when he received a six-year, $34.5 million contract (with $15 million guaranteed and an additional $1.5 million in salary escalators) from the Atlanta Falcons in 2008. Murray should be mindful that all of the running backs who have reached the $7 million per year mark on contracts under the 2011 Collective Bargaining Agreement have re-signed with their own clubs before hitting the free agent market. Forte and Lynch were effectively taken out of the market in 2012 with franchise tags.
Compensating Murray in the neighborhood of the low end of the 2012 running back market explosion in the $7 million per year range on a four-year extension with $12 million to $15 million in guarantees seems reasonable if Murray remains relatively healthy and continues to perform at a high level this season. Unlike Ray Rice, who made $25 million during the first two years of his five-year deal before he was released because it was extremely front-loaded, Murray's cash flow should stay relatively constant.
The deal could contain not likely to be earned incentives (NLTBEs) and/or base salary escalators that would increase Murray's compensation if he continued to perform like an upper echelon running back. For example, Stewart has $6 million in base salary escalators based on 1,200 rushing yards or 1,600 yards from scrimmage in a season. Rice had $5 million in base salary escalators and NLTBEs tied to 1,200 rushing yards and 550 receiving yards in a season when the Ravens ranked in the top-10 in total offense during the same season. Murray's deal could also have significant salary de-escalators to protect the Cowboys against declining performance.
Follow me on Twitter: @corryjoel
Joel Corry is a former sports agent who helped found Premier Sports & Entertainment, a sports management firm that represents professional athletes and coaches. Prior to his tenure at Premier, Joel worked for Management Plus Enterprises, which represented Shaquille O'Neal, Hakeem Olajuwon and Ronnie Lott. You can email Joel at jccorry@gmail.com.