February 15, 2012 -
Joel Corry
The Drew Brees dilemma
New Orleans Saints general manager Mickey Loomis and Drew Brees' agent, Tom Condon, recently resumed negotiations on the Pro Bowl quarterback's new contract. Brees has a choice to make about the direction of the negotiations. He must decide whether to maximize his contract or take a "discount" in an effort to help keep the Saints' nucleus intact. Peyton Manning did the latter last summer. He reportedly left money on the table by turning down a five-year, $100 million contract so the Indianapolis Colts could use the savings to improve the talent level and depth on the roster.
Financially, Brees is in a different situation than Manning. It was much easier for Manning to take less money in his contract because he's been among the NFL's highest paid players for most of his career. As a 2001 second-round pick, Brees' rookie contract was a relative bargain. When he signed with the Saints in 2006, his six-year, $60 million contract didn't place him among the five highest paid quarterbacks (by average yearly salary). In fact, Brees was the 16th highest paid quarterback (by average yearly salary) this season.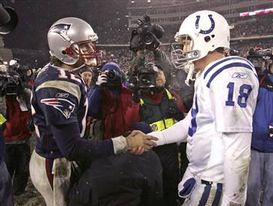 Future Hall of Famers Tom Brady and Peyton Manning set the bar for quarterback contracts last summer.
Condon is probably focusing on Manning's deal. He knows the dynamics of those negotiations better than anyone since he negotiated the contract. Manning and Tom Brady's contracts are currently the standards for NFL salaries with both deals averaging $18 million per year.
Manning's deal is better structurally. He gets $70.2 million over the first three years ($23.4 million per year) of his five-year deal while Brady gets $57 million over the first three new years ($19 million per year) of his four-year contract extension. Manning's deal is also the most front loaded five-year contract in the NFL, with 78% of the overall compensation in the first three years.
Condon has probably insisted that the more lucrative $100 million offer rejected by Manning is the appropriate yardstick for discussions regarding Brees.
A pretty good case can be made for Brees' contract becoming the NFL's new salary benchmark. He had the most prolific season of any quarterback in NFL history. In addition to shattering Dan Marino's single season yardage record with 5,476 passing yards, Brees set single season records for completion percentage, pass completions, 300-yard games and consecutive 300-yard games.
He's arguably had the best six-year run of any quarterback in NFL history since joining the Saints. No quarterback has ever thrown for more touchdown passes (201) and yards (28,394) during such a span. His 67.8% completion percentage narrowly trails just Steve Young's 67.9% from 1992 to 1997. The Saints are also tied with the New England Patriots for the best regular season record over the last three years with 37 victories, while Brees was the catalyst for the only Super Bowl victory in franchise history.
By playing hardball, Brees should be able to exceed the $20 million per year mark and top the $70.2 million in the first three years of Manning's deal. Only it probably won't happen anytime soon.
Taking such a stance should ensure that Brees gets the exclusive franchise tag. The exclusive franchise tag would prohibit Brees from negotiating with other teams and is calculated differently from the non-exclusive franchise tag. It is based on the average of the top five salaries at a player's position in the current year once the restricted free agent signing period has ended on April 21st. Depending upon the changes to the top quarterback salaries before then, Brees' franchise number will be approximately $16 million. The Saints quarterback has indicated that he won't play for his franchise tender. His unwillingness could stem from the career threatening shoulder injury he suffered when he last played for the franchise tender in 2005.
The Saints will be reluctant to give Brees more than what it would cost them if they went year-to-year with the franchise tag. He would receive in the neighborhood of $63 million under three years of franchise tags. If Brees remained resolute, the Saints would eventually give in to his demands, probably as training camp approached, since he's their most indispensable player. However, the cost would be greater than just Brees' contract. As the best offensive lineman in free agency, Carl Nicks probably becomes the NFL's highest paid guard elsewhere. Brees could also open himself up to some criticism from the Saints fan base for being selfish and greedy.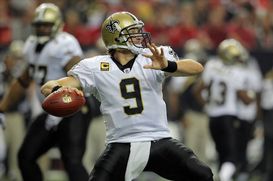 ICONWould Brees be willing to take a discount so the Saints can bring back Carl Nicks?
Ideally, the Saints would like to have a new deal in place for Brees by March 5th—the deadline to designate franchise players—so they can use their franchise tag on another player, most likely Nicks.
If a deal is going to get done by this deadline with the Saints having the flexibility to pursue their other priority free agents, it will likely take a concession from Brees on the first three years of compensation in his contract. He might also need to accept a first year salary cap number that's significantly lower than his franchise number in order to help accommodate Nicks' franchise tender (approximately $9.4 million). However, most, if not all, of Brees' first three years could be guaranteed, especially if a smaller first year cap number affects the money he receives in the first two years.
Ultimately, Brees should become the highest paid player in NFL history. It's just a matter of which path he takes and how high his deal sets the bar.
Joel Corry is a former sports agent who helped found Premier Sports & Entertainment, a sports management firm that represents professional athletes and coaches. Prior to his tenure at Premier, Joel worked for Management Plus Enterprises, which represented Shaquille O'Neal, Hakeem Olajuwon and Ronnie Lott. You can email Joel at jccorry@gmail.com