December 13, 2013 -
Joel Corry
The Eric Decker dilemma
Eric Decker picked the perfect time to have the best season of his career. The 2010 third-round selection is in the final year of a four-year rookie contract which is paying him $1.323 million this season. He already has a career-best 1,130 receiving yards with two games left in the season. Decker is currently on pace for 83 receptions, 1,291 receiving yards and nine touchdowns.
Decker has been one of the NFL's most productive wide receivers over the last two seasons. Going into Denver's Week 15 loss to the San Diego Chargers, Decker ranked 13th in the NFL with 156 receptions, ninth in receiving yards (2,152 yards) and was tied for third in receiving touchdowns (21) since the start of the 2012 season. He also fares well in Football Outsiders' metrics. After finishing as the fourth-ranked wide receiver in Defense Adjusted Yards Above Replacement and eighth in Defense Adjusted Value Over Average in 2012, he holds the exact same rankings in the metrics this season.
The Broncos must decide whether they want to devote significant financial resources to their wide receivers. Decker has produced like a number one wideout, but teammate Demaryius Thomas is one of the NFL's best young wide receivers. Thomas, who is under contract through the 2014 season, should become one of the NFL's highest-paid receivers on his next deal. The unexpected addition of Wes Welker, who signed a two-year, $12 million deal with Denver during the offseason, and the emergence of Julius Thomas at tight end factor into the equation. The tight end's rookie contract also expires after the 2014 season.
It will likely require Decker accepting a deal based on the secondary wide receiver market to remain with the Broncos. Mike Williams is the highest paid player that signed a deal as a secondary wide receiver. He received a five-year, $39.62 million contract extension (including $15 million guaranteed) from the Tampa Bay Buccaneers during the preseason. "Decker is better than Mike Williams in most aspects of the game," said ESPN analyst Louis Riddick, who was director of pro personnel for the Philadelphia Eagles and Washington Redskins. "He (Decker) has the versatility to play any of the receiver positions." The Seattle Seahawks are the only NFL team that has two wide receivers, Percy Harvin and Sidney Rice, with deals averaging over $8 million per year.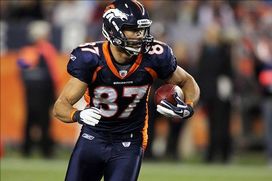 Entering the final year of his contract, Decker couldn't have picked a better time for a career season.
Decker should be the top free agent wide receiver available because of Hakeem Nicks' subpar season. Other notable free agent wide receivers include Green Bay's James Jones and Pittsburgh's Emmanuel Sanders. Decker could price himself out of Denver if another team is willing to pay him to be their primary receiving threat. The top deals for wide receivers who have switched teams in free agency over the last two years belong to Mike Wallace ($60 million, 5 years, $30 million in guarantees), Vincent Jackson ($55,555,555, 5 years, $26 million in guarantees), Greg Jennings ($45 million, 5 years, $17.8 million in guarantees, $2.5 million in escalators/incentives) and Pierre Garcon ($42.5 million, 5 years, $20.5 million in guarantees). None of these players were as productive in their contract years as Decker has been.
Despite Decker's production, Riddick isn't sold on him. "Decker is a good player but I don't think he can carry a passing game like a true number one wide receiver, Riddick said. "He has problems with physical cornerbacks and press coverage. It will be different for him if he is the focus of a defense. That's not the case in Denver."
The Broncos could delay the decision for a year because of the limited championship window with Peyton Manning by using their franchise tag on Decker. The wide receiver franchise tag is expected to be $11.52 million under the preliminary projections of a $126.3 million salary cap.
However, cap space could be at premium since the Broncos will have 17 unrestricted free agents, including Zane Beadles, Dominique Rodgers-Cromartie, Knowshon Moreno, and Wesley Woodyard, and three restricted free agents after the season. The Broncos have $117.8 million in 2014 salary cap obligations with 41 players under contract, but can carry over almost $6.5 million of unused cap room from this season to 2014. If 35-year-old Champ Bailey is released or retires, the Broncos will pick up $10 million in cap space. Additional cap room can be gained by lowering Manning's $17.5 million 2014 cap number through a contract restructure.
Decker is going to get a significant pay raise when he signs a new deal. It's just a matter of whether it will be with the Broncos or somebody else.
Follow me on Twitter: @corryjoel
Joel Corry is a former sports agent who helped found Premier Sports & Entertainment, a sports management firm that represents professional athletes and coaches. Prior to his tenure at Premier, Joel worked for Management Plus Enterprises, which represented Shaquille O'Neal, Hakeem Olajuwon and Ronnie Lott. You can email Joel at jccorry@gmail.com.