March 05, 2011 -
National Football Post
The evolution of Cam Newton's draft stock
A year ago, Cam Newton was a project. He was the guy who threw away a golden opportunity at Florida. The guy who had to go to Binn College to revive his football career. The guy who had been given a second chance to harness his athletic ability by the undervalued and overlooked Auburn Tigers.
And now he could be the No. 1 overall pick in the NFL Draft?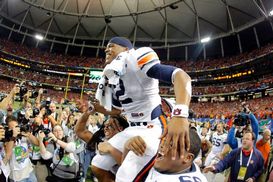 ICONNewton had a lot to celebrate after winning a national title in his first year at Auburn.
Newton brought his patented charisma, wide smile, and easy-going disposition to the NFL Scouting Combine last week. He wowed the crowded room of reporters with thoughtful answers. He stated football was his top priority — not the "entertainer and icon" stuff he was throwing around a few days earlier.
He won the press conference. But can he win in the NFL? Because No. 1 picks are reserved for sure-things, for prospects who can win against some of the best athletes in the world — not just a room full of reporters.
I'm not saying Newton can't do that. During the 2010 season, he morphed from a junior-college standout into a more elusive version of Ben Roethlisberger. His ability to shred some of the most athletic defenses in the country warranted him a first-round grade. Heck, his rare athleticism probably would've been enough for a team to take him within the first 32 picks.
At the combine, Newton posted a broad jump of 10 feet, 6 inches — a feat the NFP's own Matt Bowen called "ridiculous."
But athleticism shouldn't be enough to carry a quarterback into the top-10 — even in a relatively thin draft. At a certain point, Newton has to prove he can throw the football consistently in a pro-style set. This is the NFL, after all. And in his throwing workout at the combine, Newton sailed passes and struggled with his accuracy.
In the week since, Newton's stock has soared — and I'm trying to figure out why. Forget about the broad jump and the 40-yard dash. Newton's throwing skills were not on display in Indy. Isn't this a problem? Shouldn't this make him slide out of the top tier of quarterbacks? Won't this make general managers and coaches think twice about taking him?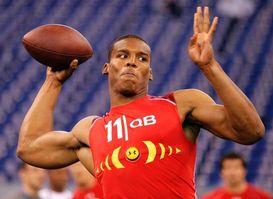 Does Cam Newton have the passing skills to warrant the No. 1 pick?
Here's the real problem: No one wants to be the guy who passed over Newton — only to have him become a rare talent, a Super Bowl winner, a Hall of Famer. It's this fear that keeps Newton's stock trending upward.
There's no denying that Newton looks like a franchise quarterback. His passion, his commanding presence, his ability to own a room are what you want from the guy behind center. But don't let that fool you into thinking he's a can't-miss prospect.
A year ago, Cam Newton was a project, a work in progress. Since then, he won the Heisman Trophy and a national championship; he shined in some combine workouts and showed off his personality in front of the media.
But make no mistake: Newton is no sure-thing. Really, he's the same he ever was — a project.
Scott Miller is a senior at The University of Iowa and a contributor to the National Football Post. Follow him on Twitter: @stmillr.