November 18, 2014 -
Dion Caputi
The face of perseverance
Perseverance in the face of mediocrity: That's something few understand the way Cleveland Browns quarterback Brian Hoyer does.
In a cutthroat league where players are flat out judged, there is little room for weakness. When you possess physical limitations, the allowance for error is marginalized considerably. In short, the 'mediocre' crop of prospective NFL'ers must be as perfect as humanly possible when given a shot, because front office personnel around the league are working daily to eliminate the weak. That's why, despite being a limited, undrafted quarterback, Brian Hoyer still finds himself both employed and starting with regularity six years into his NFL career. ??
In 2008, Hoyer entered his final collegiate season at Michigan State as a fifth-year senior, coming off a quality 2007 campaign in which he earned a commendable All-Big Ten Honorable Mention. Wide receiver Devin Thomas and tight end Kellen Davis had shipped off to the NFL, leaving the passer with a bare cupboard of aerial options in a crucial year. When all was said and done, those expecting Hoyer to re-create his production from the previous season were left disappointed. The Lakewood, Ohio native's completion percentage dipped considerably to a 51.0 (from 59.3 in 2007), while his touchdown to interception ratio of nine to nine paled in comparison to his 2007 total of 21 to 11.
With regards to his draft status, Hoyer had flopped statistically and the Spartans' run-first offense certainly hadn't helped him flourish. The ex-baseball player went undrafted in a rather weak quarterback class and ultimately signed with the New England Patriots as a free agent. ??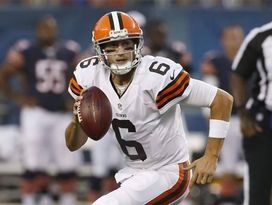 Hoyer has thrown just five interceptions through ten games this season.
Given future Hall of Famer Tom Brady's presence, it wasn't the most ideal situation. Being road-blocked with no hope of promotion past backup duties is difficult to swallow for anyone, but Hoyer paid his dues. He quickly became Brady's understudy after an impressive rookie preseason and for two years forward was the roster's only backup quarterback. In 2011, the Patriots surprisingly selected promising passer Ryan Mallett, signaling that the end was likely near for Hoyer's Patriot career. Despite the difficult competition, Hoyer retained his backup duties for one more season before becoming a victim of final cuts in 2012.??
Following his release from New England, Hoyer went unsigned and spent time practicing with players from his high school alma matter Saint Ignatius while waiting for a call that may never have came. Fortuitously, that call did arrive, as the Pittsburgh Steelers became desperate for help at the position following mid-season injuries to starter Ben Roethlisberger and backup Byron Leftwich. Though he was waived less than three weeks later without throwing a pass, Hoyer was quickly claimed by the Arizona Cardinals and given his first career start in the 2012 season finale.??
That offseason, the Cardinals had decided to cut ties with the quarterback, once again making him a free agent. On May 16, 2013, Hoyer returned to his home state after signing a two-year deal with the Cleveland Browns. Still just happy to be on a roster, Hoyer was slotted into the third-string role behind backup Jason Campbell and starter Brandon Weeden—a first round draft choice the previous year. After a thumb injury sidelined Weeden, Hoyer leaped Campbell and was named the Week 3 starter. He proceeded to win three consecutive games, but heartbreakingly suffered a torn ACL in a Thursday night contest against the Buffalo Bills. ??
Coming out of the 2014 offseason, the Browns began a new regime with Mike Pettine as head coach. Although Weeden and Campbell were released, a new competitor to Hoyer's ever-elusive starting job had entered the mix in the form of larger-than-life Heisman Trophy winner Johnny Manziel. Upon selecting Manziel in the first round of the 2014 draft, it appeared to be a foregone conclusion that the Texas A&M product would be both the long and short-term answer in Cleveland.
However, it would be the oft-underappreciated and physically unimposing Hoyer who arose from the ashes as the Week 1 starter. There it was, for all to see – Hoyer had overcome what was expected to be an insurmountable battle. He had essentially defeated the living embodiment of what evaluators were telling him he needed to be in order to attempt success at the NFL level. The flash, the physical tools, the quickness. The traits Hoyer inherently lacks. In addition to Hoyer's own solid preseason performance, Manziel's inability to acclimatize to the NFL quickly enough would only ensure an easy decision. ??
Now past the halfway point of the 2014 season, the Cleveland Browns are impressively sitting on a 6-4 record with quality defensive play and Hoyer's composure to thank. The importance of Brian Hoyer's career is significant, as it continues to serve as a sterling example to all employees in all fields of work on how to be a professional. Few are blessed with superior athleticism or an advanced skill set, but the truth is even fewer are blessed with the hunger to seek success despite lacking those gifts.
Perseverance in the face of mediocrity – something Brian Hoyer knows all too well about.
Follow Dion on Twitter: @nfldraftupdate