August 28, 2014 -
Joel Corry
The financial shakedown
With the NFL regular season approaching, here's a look at the financial implications of five significant developments from the pre-season.
Sam Bradford's torn ACL
St. Louis Rams quarterback Sam Bradford is out for the 2014 season after tearing the ACL in his left knee for the second year in a row. The former Oklahoma standout has two years remaining on the six-year, $78 million deal (worth a maximum of $86 million) he signed in 2010 as the first overall pick in the NFL draft. Bradford is making $14.015 million this year on a $17.61 million salary cap number.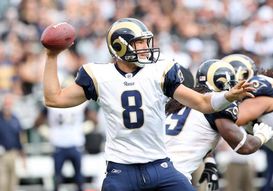 ICONBradford's days in St. Louis are likely over.
Bradford's injury prompted speculation that the Rams would aggressively pursue another quarterback through a trade and second guessing for passing on Johnny Manziel with their second first round pick (13th overall) in this year's draft. The Rams' ability to trade for a quarterback is limited because of their lack of cap room unless contracts are restructured. St. Louis is last in the NFL with $1.676 million of cap space. Defensive end Chris Long and linebacker James Laurinaitis, who have $14.9 million and $10.4 million cap numbers, respectively, are restructure candidates. The Rams are turning to backup quarterback Shaun Hill, who is signed to a one-year, $1.75 million deal (with additional $500,000 in incentives), as Bradford's replacement.
Bradford's future with the Rams is in doubt because of durability concerns and his $16.58 million 2015 cap number. The Rams would gain $12.985 million of cap room by cutting Bradford in 2015.
Logan Mankins trade
The New England Patriots trading guard Logan Mankins to the Tampa Bay Buccaneers for tight end Tim Wright and a 2015 fourth round pick is the latest example of head coach Bill Belichick's philosophy that it's better to get rid of a player a year too early than a year too late. The Patriots pick up $5.755 million of 2014 cap room because of the transaction, which puts them $12.7 million under the cap. There's also $7 million of cap relief in 2015 and 2016. The Patriots have a little more than $140 million in 2015 cap commitments (top 51 players), which includes cornerback Darrelle Revis' $25 million option year cap number, after Mankins' departure.
The Buccaneers fill the void at left guard created by Carl Nicks retiring because of his inability to recover from a toe injury with the addition of Mankins. The five-time All-Pro is under contract through 2016 with a $6.25 million base salary in 2014 and $7 million salaries in 2015 and 2016. The Buccaneers 2014 cap room goes from $13.22 million to slightly under $7.5 million after the trade.
The Blake Bortles timetable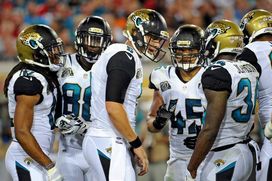 Bortles' impressive pre-season could cost Chad Henne quite a bit of money.
Strong pre-season performances by Blake Bortles may be forcing the Jacksonville Jaguars to reconsider redshirting him for the 2014 season. Bortles has completed 62.2 percent of his passes (28 of 45) for 435 yards with one touchdown and zero interceptions to post a 101.6 passer rating in three games.
The Jaguars changing the plan could be costly for starting quarterback Chad Henne because of incentives in the two-year, $8 million contract he signed in March. Henne's incentives for 2014 are worth up to $2.5 million. There's $1.25 million strictly for playtime. These incentives begin at 25 percent offensive playtime with Henne receiving $250,000. He gets another $250,000 for 45 percent. The next threshold is 65 percent, which is for an additional $500,000. The remaining playtime level is at 75 percent for $250,000. Henne also has $1.25 million in incentives for 75 percent playtime and team success. The first threshold is $250,000 for eight wins. Ten wins and the playoffs are each worth $500,000.
Sam Baker's ruptured patellar tendon
The Atlanta Falcons offensive line was dealt a blow when left tackle Sam Baker ruptured the patellar tendon in his right knee. Baker, who signed a six-year, $41.1 million contract in 2013 (worth a maximum of $45 million through salary escalators) is out for the season after missing 12 games in 2013 with a ruptured patellar tendon in his left knee.
The Falcons replaced Baker by moving 2014 sixth overall pick Jake Matthews over from right tackle. Baker, who makes $18.25 million in the first two years of his deal, will likely be asked to take a pay cut to remain with the Falcons in 2015. Releasing him without post-June 1 treatment will add $1.9 million to Atlanta's 2015 salary cap. Baker has unguaranteed $4.5 million, $5.25 million, $6.5 million and $6.6 million base salaries in 2015, 2016, 2017 and 2018, the last four years of his deal. A significant portion of Baker's 2015 salary could be converted into a per game 46-man active roster bonus or not likely be to earned (NLTBE) playtime incentives.
B.J. Raji's torn biceps
A torn right biceps suffered against the Oakland Raiders has ended Green Bay Packers defensive tackle B.J. Raji's season. Raji took a one-year deal worth $4 million to remain with the Packers when he didn't generate much interest in the free agent market after a lackluster 2013 campaign. He reportedly turned down a long-term contract extension in 2013 averaging $8 million per year. Since Raji's one-year deal contains $18,750 for each game on the 46-man active roster, he is losing $300,000 due to the injury. Whether it's with Green Bay or another team, Raji is likely looking at signing another one-year prove-it deal in 2015.
Follow me on Twitter: @corryjoel
Joel Corry is a former sports agent who helped found Premier Sports & Entertainment, a sports management firm that represents professional athletes and coaches. Prior to his tenure at Premier, Joel worked for Management Plus Enterprises, which represented Shaquille O'Neal, Hakeem Olajuwon and Ronnie Lott. You can email Joel at jccorry@gmail.com.