February 14, 2011 -
National Football Post
The immature Mark Sanchez
Let me start by saying Mark Sanchez, legally, has done nothing wrong. Because when you're talking about a 24-year-old quarterback's alleged sexual dalliances with a 17-year-old girl, that's really the only place to begin. In New York, 17 is the legal age of consent. Nearby New Jersey's is 16.
The Jets traded up 12 spots in the 2009 NFL Draft to select Sanchez. On that day, head coach Rex Ryan gushed about the quarterback's workout at his alma mater, Mission Viejo High School, saying, "There had to be 20 receivers there that were volunteering. That says something about this young man, the type of person he is. Guys were coming out of the woodwork to run routes for him. He's got that kind of leadership. We saw the great feet. We saw the poise and how confident he was."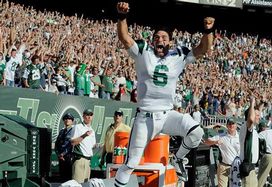 Mark Sanchez has four postseason victories in his first two seasons.
In two seasons with the Jets, Sanchez has exhibited similar confidence, leading New York to two consecutive AFC Championship games. But outside of the postseason, Sanchez's play has been rather pedestrian.
He passed for less than 200 yards in seven out of 16 regular-season games this year. He had eight consecutive games with an interception. His quarterback rating was 27th in the league — and as much as everyone wants to knock the validity of that stat, this year's top five boasted Tom Brady, Philip Rivers, Aaron Rodgers, Michael Vick, and Ben Roethlisberger.
Ryan wants you to think he has a franchise quarterback, a good and poised leader in the locker room — and he very well might. But step away from football for a second, because we can all admit those aren't exactly Brady-like numbers he is putting up.
Sanchez's problem is much bigger than his touchdown-to-interception ratio.
There was a scene in HBO's "Hard Knocks" this summer, when backup quarterback Mark Brunell told Sanchez that he would never meet his daughter, who had just moved into her college dorm room. At the time, this was a funny exchange between the Brunell and the younger Sanchez.
But now? You don't think Brunell's perception of Sanchez has changed? What about any of the other more mature veterans who have daughters of their own?
This is not to say Sanchez has already lost his team. Heck, if Ben Roethlisberger can come within a Rashard Mendenhall fumble of a third Super Bowl ring after an offseason in which he was accused of sexual assault for the second time, there's no telling what Sanchez can do.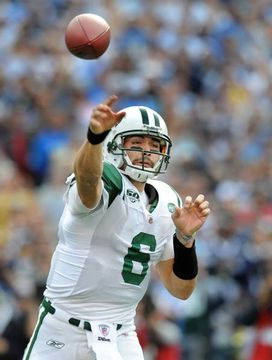 IconWill this incident change how Mark Sanchez is perceived in the locker room?
Some will say that there's nothing to forgive here, that no harm was done, that no laws were broken. And, technically, that's true. But in the world of fame and football, it's not that simple. A locker room is far more complicated than that because everyone has their own history, their points of view.
Even I'm finding it hard to put aside my personal biases. I'm trying to get past the fact that I have a sister who will turn 17 in four months. I'm searching for a reason why this would seem like a good idea to Sanchez. I'm two years younger and $28 million poorer and wouldn't dream of putting myself in such a situation — legal or not.
Yes, Sanchez's mediocre regular season and flaws on the football field all seem a little trivial now. Rex Ryan wants you to believe he found his franchise quarterback, the man who is supposed to win the Jets' first title in over 40 years.
But this alleged dalliance has only done more to put that in doubt.
Scott Miller is a senior at The University of Iowa and a contributor to the National Football Post. Follow him on Twitter: @stmillr.
Want to work in the NFL? Click here to sign up for the NFP's Chalk Talk session at the Combine in Indianapolis on February 25th.